Jim Ross Announces He's Taking Time Off From AEW, Has No Plans To Leave The Company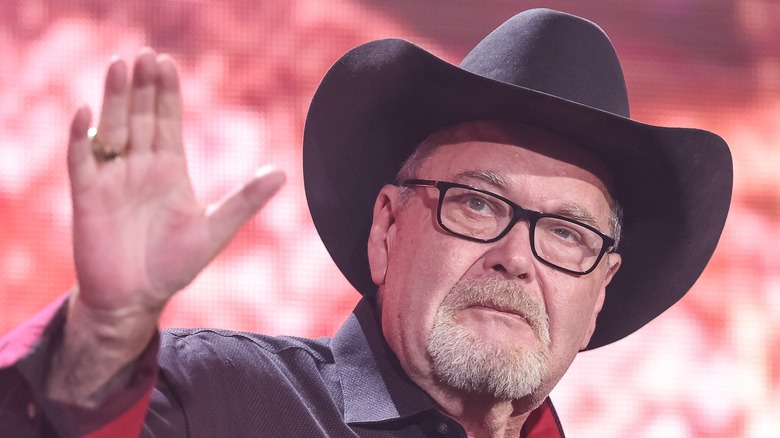 AEW
Jim Ross is taking time away from AEW. On the latest "Grilling JR," the legendary announcer revealed that he won't be traveling to Oakland, California to call the action for tomorrow's "AEW Collision" after being advised by his doctors to take some time to heal. While Ross didn't provide a specific timeline for his absence, he noted that his doctors want him to take a few weeks off before he can return on the road to fulfill his AEW duties.
"... Being off an airplane for a few weeks will be good for my leg to heal, so what's what I'm gonna do," Ross said. "I'm gonna take a few weeks off. I'm not gonna be on TV for a while until I can navigate the waters a little bit and get in that deep water. I love what I'm doing." Ross had injured his leg after suffering a fall in June, following which he took time away until returning to the "Collision" commentary booth in August. 
Ross plans to keep a close eye on AEW's talented roster despite being away from the company temporarily. "We have a unique roster," Ross stressed. "There's so many guys that we need to help as much as possible get over, but that goes for any wrestling show. That's the objective. You have one goal when you're on television in pro wrestling — get the talent over. So, I love doing that; I love that role, I love helping these young kids who ask questions like, 'Did you watch my match?' or 'What do you think about this?'" 
'Tony's been good to me'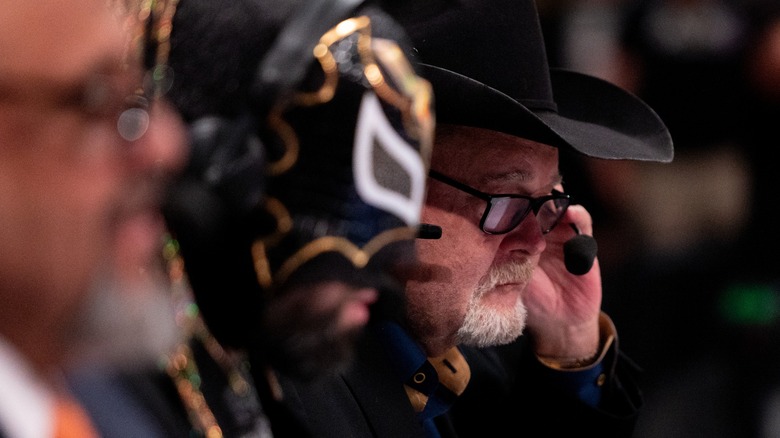 AEW
Jim Ross thanked Khan for not only giving him time off but for being patient through his health issues. Ross confirmed that his AEW contract expires in a few months, but made it clear that he wants to stick around with the promotion. "I'm not looking to go anywhere," Ross confirmed. "It's just that I need to heal — that's all. Simplistically as that. My leg needs to heal, and the good news is that the wound is getting much better, so I am healing." 
Ross ruled out the possibility of working from home, explaining that his injury is aggravated by all the traveling he does. "It's not a matter of pain tolerance ... the pain comes when I get to the city I'm flying to. Flying is the enemy right now." ... "I like working for Tony," Ross continued. "Tony's been good to me, he's taken great care of me. We just have a very unique relationship. I'm not high maintenance, even with a bad leg and stuff. I don't want to be high maintenance."
Although AEW has several substitute announcers to cover for JR's absence, he still believes he's one of the best at his job and refuses to walk away from the business. 
"With my ego as it is, I'm not gonna let someone be better than me," Ross said. "I worked too many to build a relationship with our audience, an audience that I love and [they] love me. It's very emotional for me to talk about that, but I'm a big believer that things are going to get better."