Why AEW's Eddie Kingston Doesn't Spend Time On Social Media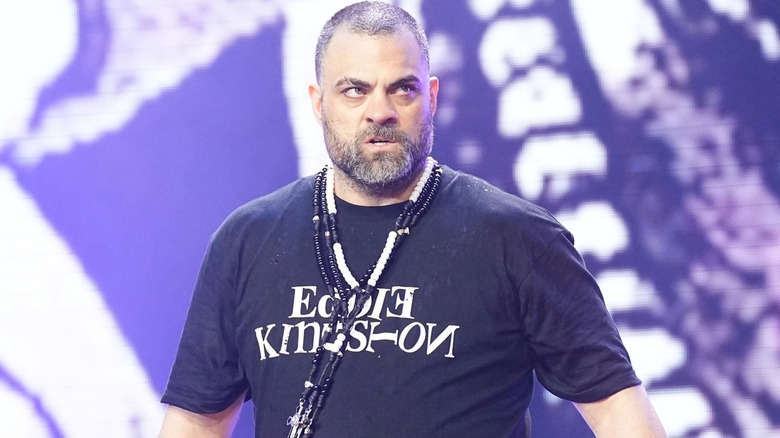 AEW
ROH World Champion Eddie Kingston has made it abundantly clear in the past that he takes only the opinions of his peers to heart, and that he brushes off any and all criticism from fans, especially those critical of his physical appearance. In a recent interview with "Wilde On," Kingston reinforced that mindset and explained why choosing to ignore outside noise is the reason for him to steer clear of social media.
"I was raised like that," Kingston said of his reason to stay away from social media. " I was raised that it's nobody's business ... and nobody gives a f–k. You have your opinions, and as my mother would tell me, opinions are like a–holes, everyone's got one and they all stink. I sound like an old man, here, yelling at the cloud, but I guess the age of social media has made people feel like their opinions matter. And look, folks, I'm not gonna lie to ya — it doesn't." 
Kingston then urged his detractors to continue to critique him if they "feel good for a day" by sending a vicious tweet, reiterating that those opinions would never deter his mindset. Kingston also explained why he chose to quit X earlier this year. "I saw some nasty s–t that someone wrote about Riho, and I was also having a bad day," Kingston recalled. "I got COVID; I was supposed to go to Ireland, so I was already mad ... I was just flipping through my phone and saw this goose egg gimmick, it was not even a real person with a profile photo. It was some nasty s–t and I was like, 'I'm done.' It just became toxic, it became worse than MySpace."
Jon Moxley, the former tag team partner of Kingston, is another modern wrestler who rarely engages fans on social media.