Why Jim Ross Believes Ric Flair 'Brightens The Star' Of AEW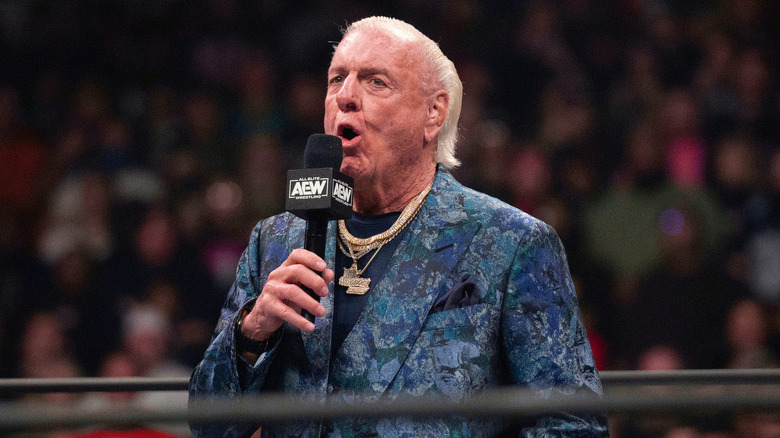 AEW
Ric Flair's new multi-year deal with AEW certainly raised some eyebrows around wrestling, given some of the baggage "The Nature Boy" carries at this stage of his life. However, Jim Ross is glad — yet pleasantly surprised — that Flair, whom he branded a "lifetime talent," is with the company. 
"I think that he can contribute more than the vast majority of the populous of his world of his vocation and never wrestle; that's just me," Ross said on his "Grilling JR" podcast. "He's a star. Ric Flair's a star and, when he's on your TV, he brightens your star."
Flair made his debut in AEW as Tony Khan's gift to Sting as "The Icon" embarks on the road toward retirement at next year's Revolution. While Flair is sure to make his presence felt, what the two-time WWE Hall Of Famer will be doing on that front exactly still remains to be seen. However, Flair did get the rumor mill churning out ideas recently when he revealed that he had been medically cleared to take bumps. His "last match" came in 2022 — and wrestling is prone to never saying never — but Ross doesn't think that fans should look for any matches out of "The Nature Boy" during his stint in AEW.
"I wasn't so sure what he was going to do because I really believe — and this is going to sound negative, I don't want to sound negative — that his wrestling days are essentially over," JR said. "He's 70-something, I'm 70-something; I get it."
If you use any quotes from this article, please credit "Grilling JR" with a H/T to Wrestling Inc. for the transcription.