Why Glenn Jacobs/Kane Calls Vince McMahon Selling WWE A 'Great Thing For Everybody'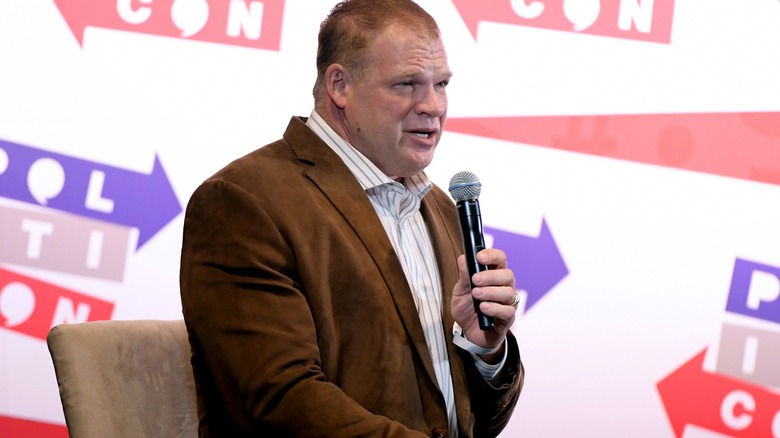 Jason Kempin/Getty Images
2023 has been a year of change for Vince McMahon and WWE. McMahon forced his way back onto the company's Board of Directors mere months after retiring amidst sexual assault allegations with the mission statement of driving a company sale. Endeavor has since closed its acquisition of the company, and WWE has merged with UFC to become TKO Group Holdings; for the first time in company history, a member of the McMahon family is not at the helm. Knox County Mayor Glenn Jacobs — better known as WWE's Kane — gave his thoughts on the sale during an interview with Sportskeeda WrestleBinge. 
"It was surprising to me too, you know, but in the end, Vince always does what's best for business," he opined. "So I think from kind of a big picture perspective, I think it's a great thing for everybody, and it'll benefit all of our fans." 
Kane became a popular act within WWE during the "Attitude Era," performing alongside the likes of The Undertaker, Shawn Michaels, Mankind, and Paul "Triple H" Levesque. While Jacobs has himself conquered the world of politics, Levesque has undergone his own journey climbing the corporate ladder of WWE. He's now the Chief Content Officer and serves as the sole head of creative following Endeavor's acquisition, and Jacobs is a fan of the appointment, 
"I'm a huge fan. Triple H has the best wrestling mind of anybody that I've ever met," he said. "He's a genius, so I'm really looking forward to seeing what the product does moving forward."

If you use any quotes from this article, please credit "Sportskeeda WrestleBinge" with a h/t to Wrestling Inc. for the transcription.