Cody Rhodes Assesses WWE Journey Following WrestleMania 2023 Loss To Roman Reigns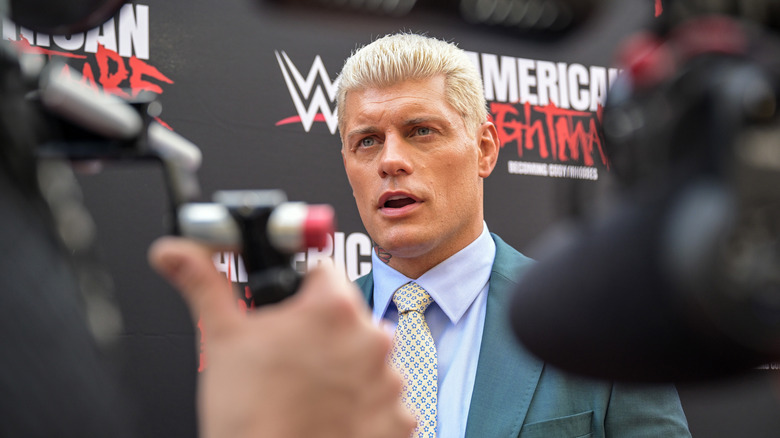 Wwe/Getty Images
Cody Rhodes may still be on the road to "finishing his story" and achieving his goal of capturing the Undisputed WWE Universal Championship from Roman Reigns and ending his historic reign, but he's not bitter about the journey his loss at WrestleMania 39 has sent him on. Rhodes recently spoke on "Busted Open Radio" about his career since losing to the "Tribal Chief." He said that things were uncharted, as he's an organized person who likes to know where he's going.
"In my mind, I had visualized a big, grand finale at WrestleMania 39 and [that] didn't happen," Rhodes admitted. "And when it didn't happen, I'm not going to say I'm grateful for the loss, but I'll say that it took me down a road that I really wasn't anticipating. That being, three, not one, but three matches with Brock Lesnar and being able to pull that out."
He also spoke highly about the live event run he's been on with WWE. He called it "the most successful in company history." Rhodes also mentioned being part of the War Games match at the upcoming Survivor Series premium live event, a match that was announced on last week's episode of "WWE Raw" - a match type that was the brainchild of his father, Dusty Rhodes, in the 1980s.
"The other day, Adam Pearce saying the words 'War Games' and realizing I was going to be in one, which is very special to me. It's really taken me places I wasn't anticipating," Rhodes gushed.
While Rhodes reiterated he isn't grateful for the loss at WrestleMania, he is grateful for what it has brought him, especially when it comes to the fans. He was warned the fans might not stick with him after his loss to Reigns, but Rhodes has found that they are more committed to him finishing the story than ever.
"Everything has only grown instead of shrank. And I'm very lucky and blessed that that's the situation," Rhodes said, gratefully.
If you use quotes in this article, please credit "Busted Open" and provide an h/t to Wrestling Inc. for the transcription.