The Judgment Day Officially Adds Fifth Member On WWE Raw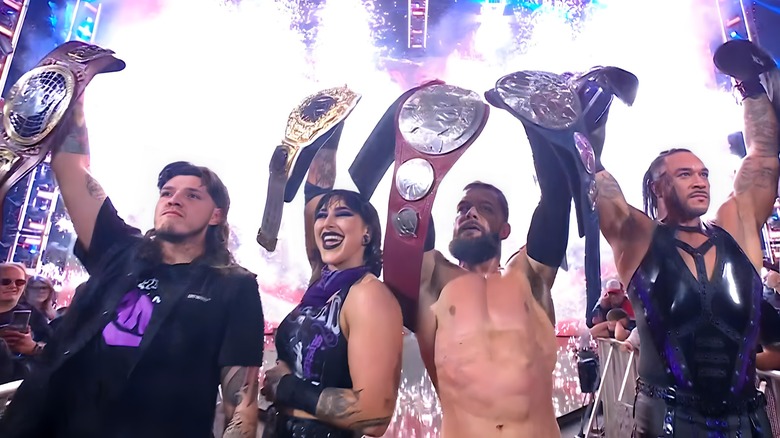 WWE/X
For the better part of seven months, JD McDonagh has been in the orbit of The Judgment Day, providing support as needed but never being officially indoctrinated into the group. Monday night on "WWE Raw," that finally changed, with Damian Priest presenting McDonagh with an official Judgment Day leather jacket and welcoming him as a full-fledged member.
After being drafted to "Raw" in late April earlier this year, McDonagh's loose association with The Judgment Day quickly became apparent following his debut, with "The Irish Ace" soon being scouted by Finn Balor, who trained McDonagh — the two share a hometown in Ireland. The affiliation went through many ups and downs, including several instances where Priest, more than any other member, showed distrust and aversion toward McDonagh getting any closer than he already was. Of late, however, McDonagh has proven his loyalty by taking a few bullets for the group, including one on Monday that saved Priest during a melee after the opening tag team match ended in a no contest.
In a backstage segment later as the group discussed the upcoming main event, Rhea Ripley picked up a duffle bag and asked if they were ready to tend to the business at hand involving McDonagh. Priest, who earlier in the night declared himself the leader of The Judgment Day (only to walk that back privately amongst his comrades), insisted that he deliver the good news in person, ultimately telling McDonagh that he'd earned it and accepting him with open arms.
McDonagh, Priest, Balor, and Dominik Mysterio are set to represent The Judgment Day in a WarGames match at Survivor Series against Seth Rollins, Cody Rhodes, Jey Uso, and Sami Zayn.