Eric Bischoff Curious About Motives Behind Vince McMahon's WWE Stock Selloff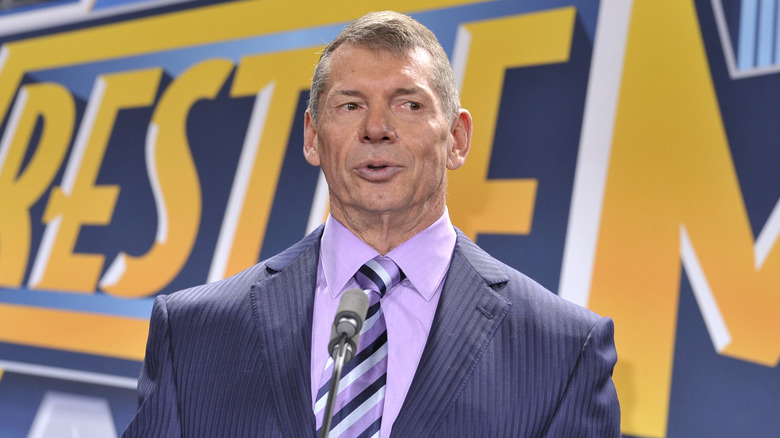 Michael N. Todaro/Getty Images
Last week, TKO Group Holdings cited Vince McMahon as a potential financial liability for the company in an official SEC filing, and just days later the former CEO put more than 8 million of his WWE shares up for sale. Speaking on his podcast, "83 Weeks," former WCW executive Eric Bischoff speculated on McMahon's motivation.
"Just in terms of timing, it was announced that Vince McMahon is a risk, then he sells ... 8 million shares. Do you think that was a response?" Bischoff asked co-host Conrad Thompson. "Do you think that was a — 'Oh, I'm a risk, am I? Well, screw you, I'm gonna dump a bunch of stock on the market and see how you feel about that.' ... It's just a thought. I don't know that Vince is bitter that way."
Bischoff noted that 8 million shares are worth an immense amount of money to be used to make a point. At the same time, however, McMahon is a person with flaws just like everyone else, so it's impossible to say what his exact motivations were.
"When it comes to Vince McMahon, nothing surprises me," Bischoff continued. He then took the opportunity to compare McMahon to former WCW boss Ted Turner, stating that both men had similar upbringings and became visionaries.
After McMahon was the subject of various sexual misconduct allegations in 2022, he stepped down as CEO and retired. He later un-retired, reinstating himself back to WWE's Board of Directors with the intent of ushering the company into a sale, soon merging with UFC. More recently, after having been in and out of WWE creative for some time, McMahon was said to have taken a back seat to his son-in-law, Paul "Triple H" Levesque over the past few months, though it's unclear if that was willingly or unwillingly.
If you use any of the quotes in this article, please credit "83 Weeks" with a h/t to Wrestling Inc. for the transcription.