Mike Chioda Lists Matches With Current AEW & WWE Stars He'd Like To Referee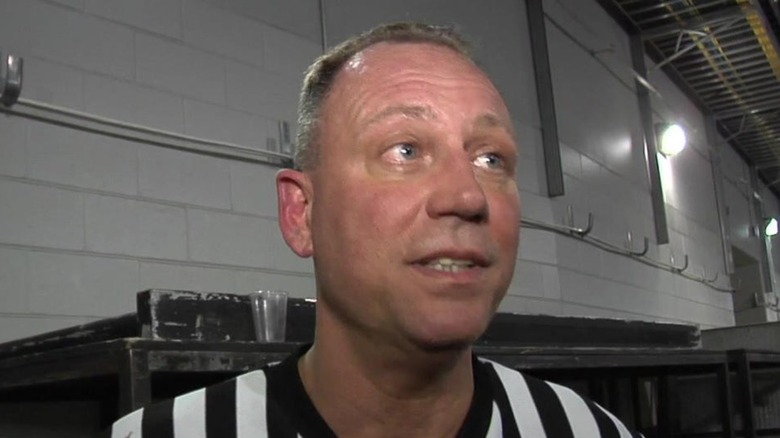 WWE
As one of the most tenured officials of the last several decades, Mike Chioda has his fair share of big matches, including bouts at WrestleMania and, most recently, Ric Flair's Last Match in August 2022. Shortly before that contest, Chioda announced that Flair's final match would also be his last, officially retiring from refereeing. However, it's clear that the itch is still there for him to officiate again if the opportunity presented itself.
That became more than apparent on a  recent episode of his "Monday Mailbag" podcast when Chioda was asked what matches he would like to referee in either WWE or AEW. Answering the WWE part first, Chioda would love to step into one of the prospective WrestleMania main events that keeps resurfacing as a possibility.
"WWE — I would love to do Roman Reigns and The Rock," Chioda said. "Hey, Rock's probably ... he's probably employed somehow. That is box office, Hollywood ... I mean, everything. WWE history, boy. Two of those big Samoans going at it ... that'd be nice, you know?"
As for AEW, Chioda had to put a bit more thought into it, though he knew immediately it would have to involve "The American Dragon."
"It would probably have to be ... I was thinking already Bryan Danielson," Chioda said. "Bryan Danielson vs. Omega, maybe? Bryan Danielson ... Edge would be pretty cool. [MJF]...I like him. I'd say MJF and Bryan Danielson. They already put on a classic. That was awesome."
If you use any of the quotes in this article, please credit "Monday Mailbag" and provide a h/t to Wrestling Inc. for the transcription