Backstage Report On Plans For WWE WrestleMania-Week Episodes Of Raw & SmackDown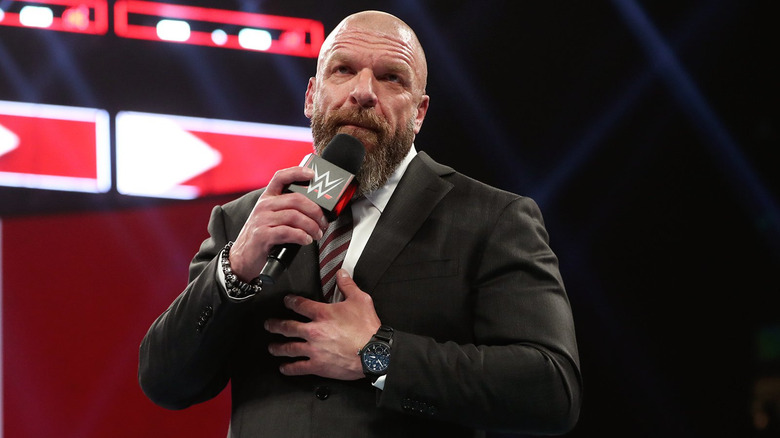 WWE
WWE WrestleMania is unquestionably the biggest pro wrestling event of each and every year, and in 2024, the company built by Vince McMahon takes its grand spectacle to Philadelphia, Pennsylvania. This will be WrestleMania's first trip to the "City of Brotherly Love" since all the way back in 1999, during the height of the Attitude Era. As usual, WWE will surround WrestleMania with a week's worth of events in the city, including live broadcasts of "WWE Raw" and "WWE SmackDown." However, according to the Wrestling Observer Newsletter, WWE's WrestleMania Week editions of "Raw" and "SmackDown" will look a bit different next year.
According to WON, WWE has decided not to make use of its usual huge entrance stage setup for the "Raw" and "SmackDown" episodes surrounding WrestleMania 40, held at the Wells Fargo Center. The reported reasoning is that WWE feels its brand is doing quite well right now, and with all the thousands of people from various places in town for WrestleMania, WWE can sacrifice having an elaborate stage in order to sell more tickets for each show. WON says the shows will now be setup for an attendance of 18,553 fans, as opposed to the usual 13,000-range allowed in the venue with their usual stage.
Additionally, the report claims that with WWE under new ownership as part of the combined TKO Group Holdings, there's a renewed focus on maximizing revenue and lowering operating costs. Not having to transport and assemble the usual "Raw" and "SmackDown" stage will enable the company to save money on these shows while selling the maximum amount of tickets. For what it's worth, Wrestling Inc. reached out to WWE to confirm, and was told the report is "sound reasoning" without specifically confirming the details.