Logan Paul Calls WWE Crown Jewel Spot 'One Of The Craziest' Things He's Done In Life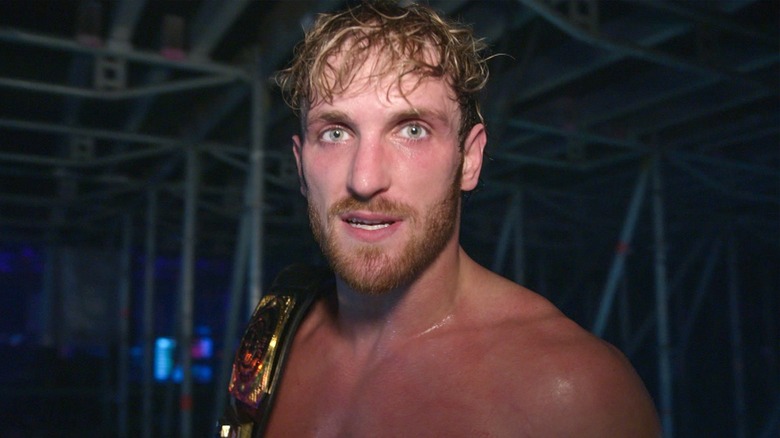 WWE
As a newcomer, Logan Paul has brought his A-game to the ring every time he's stepped between the ropes in WWE. However, he believes the springboard backflip he hit on Rey Mysterio at Crown Jewel is one of the craziest things he's ever done in his entire life.
"I knew this was going to be a life moment for me," he said on his "Impaulsive" podcast. "Rey Mysterio — the greatest luchador of all time — is in my arms, and I'm about to send a backflip that I've never done before ... I've never done that before, ever. We just sent it, and thank God it was okay." 
However, Paul believes that the moment might have gone over people's heads as the new United States Champion thinks the camera angle didn't quite capture the full intensity of the move. But that isn't going to stop him from continuing to aim higher with each new opportunity he gets in the ring. 
"I want to keep going harder. That's my thing — and potentially my problem — is I want to go the top rope next time. I want to jump off higher stuff," Paul said. "It's something that I can do in the WWE." 
Paul is aware that he may not have the same experience level as some of his wrestling peers, but he doesn't see that as a limitation. If anything, he's using that as motivation to learn more and become better — so he can deliver new levels of excitement for himself and for the fans.
"I'd like to go to the PC and start training, maybe make some more appearances on 'Monday Night Raw' and 'SmackDown,' so I can get that respect and maybe get that experience," he added. "The one thing I can do and I'm excited to do is anything risky. I'm ballsy, I don't give a f***. I'll send it."
If you use any quotes from this article, please credit "Impaulsive" with a H/T to Wrestling Inc. for the transcription.