Backstage Report: How Shinsuke Nakamura's WWE Push Relates To NJPW's Kazuchika Okada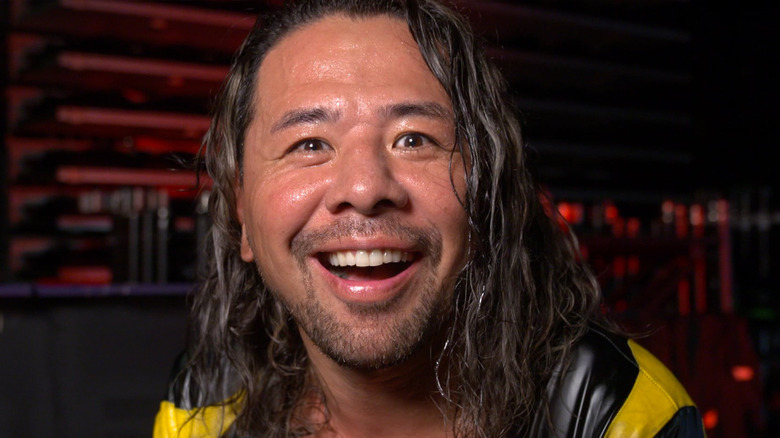 WWE
After years that left fans wondering what exactly WWE was doing with Shinsuke Nakamura, who had signed with WWE in 2016 to much fanfare, but hadn't really done that much since his 2018 WWE Championship feud with AJ Styles, 2023 has finally seen the "King of Strong Style" be used to his full potential again. While Nakamura hasn't been able to wrest the World Heavyweight Championship away from Seth Rollins, their feud, as well as Nakamura's calculating new heel character, represents Nakamura finally being presented as a real threat again.
While many fans assumed that this was a case of the current WWE creative regime, led by Triple H, simply realizing Nakamura had been underutilized back when Vince McMahon was in charge, according to the Wrestling Observer Newsletter, there's another motive behind Nakamura's recent push. Per WON, the current WWE powers-that-be have renewed interest in acquiring the services of NJPW megastar Kazuchika Okada, and since Okada and Nakamura are close, WWE is trying to show Okada that Japanese wrestlers (especially those not fluent in English) aren't going to be treated the same way they were under McMahon, often relegated to childish or comedic roles. That said, and as the WON report points out, that idea is a bit undercut by Akira Tozawa still currently being booked as a silly comedy act by the company.
Beyond that, WON says there's no indication this means WWE are any closer to signing Okada than they have been previously. "The Rainmaker" has so far stayed steadfastly loyal to NJPW, the promotion in which he became a main event-level talent.