Impaulsive: Logan Paul Invokes Two Attitude Era Stars To Illustrate WWE Goals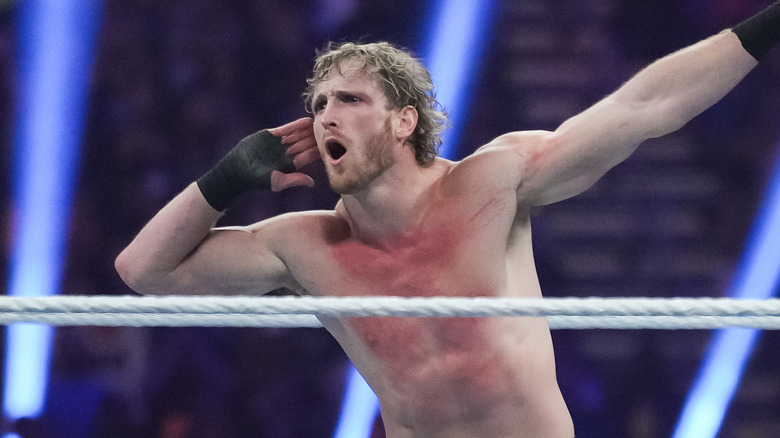 Alex Bierens De Haan/Getty Images
Logan Paul's run in WWE continues to reach improbable heights, as the YouTuber and influencer turned grappler captured the United States championship at Crown Jewel earlier this month. His near-killing and subsequent saving of former champ Rey Mysterio notwithstanding, one would be hard-pressed to say that his in-ring performance thus far hasn't resonated with viewers and critics alike. Paul doesn't seem intent on resting on his laurels, though. On a recent episode of his podcast, "Impaulsive," Paul revealed that he has even bigger plans for his wrestling career moving forward. In doing so, he invoked the names of a pair of Attitude Era legends. Namely, a certain 'Charismatic Enigma,' as well as the man behind Dude Love, Cactus Jack and Mankind. 
"I want to keep going harder that's my thing, and potentially my problem," Paul said. "I want to go to the top rope for the next time, I want to jump off of higher stuff. I'd like to go to the [Performance Center] and start training, maybe make some more appearances on "Monday Night Raw" and "SmackDown" ... I have to be reeled in sometimes by the producers and the people at the WWE but I'm trying to do some Mick Foley-type, off the top of the cage onto a table from 30 feet high, Jeff Hardy-type s***, Swanton bomb ... that's what I want to do."
While Paul spoke at length about his desire to entertain and his tendency to take risks, he's not looking to put his body through the wringer for nothing. The 28-year-old also revealed that he's looking to add more gold to his trophy case. "I want to do it with the endeavor and pursuit of getting more belts," Paul declared. "Do I become tag team champion with Dominik Mysterio? Could be fun."