Logan Paul Opens Up About 'Saving' Rey Mysterio At WWE Crown Jewel 2023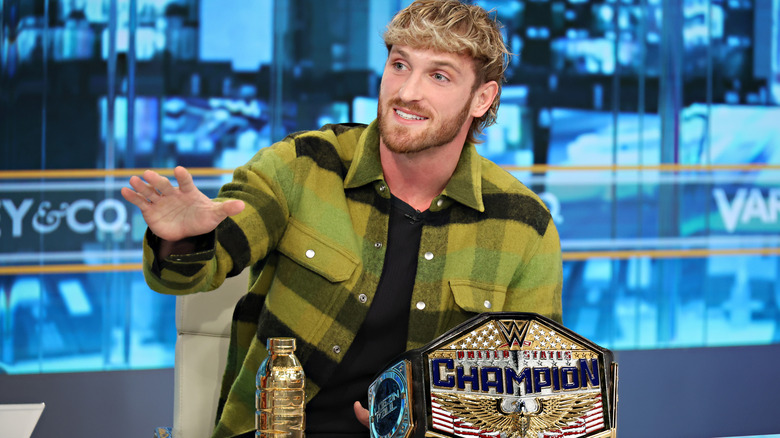 Cindy Ord/Getty Images
Logan Paul's in-ring aptitude has been a regular topic, and in his last match against Rey Mysterio, the YouTuber saved the Hall of Famer from landing awkwardly on his neck, much to the delight of fans. They highlighted once again Paul's ability to think quickly in the ring.
On the latest "Impaulsive" podcast, the newly-minted WWE United States Champion, though, doesn't think he deserves as much of the praise that he's getting.
"I looked at the clip and upon assessing my performance, while I think I did save Rey Mysterio, I think I also almost killed Rey Mysterio," Paul admitted. "I think I was too far back and I think he didn't clear enough ground for the move ... we both, I think, made a mistake and I had to catch him. I wasn't gonna not catch him."
Paul said that he appreciated the nice headlines about him but stated that he was merely doing the job of a professional wrestler. 
"I'll take the praise," Paul chuckled. He admitted that the only really difficult part of the maneuver was catching Mysterio in the position both men were in.
The win in Saudi Arabia marks Paul's first title in WWE since signing with the company last year. He's had a meteoric rise in wrestling, debuting at WrestleMania 38, later facing Undisputed WWE Universal Champion Roman Reigns in Saudi Arabia, and more recently defeating WWE Hall of Famer Rey Mysterio for the United States Championship. While Paul has been respectful of WWE during his time there, the infamously bratty YouTuber has already tried to pawn the title belt.