Kenny Omega & Chris Jericho Beat The Young Bucks, Win Tag Title Shot At AEW Full Gear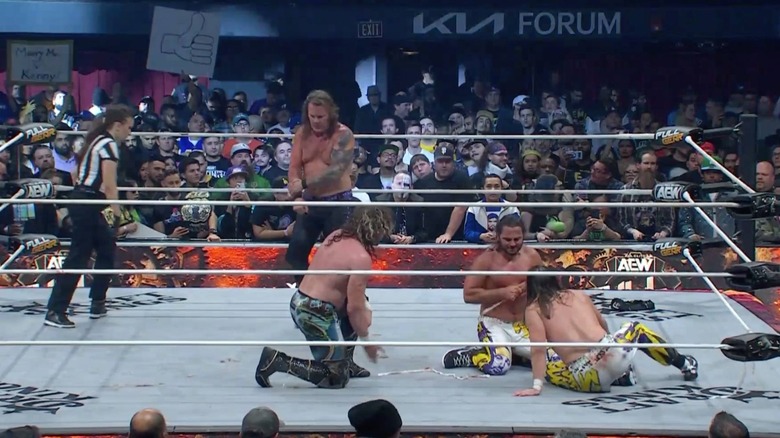 AEW
Kenny Omega and Chris Jericho's time as a tag team will continue, with the Winnipeg natives defeating The Young Bucks in a back-and-forth encounter at AEW Full Gear on Saturday night in Los Angeles, California. 
The hometown duo in California continued to lean into their recent over-the-top heel tendencies, isolating and attacking the bloodied arm of Jericho, as well as taking cheap shots at their long-time friend Omega. After disposing of "The Best Bout Machine" for a lengthy period, The Bucks were able to double-team Jericho and score a couple of near-falls, before the former world champion locked in the Walls Of Jericho on Matt Jackson but was forced to release the hold due to his arm injury. 
In the closing stages of the bout, Matt nailed both Jericho and Omega with low blows while referee Aubrey Edwards had her back turned, before hitting a BTE Trigger on "The Demo God" for a near-fall. Turnabout is fair play, however, with Jericho hitting Nick Jackson with a low blow and Omega hitting a flurry of offense on both of his opponents, before being caught in a One-Winged Angel — his own finisher — for a close two-count.
Omega would regain the momentum and pull off his finisher, securing a future tag team title opportunity for The Golden Jets against current champions, Ricky Starks and Big Bill. After the match, both of the Jackson brothers would throw temper tantrums at ringside as Omega attempted to console them with their frustrations continuing to boil over.