WWE And Triple H Reveal Signings From SummerSlam Weekend Tryouts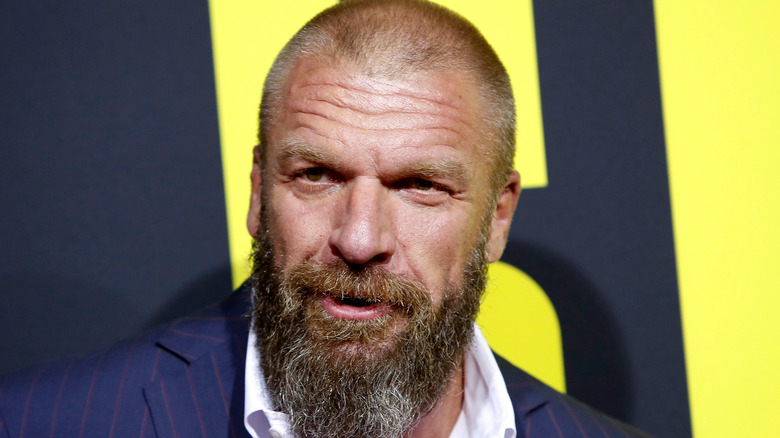 Kathy Hutchins/Shutterstock
Triple H recently returned to the world of talent relations, and he's wasted no time in getting down to business. "The Game" resumed corporate duties in WWE after suffering a cardiac event that nearly cost the former WWE Champion his life in 2021, but he has not had an easy, relaxing return to the corporate end.
Since returning, Triple H has both taken over John Laurinaitis's former position as Head of Talent Relations, as well as former Chairman & CEO Vince McMahon's role as creative head of the company (via Business Wire). Both executives have left the company in the wake of a WWE board of directors investigation into what now amounts to $19.6 million in hush money payments, made over the years to former female employees alleging harassment, misconduct and abuse at the hands of McMahon and Laurinaitis. These payments are now also being looked into by the Securities & Exchange Commission, as well as federal prosecutors (via The Wall Street Journal).
Under Triple H's reign, a number of formerly released talent have already come back to WWE, including Dexter Lumis, Karrion Kross, and Kross's wife Scarlett. The D-Generation X founder turned WWE power player isn't content to stop there though, announcing the latest batch of recruits to the WWE Performance Center.
14 New Recruits Are Heading to WWE
WWE held a series of tryouts in Nashville, TN during SummerSlam weekend. A recent video on
WWE's YouTube channel
shows Triple H asking fourteen athletes who took part in these tryouts to move to Orlando and train at the WWE Performance Center. Four track & field stars, four football players, a cheerleader, a Karate black belt, a fitness trainer, a gymnast, and a soccer player are set to join WWE,which has recently decided to focus on college athletes as opposed to independent wrestlers when recruiting (via
The Town
).
Here is the full list of new recruits:
Kennedy Cummins — Cheerleader out of the University of Minnesota
Gabrielle Dunn — black belt in Karate
Rickssen Opont — University of South Alabama track & field star
Alivia Ash — Rutgers University Track & Field star
Harleigh White — Clemson University track & field star
Chukwuson Enekwechi — Eastern Michigan University track & field star
Jade Gentile — West Virginia University soccer player
Anna Keefer — UNC track & field star
Breanna Ruggiero — fitness trainer
Beau Morris — Southern Methodist University football player
Franki Strefling — Eastern Michigan University volleyball player
Hayden Pittman — University of Alabama at Birmingham football player
Lea Mitchell — Michigan State University gymnast
Kevin Ventura-Cortes — Concordia University St. Paul football player