Big Title Change At AEW Double Or Nothing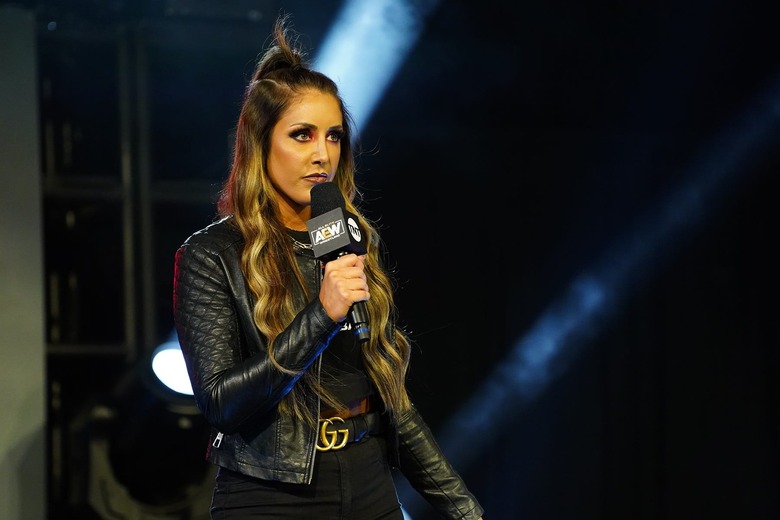 Photo Credit: AEW
Britt Baker won the AEW Women's World Championship against Hikaru Shida at tonight's Double or Nothing. Baker was able to apply lockjaw on Shida to get the tap out victory.
Post-match, Baker celebrated with Rebel in the ring, and was then met on the stage by her buddy, Tony Schiavone for a hug. Shida was the champion for 373 days.
As noted, a new championship design was unveiled earlier this week on Dynamite.
Be sure to follow our live coverage of tonight's show!
You can check out the title change in the images below:
That pop when @RealBrittBaker FINALLY captures the @AEW Women's Championship!

I'm sure her action figure is very proud of her.

- @Nick_Hausman #AEWDoubleOrNothing pic.twitter.com/wLdqKK4KD1

— WrestlingINC.com (@WrestlingInc) May 31, 2021
The DMD Era! @RealBrittBaker #AEWDoN #DoubleOrNothing

➡️ https://t.co/wrY0zFE3Jk
🌍 https://t.co/s3LVN89K4G pic.twitter.com/t6kGuAXLLZ

— TDE Wrestling (@tde_gif) May 31, 2021
THE CHAMP! @shidahikaru #AEWDoN #DoubleOrNothing

➡️ https://t.co/wrY0zFE3Jk
🌍 https://t.co/s3LVN89K4G pic.twitter.com/aHFOW6hQyF

— TDE Wrestling (@tde_gif) May 31, 2021
One against two? That's no problem for a great champion like @shidahikaru! #AEWDoN #DoubleOrNothing

➡️ https://t.co/wrY0zFE3Jk
🌍 https://t.co/s3LVN89K4G pic.twitter.com/WC3DeqLRqw

— TDE Wrestling (@tde_gif) May 31, 2021
An emphatic stomp from Dr. @RealBrittBaker! #AEWDoN #DoubleOrNothing

➡️ https://t.co/wrY0zFE3Jk
🌍 https://t.co/s3LVN89K4G pic.twitter.com/ofbHuCmx8E

— TDE Wrestling (@tde_gif) May 31, 2021
Three huge knee strikes from @shidahikaru! The champion is really pouring it on! #AEWDoN #DoubleOrNothing

➡️ https://t.co/wrY0zFE3Jk
🌍 https://t.co/s3LVN89K4G pic.twitter.com/15LtawgZmA

— TDE Wrestling (@tde_gif) May 31, 2021
The good doctor's not going anywhere! @RealBrittBaker refuses to back down! #AEWDoN #DoubleOrNothing

➡️ https://t.co/wrY0zFE3Jk
🌍 https://t.co/s3LVN89K4G pic.twitter.com/DHFICOeJnn

— TDE Wrestling (@tde_gif) May 31, 2021
Rebel, Rebel, Rebel. #AEWDoN pic.twitter.com/sWztDR43i9

— All Elite Wrestling (@AEW) May 31, 2021
AND NEEEEEEEEEEEEW!

Incredible match... Dr. @RealBrittBaker has done it! The DMD Era is HERE! #AEWDoN #DoubleOrNothing

➡️ https://t.co/wrY0zFE3Jk
🌍 https://t.co/s3LVN89K4G pic.twitter.com/yEUZvitcKB

— TDE Wrestling (@tde_gif) May 31, 2021
#AndNew @RealBrittBaker #AEWDoN pic.twitter.com/bz2RC3aXoK

— All Elite Wrestling (@AEW) May 31, 2021