Matt Taven Describes Recent ROH TV Tapings As His "Own Funeral"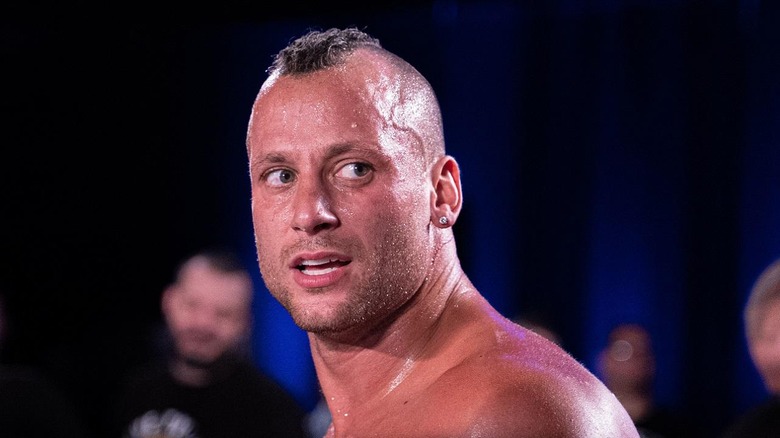 Photo Credit: Ring of Honor
In an appearance on the ROHStrong Podcast ROH Tag Team Champions The OGK, Matt Taven and Mike Bennett, talked more about their reactions to Ring of Honor's upcoming hiatus and the promotion releasing all talent from contracts. Taven relayed a story from when the OGK was at the last set of ROH tapings, where the locker room was down until the women's division lifted their spirits.
"I kept describing to people what the last tapings were like, and I was like 'man, I never knew what it be like to be at my own funeral. But I think I experienced the closest thing to that,"' Taven said. "I remember walking into the lobby after I flew in. I was very positive after getting the news and just kind of upbeat. And I came in and there were all these sad faces in the lobby. So immediately, I just go to the dumbest thing I can think of. I'm like 'what's up sad boys?!' I thought it get a big laugh, but it did not. All these guys are uncertain about their future and stuff.
"But the next day, the women's division uplifted the entire locker room, because they were so positive and they were just so happy. And it really was because Maria and Bobby Cruise had had a meeting with them. I wasn't there, I don't know what was said, but whatever was said, it was the right thing. They had put so much time and effort into that division, that I think those girls appreciated everything that they had done. I wish I knew what went down, because the next day it was like night and day, from when people landed in the airport. And it really all came from that women's division for picking up the locker room."
Ring of Honor's last taping of the year will be Final Battle, taking place in Baltimore on December 11. The OGK will defend the ROH Tag Team Championships against The Briscoes, and for Taven, the prospect of this being ROH's final show is something he doesn't want on his mind.
"I can't even think about it," Taven said. "I'm like, when we left the last tapings, I didn't even want to think 'oh, the next time's the last time.' And I think it's just because of what we talked about earlier. This is such a family, and during that pandemic, we came together like we had never had in the past. And it's just always such a good locker room, but at this point right now, it's such a tight bond. I'm going to feel after the show ends 'well if I stay in the building for forever, they can't turn the lights off right?' Because I'm going to miss all the guys and girls. No matter what happens in the future, things won't be the same. The thought of having to say goodbye is not one that I enjoy. So to see all those people and have to say goodbye, I don't know what the next step is. It's going to suck."
Bennett later compared Final Battle to that of a high school graduation, while Taven compared it to being at a graduation type event, only with the awareness that comes with age. Regardless, both OGK members agree that it is fitting that their final ROH match be against the Briscoes, a team they've had many battles against.
"It's kind of like the day you graduate from high school," Bennett said. "In some instances you've seen these people since kindergarten. You've seen them for the last twelve years, and now you know everyone is going off in a different direction. And it's like 'yeah, I'm glad school is over, but holy s**t, I'm never going to see some of these people again.' So I get that bittersweet feeling."
"The thing is, when you're in high school, you don't realize that everything changes," Taven said. "When you're in college, even graduating college, you're like 'I'll talk to these guys. I'll see them all the time.' Life just happens so quickly. And now, being at the point of our lives that we're at, we kind of can see that it's coming very soon. And we're like 'oh man, it's going to be something. It's going to be something.' There's all these little things that come out of the woodworks during tough times like this. During the last tapings, I was saying goodbye to people and people are telling these little stories that maybe you forgot and what it meant to them, and maybe how you helped them in some way. And it's like 'holy moly. We've done so much together. We've spent so much of our lives together that it will, without a doubt, be difficult to be in that building that night. But like I said, I couldn't have asked for a better reason to be there than defending the titles against the Briscoes."
If you use any of the quotes in this article, please credit ROHStrong Podcast and provide a h/t to Wrestling Inc. for the transcription