Update On Fan That Promised To Get Nightmare Family Tattoo After Cody Rhodes "Liked" Tweet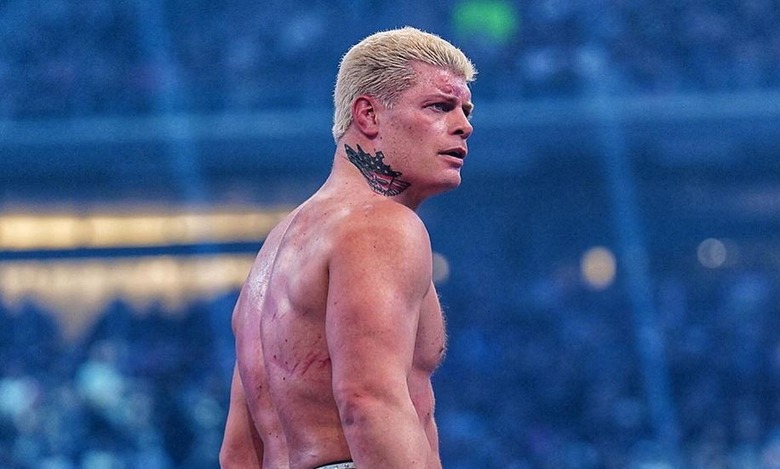 WWE
As we noted a little over a week ago, an extremely dedicated fan of WWE star Cody Rhodes swore he was going to get a tattoo of the Nightmare Family logo on his finger if Cody, himself, liked his tweet.
When Cody did indeed press the like button, the fan assured everyone that he was not going to chicken out of the challenge. He set an appointment for this past Thursday, April 20, and until earlier today, it was unclear what the outcome was.
As seen below, he ultimately did end up getting the logo of the Nightmare Family in all black ink. But instead of containing the tattoo on one of his fingers, he put a bigger tattoo of the logo on top of his hand.
"ADRENALINE IN MY BONE, HAND TATTOO OF CODY RHODES," he wrote as the caption.
ADRENALINE
IN MY BONE
HAND TATTOO OF
CODY RHODES@CodyRhodes pic.twitter.com/hQ1IUVzivc

— ⚡️CCKAlexx ⚡️ (@CCKAlexx) April 23, 2022
Cody Rhodes did more than just like the individual's tweet this time around, as he retweeted the pic and wrote, "Nightmare fam!" to welcome him. Cody has been supportive of Nightmare Family tattoos in the past, including a recent one inspired by the Superman's Dead comic book, which is no surprise from someone who emblazoned the logo on his neck.
You can see Cody's reply, as well as the initial tweets claiming the fan would get the tattoo below:
APPOINTMENT HAS BEEN MADE FOR NEXT THURSDAY WHEN IM OFF WORK! ✨👏🏻

— ⚡️CCKAlexx ⚡️ (@CCKAlexx) April 13, 2022
And if my artist says it won't look best on my finger then i'll get it done somewhere on my hand/arm but it'll get done lmao

— ⚡️CCKAlexx ⚡️ (@CCKAlexx) April 14, 2022
If @CodyRhodes likes this, i'll tattoo his logo on my finger

— ⚡️CCKAlexx ⚡️ (@CCKAlexx) April 13, 2022
Nightmare Fam❗️ https://t.co/lPeGzdahir

— Cody Rhodes (@CodyRhodes) April 23, 2022
Cody Rhodes returned to WWE on Night One of WrestleMania 38 earlier this month, defeating Seth Rollins and then catapulting into the main event scene quickly. In a recent advertisement on NBC, Cody Rhodes and Undisputed WWE Universal Champion Roman Reigns were the two stars represented as the faces of the company.