How Did The Fourth Of July Affect Ratings For WWE Raw?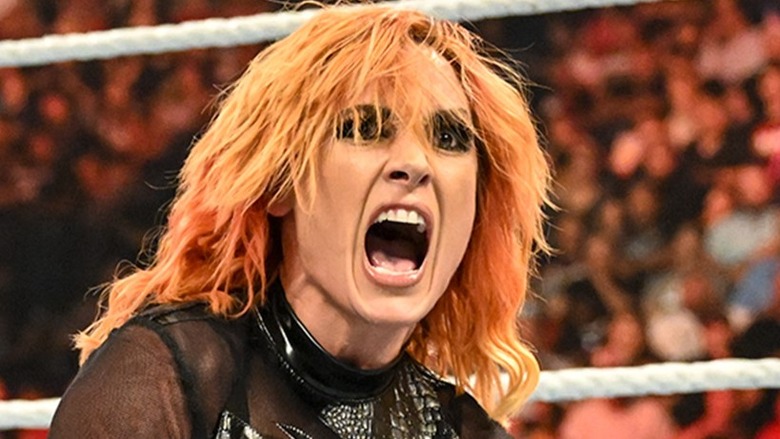 WWE
"WWE Raw" had to compete against Independence Day this past Monday, and viewers chose to let freedom ring over the wrestling ring. Wrestlenomics just released the rating numbers for the 7/4 edition of "Raw," which gathered an average viewership of 1,563,000 — a 20% drop in total viewership from the previous week. It's "Raw's" lowest total viewership since May 30.
The key demographic really took a hit this week, as "Raw" only had an average viewership of 487,000, giving it a P18-49 rating of 0.37. That's a 37% drop in viewership from last week and its lowest key demo number since December 6, 2021. All that considered, "Raw" still placed at #1 overall in the 18-49 demographic for cable originals and #4 in broadcast primetime, according to Showbuzz Daily.
The masses decided to either watch fireworks in person or at home, as the #1 ranked program for the evening was the Macy's fireworks special on NBC ,with a 0.62 rating in the key demographic.
"Miz & Mrs." aired following "Raw," and that show's average viewership number was not much different from the key demo number of its lead-in. This week's episode garnered a 483,000 average audience and only a 183,000 average viewership in the 18-49 demographic (0.14 P18-49 rating). This was the program's lowest number demographically since December 10, 2020.
"Raw" kicked off with a promo from the new United States Champion Bobby Lashley, as a feud will seemingly continue between him and the men's Money In The Bank winner, Theory. While Ezekial didn't continue his grudge with Kevin Owens, he did face Seth Rollins following a backstage segment and took a loss against the Visionary following a curb stomp. We also witnessed R-Truth as Uncle Sam lose to the Intercontinental Champion, Gunther. The main event had Becky Lynch take on Asuka in a No Holds Barred bout. "The Man" got the win after hitting Asuka with a Manhandle Slam through a table.