The Rock, John Cena, And Others Shown In Latest 'White Rabbit' Mystery Video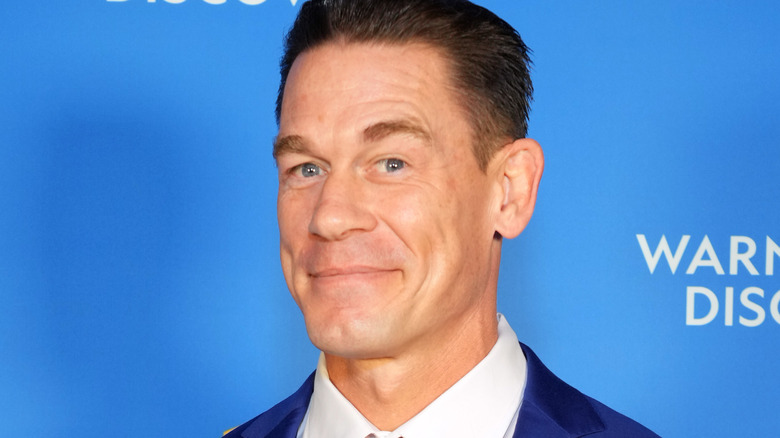 Kevin Mazur/Getty Images
The latest clue in WWE's ongoing "white rabbit" mystery was revealed during Monday night's episode of "Raw." A QR code briefly flashed on the screen as Dominik Mysterio was making his way to the ring just before a commercial break during a match between Rey Mysterio and Seth Rollins.
Those who scanned the QR code were taken to a cryptic video with some familiar themes for those who've been following the "white rabbit" over recent weeks. The video splices clips from WWE's past to say, "Who killed the world?" That's followed by the words, "You did" and "Feed your head."
The stars from WWE's past and present (and one from ECW's past) whose words were repurposed for the video included The Rock, Randy Orton, Papa Shango, Road Dogg, Kurt Angle, The Sandman, Edge, John Cena, Undertaker, Al Snow, Diesel, "Stone Cold" Steve Austin, and Cody Rhodes (in a clip from his first WWE run when he was wearing a clear facemask).
The video also includes imagery of The Brood's entrance, Batista delivering a Batista Bomb, an astronaut on the moon, Rob Van Dam diving over the top rope onto Bubba Ray Dudley on the arena floor, fire, a cactus, and what appears to be Dink the Clown playing in a celebrity softball game.
Digging Deeper
The video ends with the numbers "40701" and the "white rabbit" logo that's become familiar to those following this saga. The five-digit number may lead some to assume it is a zip code. However, the U.S. zip code 40701 is an area of southern Kentucky that contains the small city of Corbin. Friday night's episode of "SmackDown" is broadcasting from Winnipeg, Manitoba, Canada.
There's more. A user on Reddit posted the source code for the video and part of it includes the lines "No man is ever truly good' and "No man is ever truly evil." Those are the opening lines of the former Aleister Black's theme song when he was in WWE. Now known as Malakai Black, the former "NXT" Champion recently asked for his release from AEW and is currently on a self-imposed hiatus from in-ring action.
Whether any of these details actually point to the true endgame for the "white rabbit" mystery will likely remain unknown until its true meaning is finally revealed. But for now, it is giving WWE fans a lot to ponder.