CM Punk's Dog Injured And More On AEW All Out Fallout - Exclusive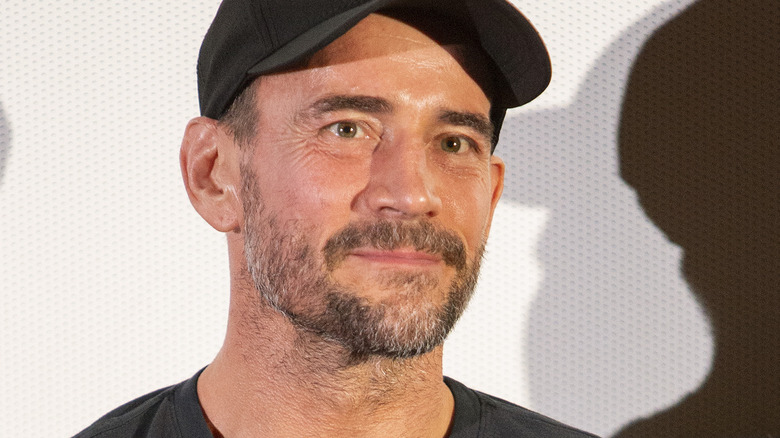 Barry Brecheisen/Getty Images
Following the report that The Elite may be returning to All Elite Wrestling "imminently," Wrestling Inc. reached out to CM Punk's camp for a response, and received one.
We've been told that AEW has not reached out to Punk since the incident following the All Out media scrum, in which Punk and his friend and trainer, Ace Steel, reportedly got into a backstage brawl with AEW EVPs Kenny Omega and The Young Bucks. Sources indicate that after the brawl, Punk was asked to stay quiet, and agreed to do so. From the perspective of Punk's camp, the scrum itself — which became the talk of the wrestling world due to Punk's comments on Colt Cabana, "Hangman" Adam Page, and The Elite — didn't seem like a big deal, and only escalated once Punk's locker room door was "kicked in" and accidentally hit Punk's dog, Larry, in the face. At a pre-scheduled veterinarian appointment a few days later, Punk was informed that two of Larry's teeth had been knocked loose and had to be removed.
Punk's camp said he felt threatened
Manny Carabel/Getty Images
Wrestling Inc. has been told that Punk felt threatened and reacted in a legal way under Illinois' Castle Doctrine laws, which allow for the use of force in defense of a person in their dwelling. At this time, there is no litigation against Punk on behalf of anyone involved. It was also relayed to us that Steel's wife, Lucy, was in the room during the incident, but has not been interviewed as part of the internal investigation into the matter.
Finally, we were informed that, following "Hangman" Adam Page's comments on a May episode of "AEW Dynamite" alluding to backstage concerns about Punk, there was distrust on Punk's end going into his AEW World Championship match with Page at Double or Nothing 2022, and that Punk was concerned that the pre-determined match would break down into a real physical fight.
Please stay with Wrestling Inc. for all the latest regarding the fallout from the AEW All Out incident and CM Punk's future.