Why Jerry Lawler Left WWE In 2001 - And Then Came Back Soon After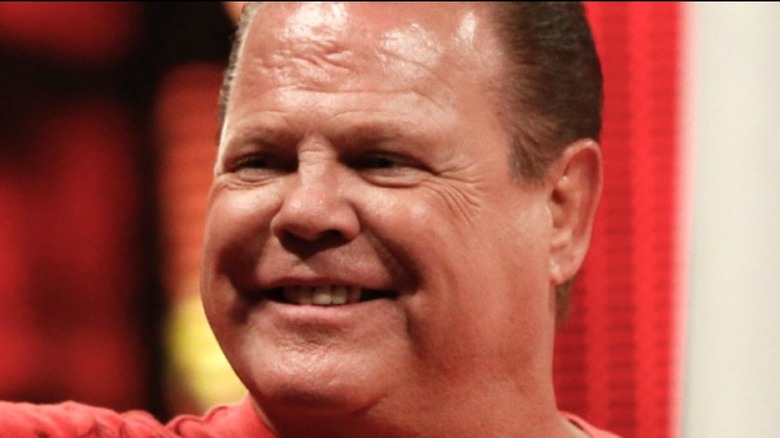 Jp Yim/Getty Images
Jerry "The King" Lawler is a man of many talents. He's a professional-level artist and cartoonist. He's also a business owner, running King Jerry Lawler's Memphis BBQ Company on Beale Street in his hometown of Memphis, Tennessee. However, the job he's most known for over the years is simple — being a professional wrestling legend.
Lawler, a WWE Hall of Famer, is arguably one of the more successful wrestlers in history, reportedly holding more championships than anyone throughout his career. Becoming one of the main draws of the Territory Era, Lawler made his name in the Memphis area wrestling for the Continental Wrestling Association. It's here where he'd meet the man remembered as one of his most famous adversaries — Andy Kaufman.
Lawler would also have significant stints with the AWA and the USWA until he made the jump to WWE. While he would wrestle during his time in WWE, he was primarily known for being a commentator; he and his partner Jim Ross became the voices of what'd be known as the "Attitude Era." During this period, he'd marry the woman who would lead to him leaving the WWE for a stretch — Stacy Carter.
Who Is Stacy Carter?
Stacy Carter, better known to WWE viewers as Miss Kitty or The Kat, would marry Jerry Lawler in September 2000. Meeting at a charity softball game held in Memphis in 1989, he'd soon bring Carter into the wrestling business, eventually getting her hired in WWE. Once there, she quickly became the WWE Women's Champion, winning the championship in a Four Corners Evening Gown Pool Match at Armageddon at the end of 1999.
Despite not being a trained performer, she would go on to have several feuds until she was unceremoniously released from the company in 2001. Lawler's commentary partner and former head of creative Jim Ross spoke about Carter's release on his "Grilling" JR podcast, saying, "She was a sweetheart, I thought, but she apparently, based on what the writers said, she was too hard to work with. So, they caught Vince on a day when he was not in a really great mood apparently. I got called in Vince's office, 'I want her gone ... I want her gone today.'"
Lawler would take offense to his wife's firing, quitting WWE in protest. He'd stay away from WWE from March of 2001 until November of 2001 when he and Carter would separate. The two divorced in October 2003.