Crowbar Talks NJPW Debut, Wrestler Safety, His AEW Run, Facing Matt Hardy, The Wisdom Of Jeff Jarrett & More - Exclusive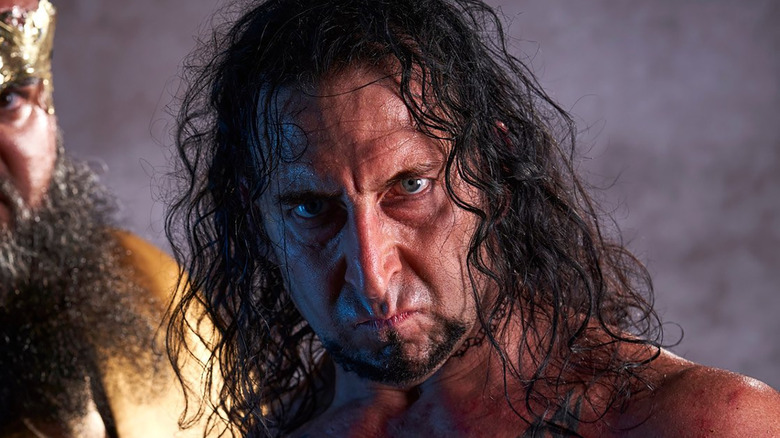 Jon Washer
Crowbar has accomplished what only a few wrestlers have done over the course of his 30-year career. In October, the former WCW star made his debut in New Japan Pro-Wrestling, taking on Fred Rosser in singles action. That puts him in one-of-a-kind company, as he has competed in WCW, WWE, ECW, Impact Wrestling, All Elite Wrestling, Ring of Honor, Major League Wrestling, and Jim Crockett Promotions.
Of course, Crowbar's current persona is much different than it was back in WCW. Gone are the ripped jeans and erratic attitude — now, Crowbar is a gothic, stone-faced, calculated grappler who picks apart his opponent in the ring. During the COVID-19 pandemic, he used Twitter to share a series of "Timeless" vignettes, as his new persona pontificated about polarizing topics in today's world of wrestling. In an exclusive interview with Dominic DeAngelo of Wrestling Inc., Crowbar talks about working for NJPW, incorporating "strong style" into his repertoire, his day job as a full-time physical therapist, and more!
NJPW Debut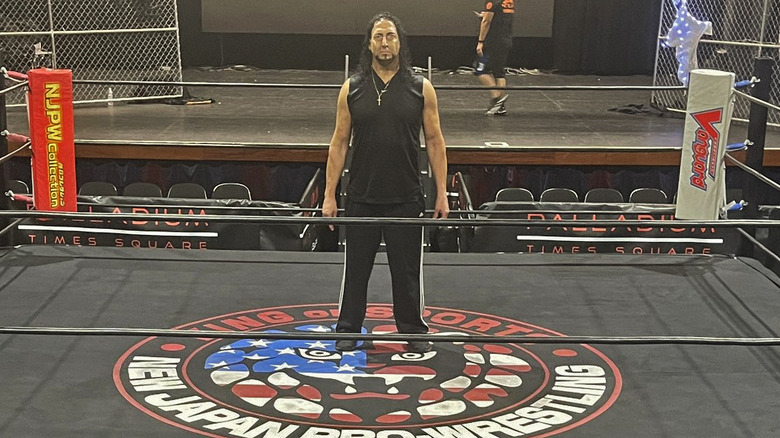 Crowbar/Twitter
Talk about your experience in New Japan, what that all was like, the New York atmosphere...
New Japan was a big deal for me. Early on in my career, the wrestling industry was dominated by huge guys, muscle-bound monsters. By today's standards, in 2022, I'm a big guy. Back then, 6'1", 232 was not a big guy at all.
I was a huge fan and got into getting the tapes of Japanese wrestling. The talent was smaller, more athletic. This gave me hope, along with seeing guys like the Lighting Kid and Jerry Lynn coming onto the scene. New Japan was truly a beacon of hope for a "smaller" guy like me –- and I really enjoyed the style as well. For whatever reason, Japan never happened for me in my career. This shocks my colleagues in the business, because they assumed I have wrestled there because of my in-ring style. NJPW was an unexpected blessing in 2022, an opportunity I was not expecting and an opportunity, quite frankly, I thought had passed me by in my career. Finally getting to step into a NJPW ring was pretty awesome, pretty special, and fulfilling ...
I have always been aware of strong style, I watched it, and I enjoyed it, but never really studied it in-depth or analyzed it too much professionally because I was not required to use it on most of the independent shows I did. I watched it superficially as a fan just enjoying a different style of wrestling and enjoyed it, but really never watched it "under the microscope" or watched it thinking about "how would I do this," just because I didn't foresee any strong style opportunities on my horizon.
I'm a student of the game after all these years. When I get booked on an indie, If I know who my opponent is, I'll look up his matches, watch them when I do cardio, and do whatever I can to become familiar with that person so that I can give the best performance possible. After I was booked for the NJPW NYC event, I did a deep dive into watching the style, I became engrossed in it, immersed in it –- I became a big fan of its physicality, its overt effort to make the product look less cooperative and more "real," and I really fell in love with this art form. You still do traditional, mainstream, wrestling moves – but the time allowed to sell, and the effort put into making it look real and more sports-like drew me in, and once I actually performed a match in this style, I was hooked. I've already started integrating characteristics of strong style into my independent matches since the NJPW match.
Where would you rank in regard to all the promotions that you've been a part of? It's like I mentioned earlier, it's very kind of unprecedented. You can count on one hand the amount of wrestlers that have done what you've done. Where do you rank that in your all-time accomplishments in the ring?
As far as being a part of every company or just New Japan?
As far as being a part of every company in a way.
When I think about it, there's so much great talent out there, so many legends out there. But it's really nice, really kind of cool having something that I'm in this very small select group of wrestlers. Never been a really top guy, top of the card main event guy, but having that as an accomplishment is something special that nobody can take away.
Crossing Paths With Matt Hardy For The First Time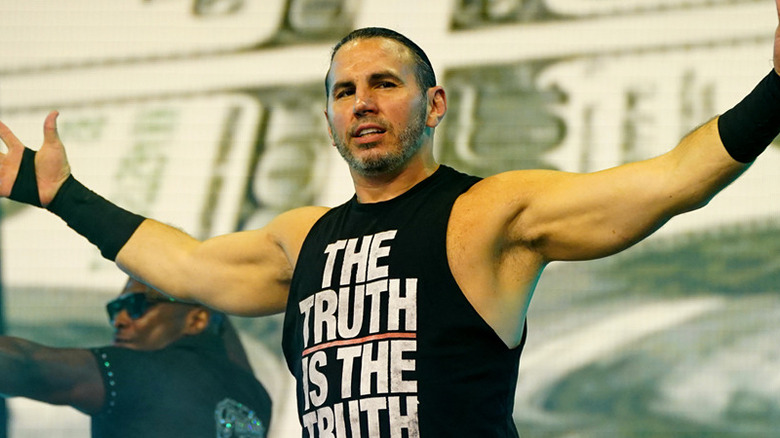 All Elite Wrestling
Coming up, both of us are going to be in Winston-Salem for WrestleCade.
Absolutely.
After Thanksgiving weekend. 
First time ever for me.
First time for me too. I am pumped. I am pumped, because I hear so much great stuff about WrestleCade. But you have a big match coming up there too. You're going to be facing Matt Hardy in singles competition. Is this your guys' first foray into the ring?
Once again, we've both been around a really long time. We've had similar styles. We've been to similar places but for whatever reason, we've never mixed it up. Not once. So I'm really looking forward to that. Matt's... He's so creative, he's able to reinvent himself. He's a great ring technician, a great general. I think I'm a great general as well and I think we could do something really, really special. I think that crowd in Raleigh, North Carolina, is going to see something great.
You're right in the thick of Hardy country down there, too.
Absolutely. Look forward to being the bad guy down there. I think it's going to be a lot of fun. Yeah.
You're going to embrace that baby, I tell you what.
Absolutely.
Reinventing Himself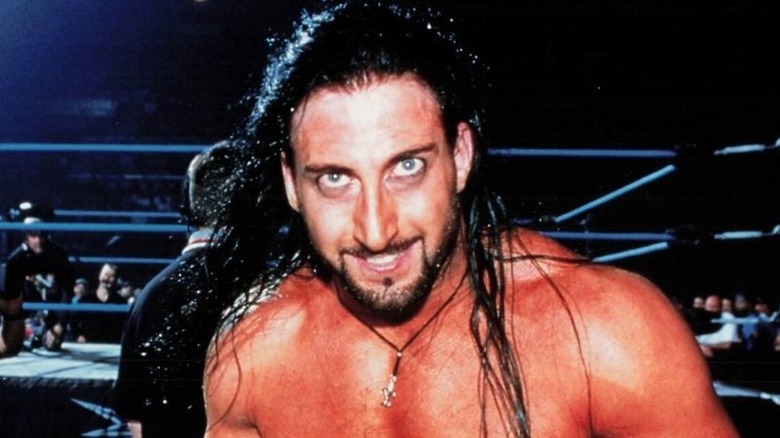 WWE
So you mentioned it too, he's reinvented himself several times in a lot of ways, but you reinvented yourself too, from what people associated you back with WCW to even your Devon Storm days, and now you have this "timeless" persona. Is there a certain thing that you kind of took note of, watching Hardy do what he did, and adapted into your whole thing? Was there something you kind of pulled from Hardy in certain ways, would you think? Or how do you think that all came about for you?
I just knew that I couldn't be the guy in the ripped jeans for the rest of my career, you know what I mean? After WCW, if you scanned over the indie circuit and even WWE and other companies, there were a lot of guys wearing clothes, jeans, t-shirts, whatever, and I just knew it was time to move on. I've always had this idea for a timeless character, kind of eccentric, thinks he's better than you, skilled, whatever. I always like the Venetian masks from "Eyes Wide Shut." I think they're kind of creepy looking, and there's a certain "je ne sais quoi" about those ... It's really an idea that I came up with probably around 2006, 2007. But at that time I was growing my business. I had some kids, and so I toyed around with it.
You could find pictures of me wearing something similar to my current outfit then. But it really started around 2018, first with WildKat Wrestling. Luke Hawx was actually the first person that gave me the opportunity to really run with this idea. When he ran Wildcat in Philadelphia, he said, "I want to bring you in." I said, "Luke, I have this cool idea with me, my wife, this bodyguard guy," and I explained it to him and he goes, "Oh wow, that's great. Sure, let's do it." After WildKat, Ring of Honor gave me the opportunity to do it once more for their Final Battle card in 2019, and then in Free Enterprise, which was in late January of 2020, and then the world shut down. But that Ring of Honor match in 2019 and early 2020 gave me that taste again, that big-time show feel. I liked it.
So I just started playing around. The pandemic came, and I work full-time as a physical therapist, so with restrictions where if you go somewhere you got to quarantine for two weeks, this, that, the other thing, it wasn't feasible for me to do independent shows, although they were happening at that time. I had to go to work. My wrestling outlet was these "Timeless," I called them memorandums more than promos, more long form. They're usually a commentary on wrestling's current events. Yeah, they were a lot of fun. Doing the promos was something that I never really got to do as Crowbar in WCW, and it was just a whole lot of fun. Again, for that time when I couldn't wrestle, it was an outlet for me to do something wrestling-related during the pandemic.
How Aspiring Wrestlers Can Utilize Social Media To Their Advantage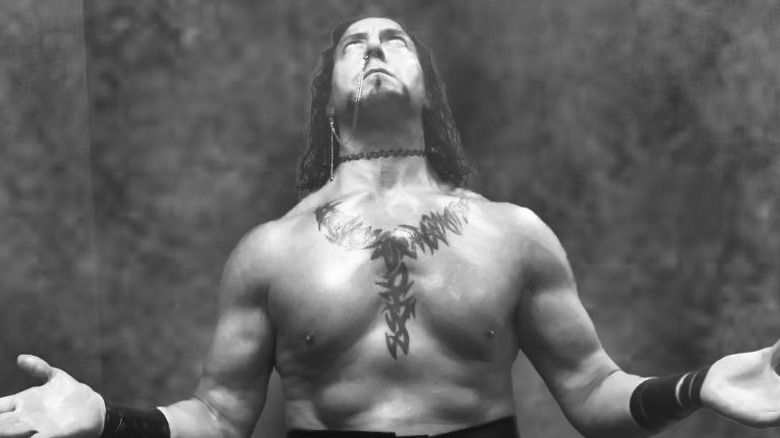 Crowbar/Twitter
Yeah, it's definitely a good outlet, and kind of a way that a lot of wrestlers should be adapting and utilizing in a lot of ways to just expressing themselves. It's an immediate way to interact with your fans, but in a more persona type level, I think it's pretty important to do. I think you really established an identity doing it that way.
I explained it to the new guys. When I first started out, if you had an idea for a gimmick or something like that, a persona. Way back when you had eight-by-tens, and you had to find somebody that could edit VHS tape. You had to hope that you would go to Mr. Wrestling promoter, "Here, this is my idea and here's a picture." You had to hope that he could envision what you're explaining to him. You're really not sure whether he did or not. Throughout the pandemic, I learned from Robert Frank, one of my favorite internet personalities. He does the "House of Gains" with the weightlifting videos. He's a Jersey guy, and he taught me how to edit. He was actually the one that taught me how to edit, gave me a tutorial over the phone.
I'm eternally grateful, but I still had to toy around with it over and over again. I had to learn this skill so that I was then able to take this vision I had. If you go to my Twitter page, the first thing is always a pin, it's kind of a vignette of my whole crew. I made that myself, I edited that myself. So now in 2022, we have these tools available to us. We just have to learn how to use them. Now if I ever get an idea for a "Timeless" promo, or memorandum, I really don't have to depend on anybody to film it for me. If it's three in the morning and I have this great idea, I could roll out of bed, I could do it, I could film it, I could edit it myself and I could get it out the next morning. That's very empowering.

CM Punk, The Young Bucks, and Fellow Veteran Wrestlers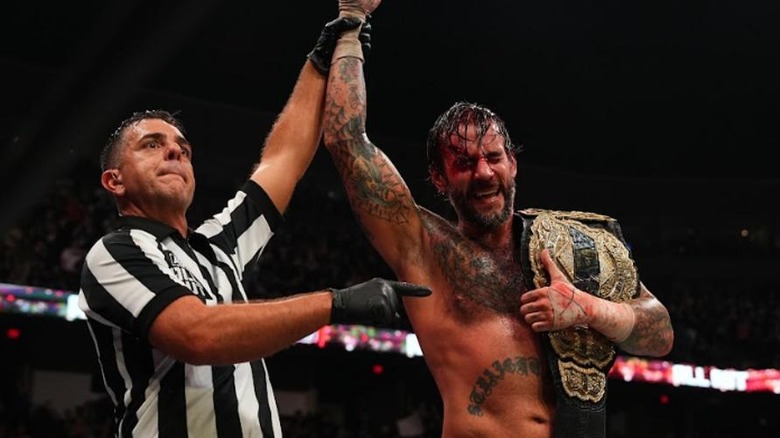 All Elite Wrestling
You had your little bit of an experience with AEW ... and you wrestled on "Dark" when they were in Philly. So it was you and Blue Meanie around at the same time, which is pretty awesome.
So much fun. It was great.

Obviously, there's some big stars there. Did you get to interact with any of the ones, like a CM Punk or the Young Bucks, or anybody like that while you were there by chance?
I saw Punk, I saw the Bucks, I saw a lot of the people there. Nothing much more than pleasantries, "Hey, how are you? Good to have you here, yada, yada, yada." But it was good seeing everybody. Everybody was super cool and that was it. Really great crew, really great locker room. They were all very welcoming and I had a great time. Yeah, some old faces too. I hadn't seen Tony Schiavone in a while, Dustin Rhodes in a while. So it was cool seeing guys on that I hadn't seen in a long, long time. It was really great.
To go off of that a little bit, the work that Dustin is doing too is very admirable at his age and everything like that. What has really stood out to you, from somebody watching what he's been able to do over the course of time and everything? Is there certain kind of things that you really relate in a lot of ways when you're watching him performing in the ring or anything like that?
I love watching guys that are kind of in my age range, Dustin, Jericho, PCO, guys like that. Wondering what hypothetically would happen if we were to have a match. Matt Hardy, Christian, guys like that. Will those matches happen? In all reality, likely not. I just don't think so. I just don't think that I'm on that kind of radar for those guys. But I do know that if they were to happen, we tear the freaking house down, because I know what I'm capable of and I know what they're capable of, and it's just entertaining for me to watch, and I'll have my notepad — I always have my mobile notepad with me, and I'll just in case jot down, "Oh yeah, that might be good to do." I'll just jot down a couple, because you never know.
If there was an ultimate one, an ultimate veteran of your age — now I'm really excited for Matt Hardy though, I'm pumped for him, but is there another one that you would be like, "Oh man, I'd really like to mix it up. I think we would complement one another very well in the ring."
Everybody's going to say it's the cliche one to say, but I've always been a big fan of guys that came out of ECW, and I've worked most of those guys, and there's two guys out of there that are on my bucket list that have not happened — that's Rob Van Dam and Chris Jericho. I would love that match. Will me and Chris Jericho ever happen again? Probably not. But hypothetically it would be phenomenal. It would be timeless.
Hey, who's to say, because you know what, he's "The Ocho," he's the ROH champ right now. You had a run in ROH there. Maybe those stars will align at some point or another.
Well I doubt it, but I will say the past year and a half to two years, it has been a steady flow of unexpected things. So who knows?
How Joey Janela Helped Re-Ignite His Wrestling Career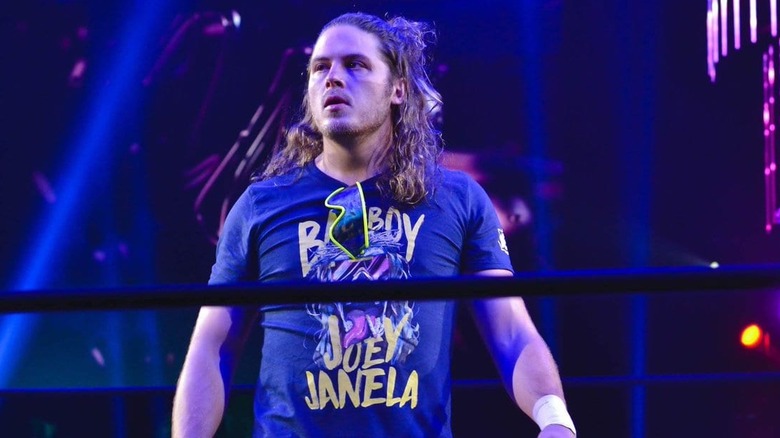 All Elite Wrestling
Tell me about Joey Janela. You've fought against him a few times and helped him to recover from injury. How does he manage to do high-risk maneuvers and keep you safe?
I love Joey Janela as a person and as an opponent. Joey is responsible for stopping my retirement in 2014. I had started a physical therapy business that was booming, had a wife, two kids, and my rational side of the brain (along with friends and other family members) had convinced me that I should hang up the boots and grow up. A local wrestling promoter was running an event literally five minutes from my home. I had been off for about a year, or possibly more than a year, I think. Anyway, he asked me if I wanted to do one more match with some new kid, Joey Janela.
I looked up some Joey videos and matches, and could see how much talent he had, and I knew I could have a great last match with this guy, and now, I'm getting ready to retire, but if I'm going out, I'm going to work really hard one last time and leave it all in the ring. We have a wild match, wilder than many expected, and it sounds corny, Joey re-lit, reignited my passion for wrestling yet again, and made me remember what I love so much about performing. Since then we've wrestled each other many times, one for AEW in Philly, which was an incredible experience. I did Joey's rehab after his knee injury, and we just get along great. I always love getting to see Joey and spending time with him in and out of the ring. He'll always be a special person to me because of what he gave back to me — he gave me back the passion for something I loved doing and stopped me from walking away from it. And as a result, I've had many great experiences I would have otherwise not enjoyed: ROH, AEW, Flair's Last Match weekend, NJPW.  I'll always be grateful to Joey.
Joey has always had a very safe move set with me –- I think he just takes bigger risks with his own body, and that's his choice and I get it, because I used to be the exact same way. It's a byproduct of passion and love for what we do. Eventually, for me it was very late, a switch goes off and you begin to eliminate moves that are riskier for moves that are less risky, but do not bring down the quality of our performance ... I really try to model my moves to moves that look really cool, that look really dangerous, but they're actually really, really safe. I like to get a lot of mileage out of being creative. I like creative transitions ... I like finding creative ways to change momentum and to change the flow, and I think that's a lost art ...
I really try now, especially being 48 years old, I try to work my ass off. I really try to work hard, but I really try to work smart and safe. My goal is to have a phenomenal match or have a really good match with my opponent. Do things that look dangerous or that put us at risk and have us both be able to come to the back unscathed outside of a few bumps and bruises and stuff like that, but injury-free. If I can do that, that's a huge win.
Injuries And Exercise Choices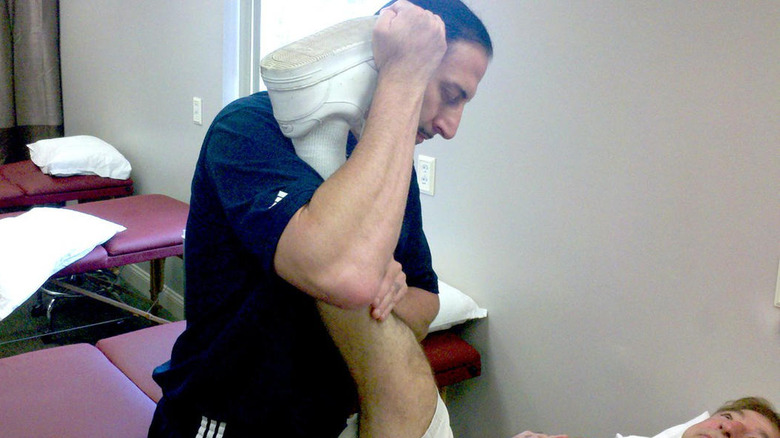 WWE
How long do you think you can keep going, knowing your body and being a physical therapist?
This is something I didn't learn till very late in my career, and it's invaluable. I believe many injuries can be avoided by simply making better choices. Eliminating and substituting maneuvers that may carry a higher risk for injury for maneuvers that may look equally as "cool," maneuvers that look dangerous or impressive but are significantly safer and carry significantly less risk.
How long for me? Who knows? I am in this 31 years. The first 10 or so were high mileage, two to three times a week, more during WCW, but the last 20 years have been relatively low mileage. I feel great, I'm having a blast, and I take great pride in and get great satisfaction from being able to more than hang in there with the young lions. When I can't physically perform at a level I think is modernly acceptable and entertaining. I'll walk away. As I've said in the past, I'm a terrible spectator. I have zero interest in being a manager, agent, coach or anything like that. I'm not getting up at 4 AM and hoping on a plane to do that. To wrestle, yes, to coach, no. I have my own business three minutes from my front door.
Here's a hot take, and probably an unpopular take, but I know my body, my personal experiences, and I've been involved in physical therapy/rehab since 1998. I believe many of the injuries we sustain as wrestlers are a result of poor regular, everyday exercises choices: how we lift weights, our cardio choices, do we do high-impact exercises, plyometrics, how we stretch, all of this can negatively affect us as we advance in age year to year. Granted, injuries do happen in the ring from an accident, a fall gone wrong, landing improperly etc. These things will always happen, but I believe many of the wrestlers are setting themselves up for injury or are going into the ring in a compromised state because of improper training or by making poor choices in their training methods. Especially as we get older. In my opinion, we need to change and morph our workouts to accommodate our aging and the wear and tear we have put on our bodies, be it from in-ring wrestling or how we have trained outside the ring. If we have certain orthopedic issues, there are exercises we should avoid or modify to insure we aren't making overt or occult (hidden/developing) injuries worse. Many wrestlers have a gym mentality: "No pain no gain, I'll force myself to do the exercises I did when I was 20 so I can perform like a did when I was 20." These aren't always the best choices. I know of many wrestlers also try to self-diagnose and treat their own injuries. Being proficient in the weight room and having access to Google or WebMD doesn't bestow upon you the ability to diagnose and treat injury. For many of these guys, wrestling is their life, career, only job, and guessing on a diagnosis can be detrimental. I've seen first hand simple injuries become major issues because of early mismanagement.
What Today's Wrestler Can Learn From Jeff Jarrett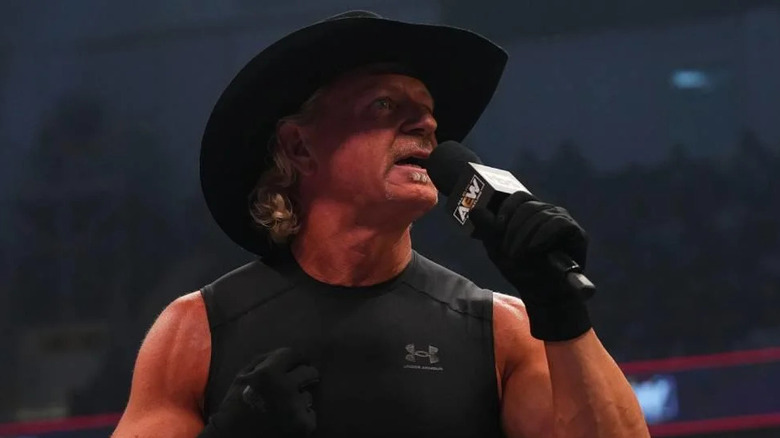 All Elite Wrestling
A legend who knows their identity is Jeff Jarrett, and he's someone you've shared the card with at Ric Flair's Last Match. What do you think AEW could learn from him?
Jeff, in my opinion, looked better at "Ric Flair's Last Match" than during his time in TNA all those years ago. Physically, he looked in great shape, he can still move great, and he's a master of psychology. The live audience was eating out of his hand. I watched the match from the side of the stage, of the arena, and experienced it. It was very cool. In a day and age when it's trendy for fans to cheer or be on the side of the "cool" heel, in 2022, Jeff elicited a visceral disdain from the audience. Very rare in this day and age. Again, I watched it from in the arena and experienced it.
Go back and really watch his matches from different time periods. Jeff knows how to make himself look good, but also his opponent, and making your opponent look good is an attribute of the true greats, in my opinion. I'm not privy to or certain of what exactly his role is with the company, but there's a treasure trove of knowledge all the younger wrestlers and even the older more experienced wrestlers can pull from on that roster with Jeff being there, if that's what his job description is. As a fan and as a professional, I watch a lot — and I mean a lot — of older wrestling, and Jeff Jarrett is one of the guys consistently on my "watch and take notes" list. Footing, timing, placing yourself in the right spot, are all little things Jeff did so well.
Today's wrestlers are by far the most athletically gifted performers ever in this sport compared to prior generations. What they do is amazing, and totally accepted, and loved by modern fans, but, again just in my opinion, if you can add in some of the littler, almost forgotten things, as I said, the footing, timing, placing yourself in the right spot, how it's just as important to make your opponent look good as yourself, how to sell, these already incredible athletic performances by incredible athletes can be made to be even better and more special with Jeff's influence.
What's Still On His Wrestling Bucket List?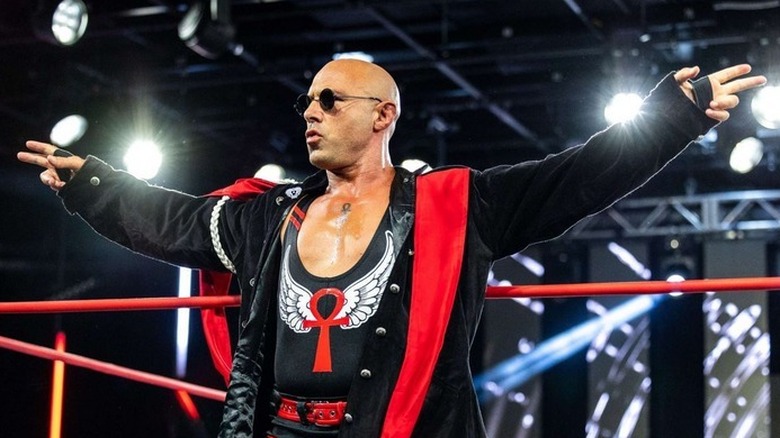 Impact Wrestling
What is still on your bucket list for wrestling?
Who knows? I'm just enjoying taking the opportunities that have come my way and choosing to do the ones that fit into my life and my work schedule. It's really been cool. Like I said before, I was ready to retire and hang up the boots in 2014 — thanks Joey! I have enjoyed such an unexpected run of cool and unexpected blessings and opportunities since then, and my kids have gotten to see me do a lot of cool things live that they otherwise would not have, so I'll just keep on keeping on, having fun and seeing what opportunities present themselves.
I watched a lot of Christopher Daniels when I was studying "NJPW Strong" prior to my NYC match, and I think, given we're in a very select company of guys who have pretty much wrestled everywhere, I'd love to face Chris in an NJPW ring. We've locked up earlier on in our careers a few times, I think it would be interesting to see what we could come up with in 2022. And while we're talking about NJPW, add Rocky Romero to the list, as well as another battle with Fred Rosser. Again, work is good, life is good, and it empowers me to do things that are unconventional, or some would say to me "Are you crazy?"
Oddly enough, my kids loved "Grim's Big Toy Show" on YouTube, which features toys and regularly features wrestling matches with independent talent. He's based out of New Jersey, I think it would mean a lot to my kids and grant me a "super dad" moment and a lot of fun if I made an appearance and wrestled at Grim's. His events are outdoors, so maybe once summer or spring rolls around, I'll choose a local New Jersey-based up-and-comer who may want to wrestle me, and we'll take a drive down to Grim's, work hard, do a great wrestling match, and have some fun. I know for a day or two it makes me "super dad" again, which is rare once your kids become teenagers.