15 Gimmicks That Were Dead On Arrival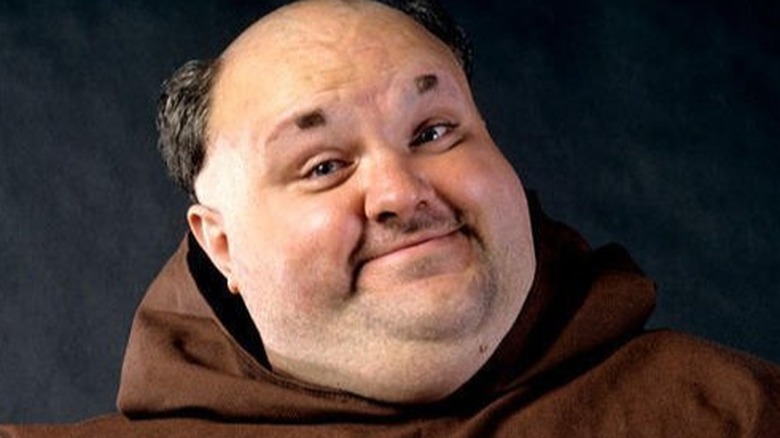 WWE
Throughout the history of pro wrestling, gimmicks have remained an enduring part of the business for better and for worse. The idea of a wrestler portraying a character or an enhanced persona is just about as old as wrestling itself. Many pro wrestlers maintain that the best gimmicks are just the real person's personality but cranked up to 11. However, oftentimes gimmicks are thought up backstage, usually at the behest of management and the folks in the writer's room. WWE especially has been known to take an already established talent and slap a new coat of paint on them.
Sometimes this has worked out well, but in many other instances it has resulted in some of wrestling's biggest onscreen busts. Whether it was an immediate flop or a gradual one, these are the gimmicks that quickly found themselves exiled to parts unknown. From characters presented far past their sell-by date to disastrous debuts, these are 15 gimmicks that were dead on arrival.
The Gobbledy Gooker
WWE
In terms of terrible Survivor Series moments, you'd be hard-pressed to find one quite as embarrassing as The Gobbledy Gooker's debut. In the weeks leading up to the 1990 edition of the event, WWE touted the appearance of a giant egg. The enigmatic egg was subject to much speculation, with many wondering just who or what was inside. The night of the show arrived and fans were indeed treated to a surprising reveal.
However, what ended up emerging in front of Mean Gene and the crowd in attendance was far from spectacular. The Gobbledy Gooker, Hector Guerrero in a cheap turkey costume, emerged and began talking only in turkey sounds. Gene and The Gooker took to the ring to engage in some truly cringeworthy dancing as a deflated crowd was forced to watch.
The entire affair is widely regarded as one of pro wrestling's most embarrassing moments, popping up on various top 10 lists. The Gooker made a few brief appearances in the following years, usually done tongue in cheek and actively acknowledging the character's infamous history.
The Shockmaster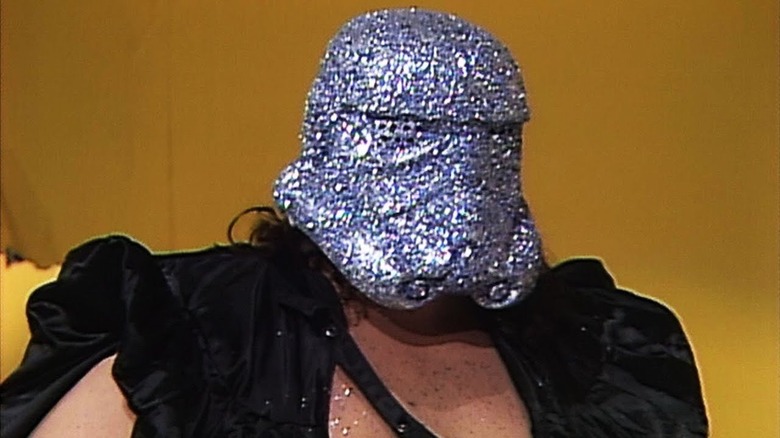 WWE
It's a debut so infamous that to this day it is still riffed on and poked fun of by many hardcore wrestling fans. We assume many of you hardcore fans know this story but, for the uninitiated, here's the short version. Fred Ottman, better known as WWE's Tugboat (later Typhoon), ended up departing from WWE in 1993 following a brief run as a singles competitor after The Natural Disasters parted ways. After signing, Ottman was set to debut in WCW alongside Sting and Davey Boy Smith as The Shockmaster. During an interview segment, the duo announced who their partner was to the world, with Sting being the one to introduce him.
Sting went on to say, "All I have to say is, our partner is going to shock the world, because he is none other than the Shockmaster!" On cue, a pair of pyro explosions went off and, clad in a fuzzy vest and a bedazzled Stormtrooper helmet, The Shockmaster made his debut. Unfortunately, due to limited visibility and some poor timing, Ottman came crashing through the wall, falling over which caused his mask to slip off! The disastrous affair couldn't be salvaged with the wrestler's legitimate reactions to the misfire being audible for all to hear. The incident is widely regarded as one of pro wrestling's biggest botches and a textbook example of how to kill a gimmick in mere seconds.
The Kiss Demon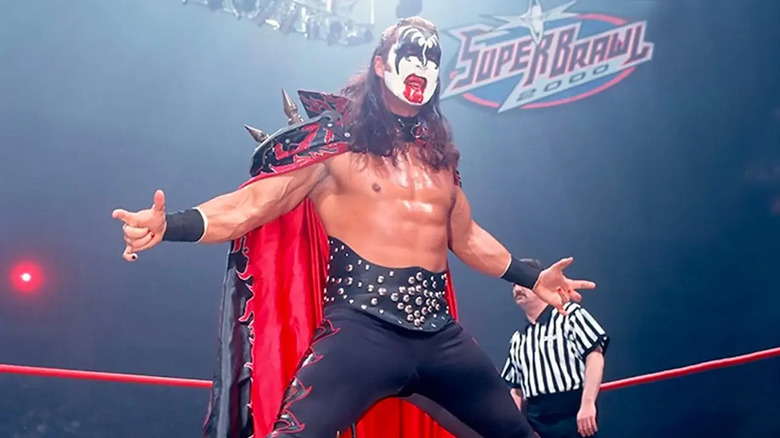 WWE
You know what's awesome? Kiss. You know what else is awesome? Professional wrestling. However, if WCW's Kiss Demon proved anything, it's that sometimes two great tastes don't always taste great together. In the late '90s, Eric Bischoff took a swing at a crossover between WCW and the rock band Kiss. The idea had some merit as Kiss was quite popular and their aesthetics were no more ridiculous than anything else in pro wrestling. For weeks, a special performance from the band was hyped for the final segment of an episode of "Nitro."
Not only that, but the performance was going to be used to debut a new wrestler with a Kiss-themed persona. The Kiss Demon's debut was certainly given a fair amount of pomp and circumstance, but sadly didn't deliver the ratings WCW had hoped for. In fact, per a 1999 edition of "Pro Wrestling Torch" (via WCW Worldwide), "Kiss bombed in the ratings despite their live appearance being pushed for a few weeks." The segment was a gigantic flop, drawing well below the show average in an episode that garnered the lowest ratings WCW had seen in years.
Coinciding with Bischoff's departure from WCW, the Kiss Demon gimmick was quickly booked into oblivion. Despite big plans originally being on the table for him, the character didn't survive too much longer beyond that point.
The Yeti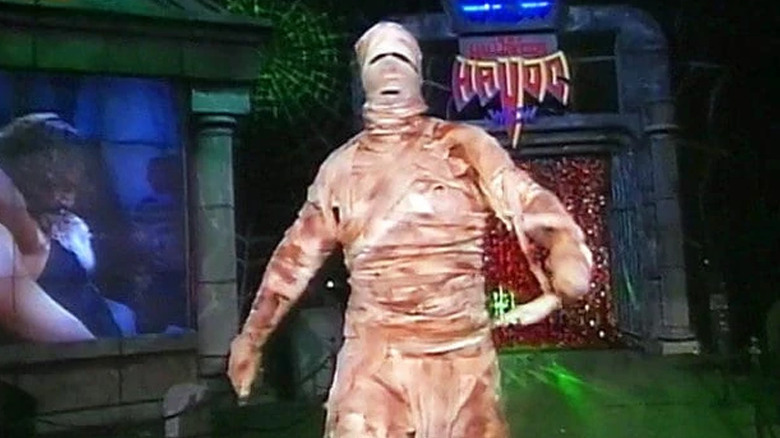 WWE
Halloween Havoc 1995 is best known for two things: The Monster Truck Sumo match and the debut of The Yeti. Teased at the end of the preceding "Nitro," the Yeti was shown erupting from a giant block of ice. This should've served as warning enough that something ridiculous was about to go down, but alas the true cringe was yet to come. On the night of Halloween Havoc, Hulk Hogan put his WCW World Heavyweight Championship on the line against The Giant. This was already baffling as, just earlier that night, Hogan had sent The Giant presumably falling to his death following the Monster Truck Sumo match.
At the match's conclusion, the Dungeon of Doom, including Hogan's turncoat manager Jimmy Hart, began to attack the immortal one. This was the cue for the Yeti to make his arrival and out he came in all of his Halloween-costume glory. Resembling a mummy more than he did an ancient cryptid, The Yeti joined The Giant in an awkward double bear hug on Hogan. It's truly one of the more confounding things to ever close out a WCW pay-per-view, which is saying a lot. Following this trainwreck of a debut, The Yeti, portrayed by Ron Reis, was promptly repackaged as the Super Giant Ninja.
Seven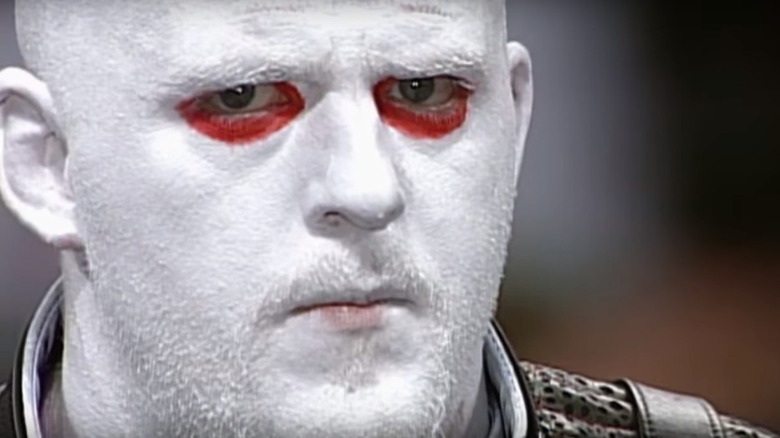 WWE
When it comes to making a spectacle out of oneself, few have done it bigger and better than Dustin Rhodes. From WWE's Goldust to TNA's Black Reign to simply performing as himself in AEW, Rhodes has never gone halfway with any gimmick. However, amongst his in-ring canon resides a gimmick that, while possessing some potential, ended just as quickly as it began. Following his departure from WWF in 1999, Rhodes made his way back to WCW and pitched the creepy new persona of Seven. In a series of vignettes aired on "Nitro," Seven would sinisterly float outside of children's windows, asking them to "Come to me and live forever."
However, per Vince Russo's podcast (via Sportskeeda), it was revealed that standards and practices pulled the controversial character from WCW programming. Given the dubious nature of Russo's various claims, this is debatable but regardless, the gimmick was thoroughly kiboshed in record speed. After weeks of hype, Seven arrived on "Nitro" and seconds after arriving, Rhodes broke character and completely buried his new persona. He noted how he left WWE because of gimmicks like this and how Goldust nearly ruined his career. This is awkward, especially considering that Rhodes ended up returning to the WWF as Goldust just a mere two years later.
Phantasio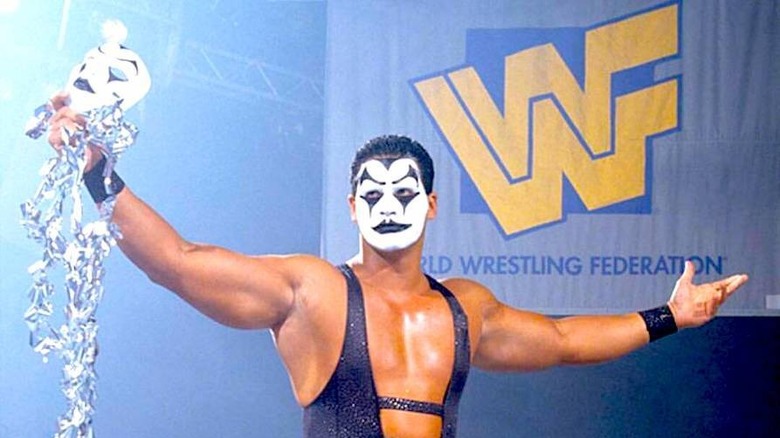 WWE
First you see him and now you don't, because he lasted all of one match on television before being scrapped. On the July 16, 1995 episode of "WWF Wrestling Challenge," the man known as Phantasio made his one and only televised appearance. Phantasio, aka Harry Del Rios, was presented as somewhat of a crossbreed between a stage magician and a mime. Why this monochrome miscreant picked a pro wrestling television show as the venue for his magic act is anyone's guess. In his only appearance, Phantasio squared off with Tony DeVito, future member of Ring of Honor's Carnage Crew with HC Loc.
Phantasio opted to dispatch Devito through a mix of admittedly solid agility, surprise streamers and by magically removing his boxers through his singlet. Phantasio ended up scoring the win but was soon ushered off television and soon returned to the USWA where he wrestled as The Spellbinder, a character he would also perform as when he returned to the WWF to wrestle four 1997 non-televised matches. 
Mantaur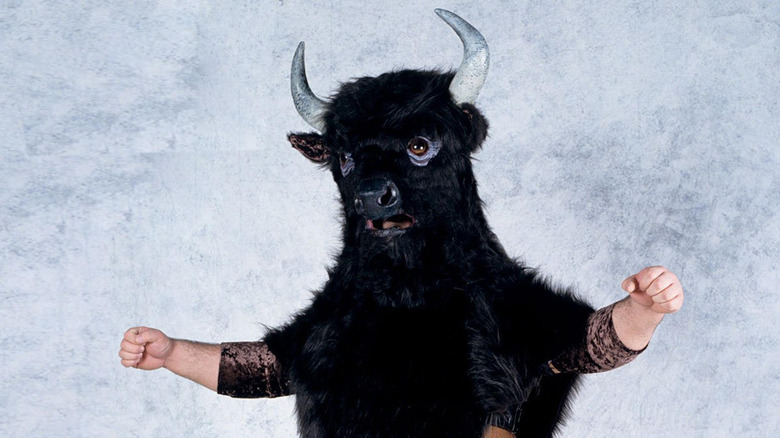 WWE
In the early 1990s, WWE really took a chance on several madcap characters that severely insulted the average viewer's intelligence. One such character was Mantaur, a man who appeared to be half man and, judging by his in-ring presentation, half buffalo. Portrayed by Mike Halac, the character would walk to the ring adorned with a realistic buffalo head covering his own. This was already goofy enough as it was, but it only increased in hilarity once the bell actually rang. Since Mantaur was supposedly half beast, he would make mooing noises and even attempt to trample his opponents.
One of the funnier moments with Mantaur was when Jim Cornette of all people was slotted in to manage him. Per an appearance on "WWE Photo Shoot," Ol' Corny explained how their pairing was nothing more than a rib or prank — a legitimately funny one at that. Bizarrely enough, Mantaur actually racked up a decent streak of wins, even somehow getting a match with former Intercontinental Champion Razor Ramon. Shortly thereafter, the character was shifted into jobber or enhancement talent status, putting over the likes of Bob "Spark Plug" Holly and Bam Bam Bigelow. Needless to say, a gonzo gimmick like Mantaur was never going to connect with the increasingly cynical wrestling fans of the early 90s.
Kizarny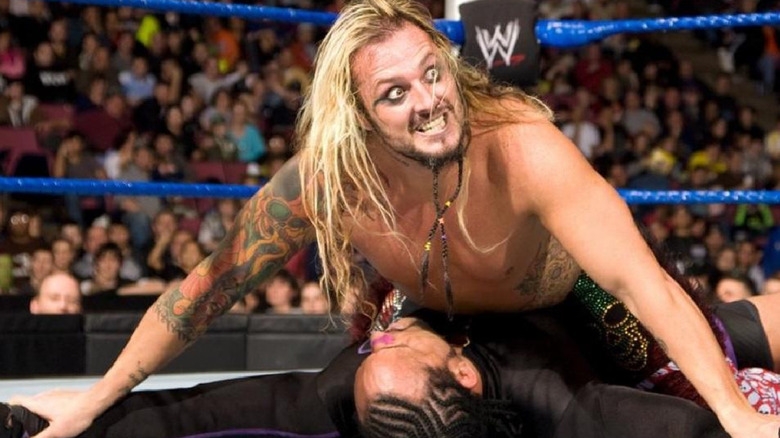 WWE
In October 2008, a series of vignettes began to air on "SmackDown" teasing the arrival of Kizarny. Portrayed by wrestler Sinn Bodhi, the character spoke only in carnie language, saying things like "Weazelcome teazo theaze ceazarnival." This was a reference to professional wrestling's old school origins, beginning as an act frequently used by traveling circuses and carnivals.
The character definitely possessed an interesting, if slightly creepy, aura and the vignettes were certainly eye-catching enough to intrigue fans. However, despite being teased in October, the character didn't formally arrive on television until the January 2, 2009 episode of "SmackDown." Kizarny debuted in fittingly strange fashion by defeating MVP with a modified double arm DDT, his first and only televised singles win. Aside from one appearance in a battle royal and a backstage segment with Vickie Guerrero and Edge, that was a wrap for Bodhi's character. Backstage sources indicate Kizarny was fired as Vince McMahon had a negative reaction to his televised in-ring debut.
Beaver Cleavage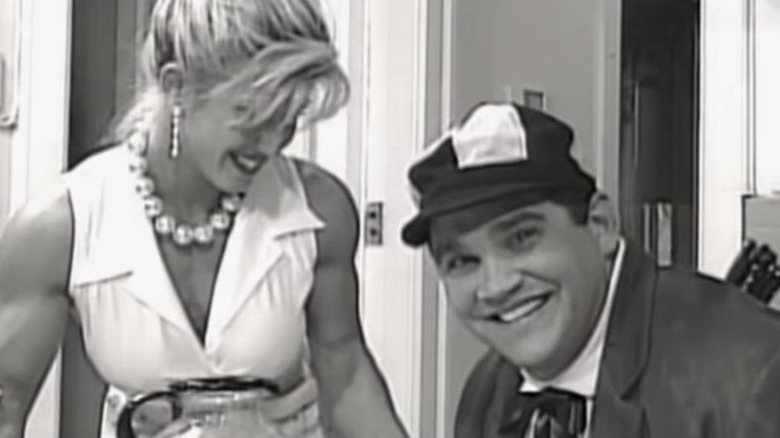 WWE
There've been many moments where we truly hoped nobody walked in while we were watching WWE and whenever Beaver Cleavage was present that would certainly be the case. In the late '90s, wrestlers Mosh and Thrasher found themselves in a reliable role as the Headbangers, a metal-inspired tag team. While never achieving main event status, they did win the WWF and NWA Tag Team Championships and served as solid enhancement talent for other teams. However, following an ill-timed knee injury, Thrasher was off television for the foreseeable future, leaving Mosh's creative direction in flux.
Mosh soon found himself repackaged as Beaver Cleavage, a play on the classic '50s sitcom "Leave It To Beaver." The vignettes hyping this creative shift showed Beaver interacting with his mother Mrs. Cleavage, portrayed by Canadian bodybuilder Marianna Komlos who was less than two years older than her on-screen son. For several weeks, fans had to suffer through stomach-churning skits where Cleavage and his mother would engage in borderline incestuous behavior. Thankfully the routine was dropped like a bag of hammers and Beaver was rechristened as Chaz, making it clear that Komlos was actually his girlfriend.
Soon after, the duo were placed in a storyline wherein Komlos, recently dumped by Chaz, framed him for physical abuse — even sporting a fake black eye. Thankfully, a healthy and returning Thrasher rode in to exonerate his buddy with video evidence, finally putting the storyline to bed.
Friar Ferguson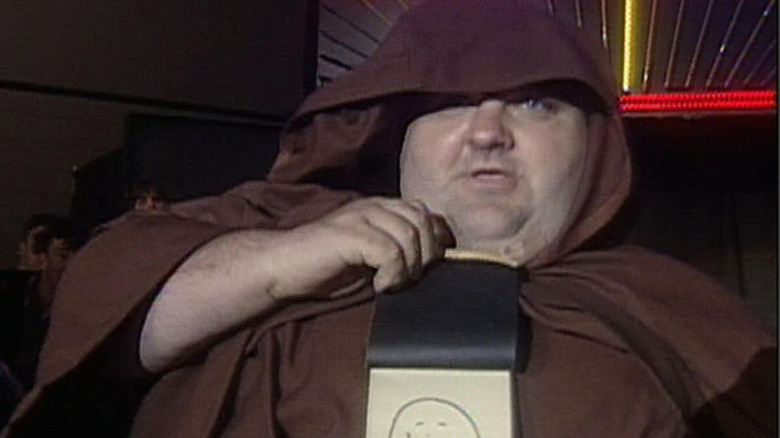 WWE
Pro wrestler Mike Shaw is probably best known as the man saddled with the gimmick of the disgusting Bastion Booger. However, as embarrassing as Bastion Booger was, that's not what we'll be discussing here today. After arriving in the WWE, Shaw was first given the gimmick of Friar Ferguson, a mad monk who liked to wrestle for unclear reasons. Shaw already wasn't the most mobile performer in the world, so his in-ring abilities were staggeringly limited, resulting in a clunker of a debut. His finishing move, if you can even call it that, was hoisting up his robe and sitting on his opponent's face.
The gimmick is such a notorious stinker that it received mention in RD Reynolds and Randy Baer's book "Wrestlecrap – The Very Worst Of Pro Wrestling." In the book, it's mentioned that the gimmick was scrapped due to outcry from the Catholic Church of New York. Shaw was subsequently rebranded as the repulsive Bastion Booger, a quasi-hunchback with hideous grey gear. The Bastion Booger gimmick bizarrely stuck around for a fair while past this point, serving as a consistent jobber for other talent.
Mordecai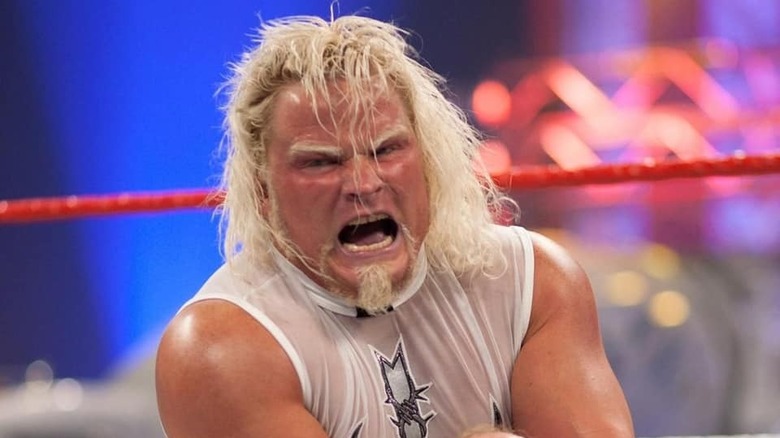 WWE
The Ruthless Aggression era played host to a consistent stream of legitimately talented wrestlers saddled with ridiculous gimmicks. One such performer was Kevin Fertig, who'd been toiling in WWE's developmental system since his signing in April 2002. However, in 2004, Fertig was finally given his time to shine after he pitched an intriguing character idea to Vince McMahon. This resulted in the genesis of Mordecai, a bleach blonde religious zealot who, in a series of vignettes, condemned the WWE universe for all their sins.
Mordecai officially arrived, with much pomp and circumstance, at that year's Judgment Day pay-per-view, soundly defeating Scotty 2 Hotty in three minutes. In June, Mordecai scored what turned out to be his final televised win, this time against Hardcore Holly at The Great American Bash. It was on the following "SmackDown" that Mordecai suffered his first loss to Rey Mysterio before the gimmick was ultimately scrapped. Fertig was sent back to OVW for some retooling before being released in July 2005, returning to the indie scene shortly thereafter. However, the next year, Fertig made his return to WWE, this time sporting the vampiric gimmick of Kevin Thorn in the rebooted ECW. The gimmick did marginally better than Mordecai, but never led to any sustainable push for Fertig, leading to his departure in 2009.
Lord Tensai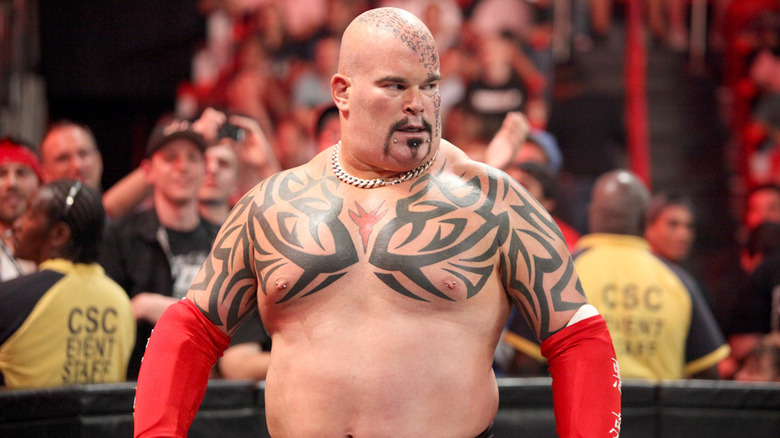 WWE
Following a successful stint overseas in Japan, Matt Bloom, formerly known as Albert, aka A-Train, made his return to WWE in 2012. While competing for the likes of All Japan and New Japan Pro Wrestling, Bloom worked hard to rebrand his image. No longer sporting the body hair that earned him "Shave your back" chants, Bloom carved out a solid niche as a gaijin hoss wrestler. He was best known for his successful run as one half of Bad Intentions alongside future Bullet Club member Karl Anderson. After a solid run as IWGP Tag Team Champions, the team dissolved, leading to Bloom returning to the USA and WWE as well.
Shortly after putting pen to paper, Bloom's return to television was hyped through a series of hype packages, rechristening him as Lord Tensai. Accompanied by his follower, Japanese talent Sakamoto, Lord Tensai went on an absolute warpath on "Raw," even scoring wins against John Cena and CM Punk. Sadly, this is where the wheels fell off as Lord Tensai dropped the Lord from his name and began jobbing out with increasing frequency.
Despite a few wins here and there, Tensai's mystique never recovered and in 2013, was teamed up with the "Funkasaurus" Brodus Clay. Dancing gimmicks are often kisses of death for pro wrestlers and this was no exception, wiping out any sense of prestige that Bloom had built for himself. In 2014, following Tons of Funk's disbanding, Bloom retired from in-ring competition to become a full-time trainer for WWE.
Xanta Klaus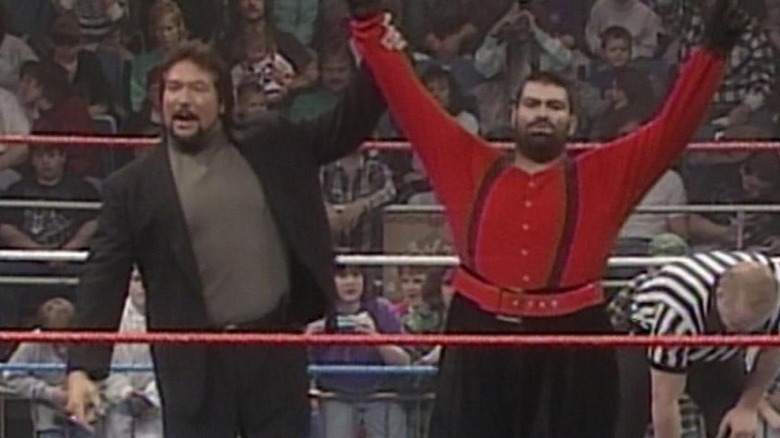 WWE
Jonathan Rechner, better known as ECW's chair swinging Balls Mahoney, definitely had an interesting in-ring career to say the least. A graduate of the Monster Factory wrestling school, Rechner began making waves as a competitor in Smoky Mountain Wrestling.
In 1995, Rechner was given by far his weirdest and worst gimmick at In Your House 5: Seasons Beatings. Rechner, dressed as Santa Claus, and Savio Vega were handing out presents to fans before Ted DiBiase made his way to the ring. The Million Dollar Man noted, in typical fashion, that "Everyone has a price," even Saint Nick as it turns out. Rechner then turned on Vega, as DiBiase laughed maniacally before introducing his yuletide assailant as Xanta Klaus, an evil Santa variant. Xanta only made a few more appearances on television before quietly departing, never to be seen again.
The issue with any holiday-themed gimmick is that it's really only applicable one time over the course of a year. A few years later, his Balls Mahoney run in ECW proved much more successful.
Max Moon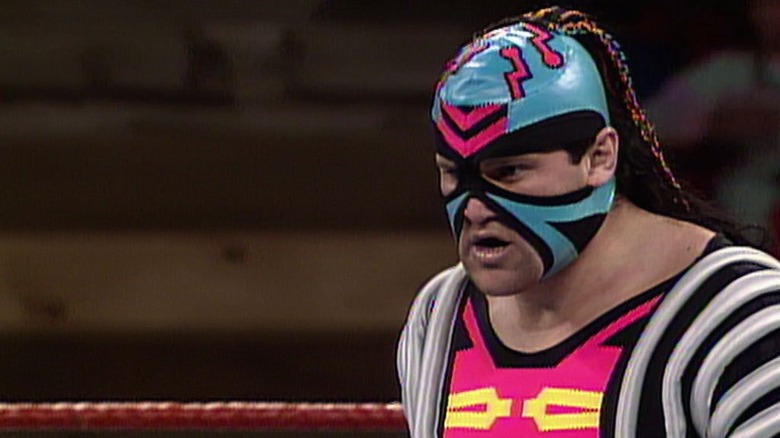 WWE
A true professional wrestling oddity, the tale of one Maximillian Moon is a very bizarre story regarding a very strange gimmick. The character of Max Moon, initially called Relampago, was originally intended for Konnan before he was fired from WWF. Konnan himself revealed that his termination was due to many factors, including the expensive nature of the costume and his increasingly strained relationship with Vince McMahon backstage. Given the suit's hefty $13,000 price tag, WWE weren't about to flush that much money down the toilet.
Enter Paul Diamond, a lower-midcarder who regularly served as enhancement talent, even playing the masked wrestler Kato in the Orient Express. It was determined that Diamond was the only one who could fit the suit, having a similar build to Konnan for whom the suit was built. Diamond initially saw decent success in the role, picking up wins over the likes of Rick Martel. He even got to go one-on-one with the Intercontinental Champion, Shawn Michaels, albeit in a losing effort. Following this, the losses began to rack up for Diamond in record time before his departure from the company in 1993.
Oz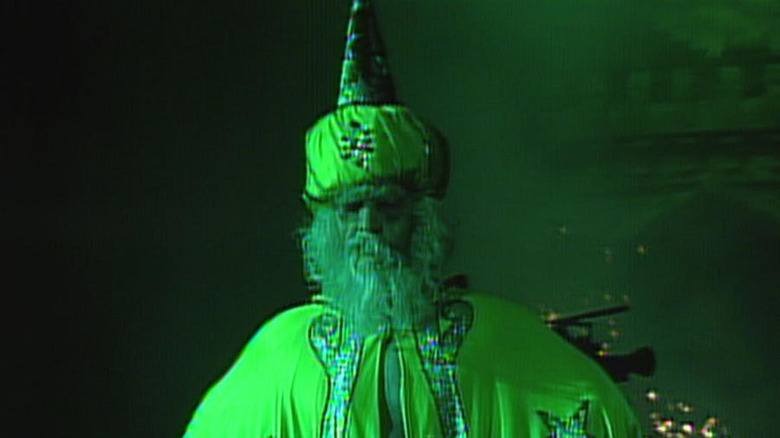 WWE
Kevin Nash has had a career rife with controversy and packed with moments ranging from the spectacular to the infamous. After his arrival in WCW, throughout the early 90s, Nash was given a slew of different names and in-ring gimmicks. Originally, Nash was given the name of Steel as one half of the tag team known as The Master Blasters — even sporting a hideous orange mohawk. Following this lukewarm run, Nash was repackaged as Oz, based on the "Wizard of Oz" character of the same name, with The Grand Wizard serving as his manager.
Now sporting grey hair, Nash made his debut in the gimmick complete with a green cape, a long wizard's beard and hat. The whole ensemble was ridiculous to say the least, but it did result in a brief month-long winning streak for Nash. However, following a loss to Ron Simmons, Oz began jobbing to every WCW talent under the sun, even the equally embarrassing Arachnaman. This dumpster fire of a gimmick persisted all the way through 1991 before Nash was repackaged once again, this time as mobster Vinnie Vegas. It wasn't until his departure from WCW, and subsequent signing with WWE in 1993, that Nash finally got to shine as "Big Daddy Cool" Diesel.