Athena Discusses Evolution Of Her New AEW Character
Those paying close attention to AEW/ROH may have noticed Athena has gone through a change recently. Once a heroic babyface, Athena has since transitioned into a no-nonsense, vicious villain, and in the process has become a champion, winning the ROH Women's Championship at ROH Final Battle just a few weeks ago.
Those who know Athena's whole career, particularly her earlier days on the independents, when she developed the nickname "The American Joshi" for her hard-hitting ways. And all it took for her to rediscover that style, as she revealed in an appearance on Talk is Jericho, was a certain "AEW Dark: Elevation" match in Canada just a few months ago.
"They [AEW] put me against Jody Threat," Athena said. "She's a hometown hero there, she's done all these death matches, she loves that hard-hitting style, and I'm very familiar with her work.
"So we go, we have this match, and I remember, they were like 'This might happen.' I was like 'It won't happen', and then it did. It was like 'Okay, cool. I'm going to be the aggressor at this point.' And the crowd was so behind her, no matter what I did, they booed, and I was like 'I'm sorry, I'm sorry.'"
After it was quickly determined by AEW officials that no liberties had been taken in the match, the promotion and Athena moved forward with this new character arc.
Athena Details Collaborative Effort Of New AEW Character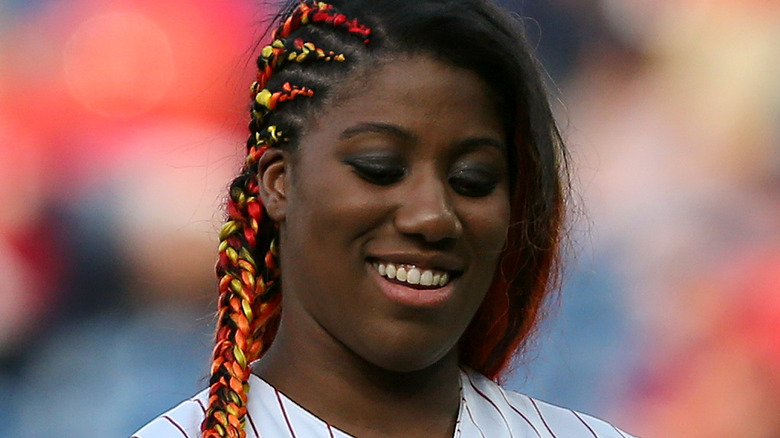 Rich Schultz/Getty Images
Athena has been pleased with how collaborative the process has been, something she feels wouldn't have happened in WWE, where she previously worked as Ember Moon.
"It was really cool because there were so many people that had ideas," Athena said. "Christopher Daniels has been awesome. Sonjay [Dutt] has been awesome. Daivari has been awesome. Just piling on ideas on how to make this grow and make this be better."
Despite the success, Athena has faced criticism for her performance against Threat. And as she has in the past, she believes a lot of that criticism reveals a double standard regarding hard-hitting men's matches and hard-hitting women's matches.
"I've seen dudes, even in WWE, on the indies, whatever, they'll chop each other into ground beef on their chest," Athena said. "And then I hit this one girl solid, with no marks on her, but 'Oh my gosh. Clutch your pearls. We're coming. Oh no!' It was just 'I'm going to piss you off now.' Because that's what we do, we tell stories."
Ultimately, however, Athena is very happy with her new direction and is incredibly gracious towards Threat for helping her get back to where she once belonged.
"I really do thank Jody Threat for making Athena 'Athena' again," Athena said. "And maybe one day we'll get back to it. But without her, this wouldn't have happened."
If you use any of the quotes in this article, please credit Talk Is Jericho and provide a h/t to Wrestling Inc. for the transcription