The Most Embarrassing Moments In Live Wrestling Matches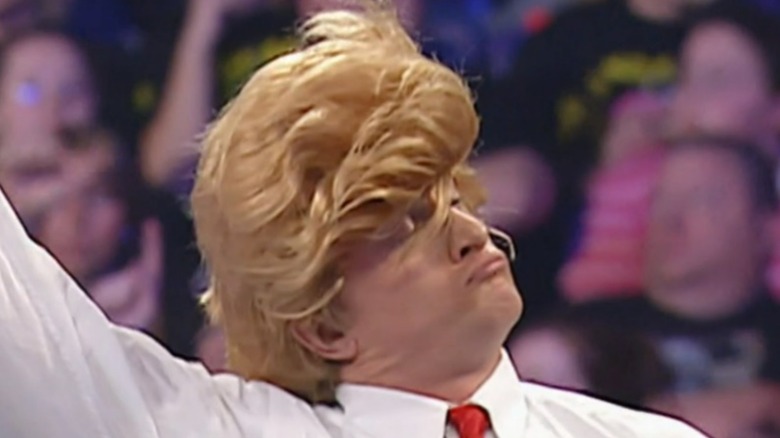 WWE/Peacock
There are many things that can go wrong in professional wrestling, it is live TV and a very difficult art form. Mistakes are bound to happen once in a while and many wrestlers have been left to feel embarrassed while standing in the middle of a wrestling ring, in front of the world for all to see.
The wrestler could be embarrassed by their own actions or their opponents' actions, the booking could be embarrassing them through no fault of their own, or the fans could be embarrassed at what on earth is going on in front of them. There have been a lot of embarrassing moments in wrestling history, way too many to count, but here are a number of moments that happened during the actual matches themselves. Wrestlers always dream of having a match that will be remembered by fans for years to come, but these matches became memorable for all the wrong reasons.
The Great Khali eliminates himself in an Over The Top Rope Challenge match with Edge
The Great Khali was a mega star in India. His size and physique was truly superhuman, he looked like an absolute monster standing across the ring from his opponent and it can be easy to see why he became such a huge star in his home country. There was just one small issue, however ... he wasn't a good wrestler.
The Great Khali rarely seemed to know what he was doing in the ring and this was particularly the case during an Over The Top Rope Challenge with Edge on "Raw" in 2010. During the match, Edge slid out of the ring under the bottom rope, which is perfectly legal, though what The Great Khali did next threw all sense out of the window.
In pursuit of Edge, The Great Khali stepped over the top rope to the outside. Remember, this was an Over The Top Rope Challenge and The Great Khali had just embarrassingly eliminated himself. Michael Cole and Jerry Lawler on commentary both immediately noticed what Khali had just done and Cole in particular jumped on it, hilariously proclaiming what every fan was thinking, "Khali just eliminated himself!" Lawler baselessly had to argue that you needed to throw your opponent over the top rope, clearly covering for Khali's botch but everybody knew what had just happened and how much Khali had screwed up.
CM Punk poops himself
In CM Punk's infamous "Art of Wrestling" podcast interview with Colt Cabana, Punk told the story of how he pooped his pants during a match on "SmackDown." In the match with Dean Ambrose, Punk blamed WWE's medical team for his incident and said, "They z-packed me to death, so much that in December I s*** my pants on a 'SmackDown.' Because that's what antibiotics do to you. I take the z-pack, I s*** my pants in the ring. I'm like 'what the f***?'"
CM Punk tried to see the funny side of the incident and tweeted that everybody should tune into "SmackDown" to see him "s***" himself. WWE told him to take down the tweet as he wasn't allowed to swear. Punk said everybody was laughing about the incident including Dean Ambrose and Vince McMahon, but WWE still made him delete the tweet. CM Punk did take down the tweet and replaced it with "This poop just aint fun anymore," one of the first public hints of all not being well between CM Punk and WWE.
Jake Roberts drunk at Heroes of Wrestling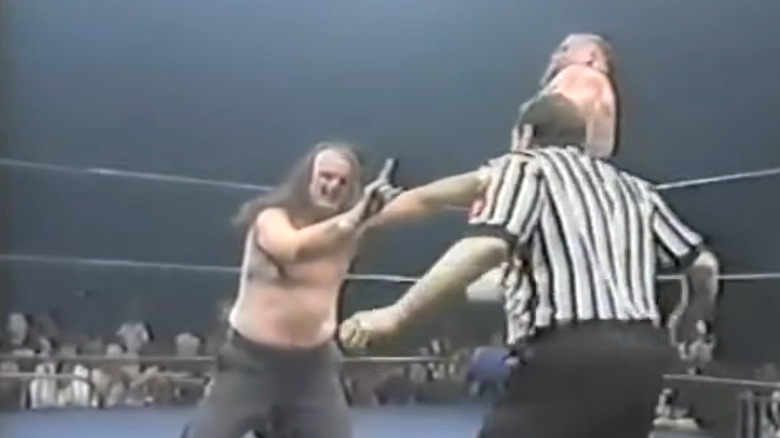 Heroes of Wrestling
Heroes of Wrestling was a disaster of a PPV on many different levels, and has gone down as one of the worst wrestling PPVs of all time. The show used many big names of the past to fill out a PPV card built on nostalgia. It could have worked out well in theory, but nothing went to plan on this night.
All of the matches were horrible — some of them need to be seen to be believed — and the commentary was atrocious the entire night. But the worst thing of all about Heroes Of Wrestling was Jake "The Snake" Roberts. Roberts was noticeably drunk during his pre-match promo and it was a sad sight to see. Roberts' main event match with Jim Neidhart was changed to a tag match to include Yokozuna and King Kong Bundy as a way to hide Roberts, but Roberts definitely was not hiding. He was clearly inebriated as he came out to the ring and truly embarrassed himself throughout the whole match. This was the lowest moment of Jake "The Snake" Roberts' career and at the time PWTorch reported that "It will probably mark the last time any promoter hires Jake Roberts for a live national TV appearance."
Thankfully, years later, Roberts managed to turn his life around and would make national TV appearances for both WWE and AEW in the years since — a true redemption story.
Jeff Hardy high at Victory Road 2011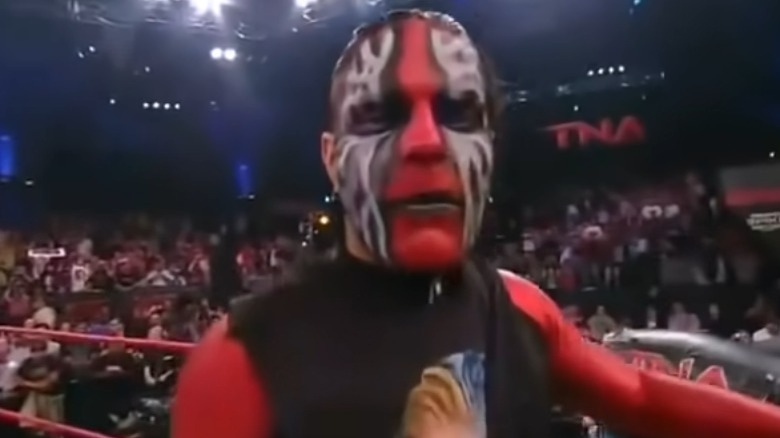 Impact Wrestling/YouTube
In 2011, Jeff Hardy was coming off the back of a huge heel turn, marking the first time ever he had been a heel in his wrestling career. The turn was very well received, with Hardy able to show off his mic skills in cool vignettes declaring himself "The Anti-Christ of Professional Wrestling." It was all going so well until Victory Road 2011.
Hardy was dealing with some legal issues dating back to 2009 and was facing jail time. All of this explosively came to a head at Victory Road 2011 as Jeff Hardy was obviously under the influence of something as he made his way out to the ring for his TNA World Heavyweight Championship match with Sting. TNA came under intense scrutiny for even letting Jeff Hardy go out to the ring in his condition as it was clear Hardy was not in his right mind. Jeff Hardy wandered out to the ring and took an age to get into position. Eric Bischoff ran down to the ring before the match started to make some kind of kayfabe sense of it all and to brief Sting off-mic on the situation. Sting took charge of the match and pinned Hardy within minutes.
Jeff Hardy has struggled with addiction issues for a long time and is still dealing with them to this day. Victory Road 2011 is definitely a black mark on his fabled career.
Vince McMahon blows out his quads at Royal Rumble 2005
Royal Rumble 2005 was a legendary night. It was the dawn of two legitimate megastars in WWE, the start of both John Cena's and Batista's historic rises to the main event. The match did not go off without a hitch however. In a moment that defies all logic, Cena and Batista botched the final elimination of the match, as both men tumbled over the top rope and hit the floor at the same time.
What followed was an adlibbed ending to the match, as "Raw" and "SmackDown" referees argued over who was the rightful winner. A furious Vince McMahon then stormed down to the ring to figure it all out, though, with the vigor he hit the ring, Vince McMahon somehow managed to tear both his quads at the same time. Unable to stand, McMahon sat against the bottom rope as the referees tried to explain to him what happened. McMahon must have been in excruciating pain, yet it never showed on his face, even if it did look rather weird he was sitting down in the ring like a child.
Jenna Morasca and Sharmell's worst match of all time
Jenna Morasca vs. Sharmell has gone down as one of the worst matches not just in TNA/Impact history, but in wrestling history as a whole. Fans questioned why TNA even booked the match — both Sharmell and Jenna Morasca were non-wrestlers, they obviously weren't going to have a match anything close to good enough, so why would TNA book themselves into a corner like this?
The match at Victory Road 2009 was atrocious –  everything was moving in slow motion, the strikes were some of the worst offense any wrestling fan had seen ever, there was no selling, and the crowd did not care at all. It was all very, very bad. Bryan Alvarez famously gave the match minus five stars in his review on "The Bryan and Vinny Show," and said it was "the worst women's match I've ever seen in my whole entire life."
Morasca didn't last much longer in TNA afterwards but the stink of this match still lingers in fans minds, and the whole thing was very embarrassing for TNA.
The crowd chants TNA at Vince McMahon during Donald Trump vs Rosie O'Donnell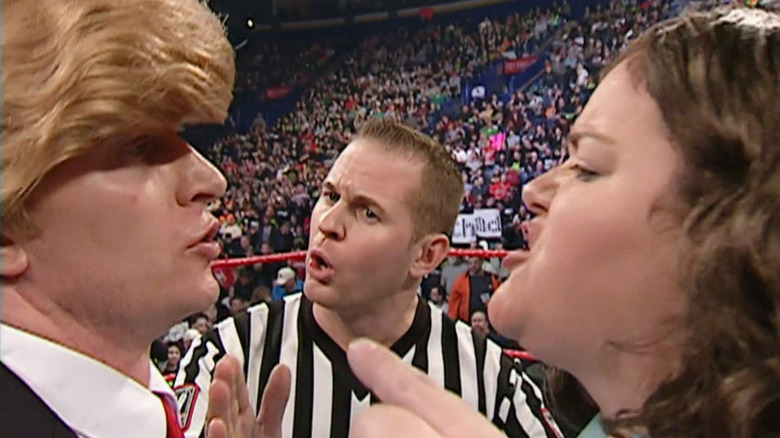 WWE/Peacock
In 2007, Donald Trump and Rosie O'Donnell were in the headlines and were having a very real and very public feud. Vince McMahon and Donald Trump are old friends so McMahon had the bizarre idea to use this real life feud as a way to generate mainstream recognition for "Raw." To cash in on the headlines, McMahon booked the bizarre match of Donald Trump vs. Rosie O'Donnell.
Obviously, it wasn't the real Donald Trump and Rosie O'Donnell, it was two impersonators. After a series of deeply unfunny skits on Raw, "Donald Trump" faced "Rosie O'Donnell." The match, of course, was an embarrassment but the real drama was happened outside the ring with the fans. Vince McMahon was at ringside for the match and seemed to be enjoying what was happening — that was, until the WWE fans made their voices heard.
The crowd started chanting "Boring" at the match and, perhaps most insultingly of all, chanted "TNA" right at Vince McMahon. McMahon's enthusiasm for the match immediately disappeared and he looked noticeably annoyed at the situation. On top of the match being embarrassing to most fans, it was even more embarrassing for Vince himself, as the match barely made any mainstream headlines.
Cameron asks the ref to count the pinfall while Naomi is lying on her front
Cameron had a short career in WWE, yet she still managed to create some truly memorable moments, though not for all the right reasons. Her first WWE appearance was on "Stone Cold" Steve Austin's season of "Tough Enough," in which she was eliminated early, but not before she could say her favorite wrestling match of all time was Melina vs. Alicia Fox. Her wrestling knowledge was called into question in that moment, though it was called into question one more time when she had a match with Naomi on "Raw."
As Cameron was on the offensive, she hit a split legged leg drop on Naomi, then stayed in position and screamed, "Count it, ref!" There was one small issues with this: Naomi was lying on her front. Even those with minimal knowledge of wrestling know that Naomi would have needed to be lying on her back with her shoulders touching the mat for the ref to "count it." Did Cameron really think she could pin Naomi like that?
To be fair, Cameron may have thought Naomi was already lying on her back, but either way, it must have been very embarrassing for Cameron.
Rico standing on the top rope screaming for Jeff Hardy to do his spot
At Survivor Series 2002, Jeff Hardy teamed with the Dudley Boyz to take on 3 Minute Warning and Rico for the opening match of the evening. During the match, Rico set up Bubba Ray Dudley on a table and then climbed up to the top rope to deliver a moonsault. Rico was never supposed to hit this moonsault, as Jeff Hardy was supposed to knock him off the top turnbuckle before he could hit the move.
That was what was supposed to happen, but Jeff Hardy was well out of position, leaving Rico stranded on the top rope. Rico had no reason not to hit the moonsault, but because Jeff was out of position, Rico had to awkwardly stand on the top rope and do nothing until Jeff could intervene. Rico pretended to be trying to keep his balance on the top rope for well over 10 seconds before Jeff Hardy wiggled the top rope to knock him down.
Rico wasn't shy about calling out Jeff and could be heard yelling, "Come on Jeff, god damn it!" It was a very awkward spot and WWE edited it out of both the DVD and the WWE Network releases of the PPV.
Eddie Guererro curses out Vickie Guerrero
A similar miscue happened in the infamous Custody of Dominick Ladder Match between Eddie Guerrero and Rey Mysterio at SummerSlam 2005. Near the end of the match, Eddie had Rey trapped under the ladder as he ascended to claim the briefcase and win the match. Vickie Guerrero was supposed to run down to the ring and knock Eddie off the ladder, stopping him from winning.
Vickie missed her spot and left Eddie awkwardly standing on top of the ladder with nothing to stop him taking possession of the briefcase. Eddie and Rey improvised a different spot of Rey knocking over the ladder and pulled Eddie to the mat. Unlike the Rico spot, most fans didn't even notice that Vickie was supposed to come out here, it just looked like Rey had legitimately fought out and stopped Eddie from winning. When Eddie hit the mat however, he was irate and punched the ring in frustration, screaming, "Where the f*** was Vickie?"
Not too long after, Eddie and Rey set up the same spot and then Vickie came out to push Eddie over. Most fans didn't even notice, but Eddie was clearly embarrassed by the spot.
Titus World-Slide
In 2018, WWE held its first ever event in Saudi Arabia, The Greatest Royal Rumble. The event was controversial in nature, as has every WWE event held in Saudi Arabia, with fans uncomfortable with WWE airing Saudi propaganda. On this night, however, there was at least some levity in regards to the Royal Rumble Match.
As entrant number 39, Titus O'Neil sprinted down the ramp, yet fans were confused when they didn't see Titus actually enter the ring. When WWE showed another angle of Titus' entrance, all became clear. As Titus was running to the ring, he tripped over and slid all the way under the ring. Commentary (and almost everybody) was falling over themselves laughing at what had just happened, and it was clear that everybody backstage was in fits of laughter as well as they would replay the fall from every conceivable angle. It was a very funny moment, though it must have been slightly embarrassing for Titus and has become a moment that could define his whole career.
Hulk Hogan's fireball doesn't ignite in his match with Ultimate Warrior
At Halloween Havoc 1998, Hulk Hogan and the Ultimate Warrior had a rematch for the ages, after one of the biggest WrestleMania main events in history, surely the rematch would do big business. It didn't — in fact, it is generally regarded as one of WCW's worst ever matches — but what went wrong?
The feud itself was pretty terrible, with Warrior "haunting" Hogan in some very silly segments. The match itself wasn't much better received either. The match fell apart pretty quickly and one particular moment really made the fans cringe. Towards the end of the match, Hogan kneeled down in the corner and was fiddling with something for a while. Suddenly, Hogan attempted to throw a fireball in Warrior's face but missed. Something went wrong with the flash paper and the fireball ignited in Hogan's hands before he could even throw it. It was a horribly botched spot — though even if it had worked, it still would have been an embarrassingly bad match.
Not a great night for what was supposed to be an historic rematch.