Dax Harwood On How Vince McMahon's WWE Return Affects FTR's Future
It won't be much longer before FTR members Cash Wheeler and Dax Harwood will have a big decision to make, as their AEW contracts expire in April and the duo are expected to get interest from both AEW and WWE. And if one thinks the return of Vince McMahon to power in WWE won't have a potential effect on where FTR chooses to go, Harwood implies one should think again.
On the latest episode of "FTR with Dax," the AEW star recounted the time McMahon insulted himself and Wheeler after they defeated New Day to win the WWE "SmackDown" Tag Team Titles.
"We come to the back and Vince is there waiting for us, off his headsets," Harwood said. "And I'm hoping that since he's off his headsets, he's gonna tell us 'That was incredible. That was a great job. That was storytelling.' Right? So he comes to us, he goes to New Day and says 'Hey guys, great job. Thank you. I appreciate it.'
"They walk off, he leaves me and Cash there. And that's when he says 'Everyone tells me that you guys are the next great tag team. Everyone tells me you're the next Arn and Tully. Well that's your problem. You are the next Arn and Tully. You're just great wrestlers. That's all.' And he walks off."
While Harwood admitted he took McMahon's insult well, due to his fandom of Tully and Anderson, he also believes it was proof that McMahon wasn't a fan of FTR, for whatever reason. As such, it gives Harwood cause to pause regarding working for McMahon again.
Dax Harwood Reveals How Much Money FTR Turned Down From WWE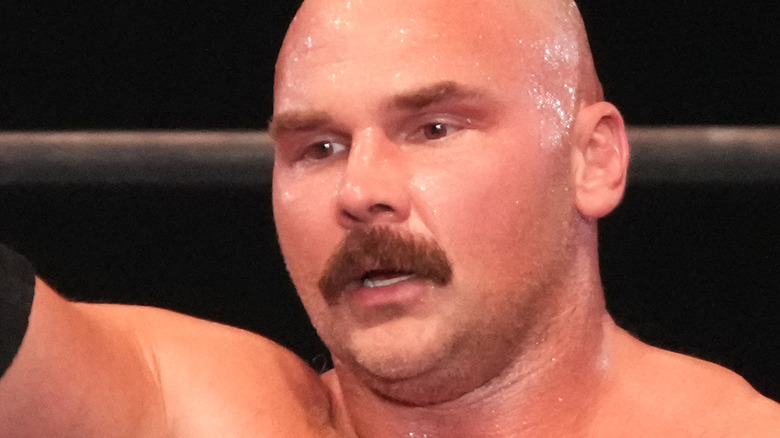 Etsuo Hara/Getty Images
"We went out there, put our life on the line, for you, for your company, and coming back to the back with as much endorphins running through our body, and you decide to say that to us," Harwood said. "That's one of the things I can't ever forget. We talk about what I'm going to do in the future, and now that I think about that, and with him back at the helm, it makes things a little questionable for me."
Harwood also went through the process of why FTR chose not to re-sign with WWE prior to joining AEW, revealing the offers they declined were nothing to sneeze at.
"That's when they were offering the new contracts, because of the new deals that were coming in for the television rights and things like that," Harwood said. "Cash and I were the only two — I don't think there was anyone else — we were the only two that would not take the deals. And they just kept upping the money and upping the money. We said no.
"I remember the first option for myself, don't want to speak for Cash cause I don't know what he got, the first option was $450[K]. We said no. It eventually got up to $750[K] and we said no. It could've gotten to seven [figures], and we would've said no, maybe."
If you use any of the quotes in this article, please credit "FTR with Dax" and provide a h/t to Wrestling Inc. for the transcription