Chavo Guerrero Pitches Possible Roman Reigns Vs The Rock Booking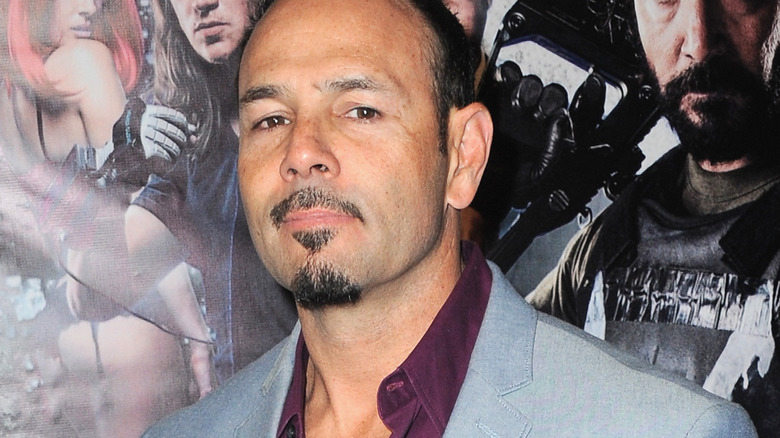 Albert L. Ortega/Getty Images
Despite plans for The Rock and Roman Reigns to brawl it up at WrestleMania 39 looking less and less likely as the days go by, nobody has halted their thoughts on how the box office family match-up could end up. The Anoa'i family bloodline head of the table being up for grabs between the two all-time great WWE superstars has left many people fantasy booking the match, with Chavo Guerrero adding his name to that list during an inclusive interview with WrestlingInc. Managing Editor Nick Hausman.
As a member of a very historic wrestling family himself, Guerrero mentioned why he doesn't think it's "absurd" to see The Rock overcome Reigns for the Undisputed WWE Universal Championship in a potential showdown, although he did use the same word to describe the belief that the Hollywood movie star would be around for a "long period of time" to defend the belt. Continuing that same sentiment, Guerrero said he believes there is a way to have Reigns still come out looking strong despite dropping the bout to his older family member, mentioning that Reigns could "drop" Dwayne at the end in a cheating/heel way. Carrying on his hypothetical scenario, the former WWE Cruiserweight Champion believes if Rock were to win a "great back-and-forth battle," Roman could beat the "living crap out him with a chair and break Rock's leg" signifying he'd be out for some time. Closing out his fantasy booking, Guerrero mentioned to Hausman that's why "I love wrestling," and believes Reigns could quickly come out and say he's interim world champion until Rock returns.
Following the scenario of a Reigns loss and a Hausman suggestion of Reigns going on an "unhinged murderous rampage" afterward, Guerrero mentioned Reigns as one of those guys "you don't mess with." The brother of Eddie Guerrero also stated that in the business, many would always say never to cross a Samoan or Polynesian family member because if you do, you're not just "going to fight one, you're going to fight all of them." 
WWE plans to have several members of the Anoa'i family in attendance for this coming Monday's WWE Raw XXX, where The Bloodline will hold an "Acknowledgement Ceremony," where hypothetically, The Rock could join and appear.