Former WCW Boss Interested In Seeing Proposed Steve Austin WrestleMania Match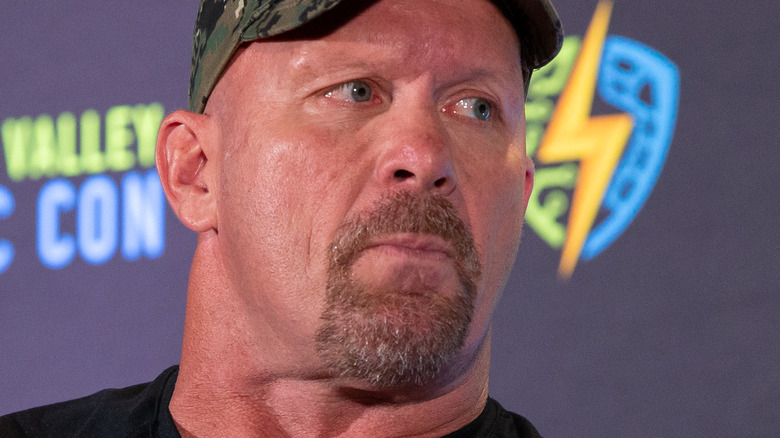 Bill Watters/Getty Images
"Stone Cold" Steve Austin's name reportedly has been mentioned by WWE for plans regarding WrestleMania 39 this year, although there are conflicting reports about who the company wants him to face. It was revealed yesterday that he received a big money offer to wrestle Roman Reigns, but today The Wrestling Observer's Dave Meltzer disputed that and reported that Brock Lesnar was the opponent offered to the Hall Of Famer. 
While a match against Lesnar is something that almost happened during Austin's original run in WWE, facing Reigns would be fresh. The idea of it has people excited, including former WCW president Eric Bischoff. "Oh man! A big part of me would love to see this," Bischoff said on Twitter. "And how they build towards it if it's true. We should know soon."
Talk of Austin being involved at WrestleMania has been ongoing among fans in recent months since the "Texas Rattlesnake" started sharing videos of himself working out regularly. While Austin claimed he just wanted to get into better shape, which he has done, it certainly got people talking about the idea of him getting into the ring one more time on the "Grandest Stage of Them All" in April. 
Of course, last year Austin shocked the wrestling world by returning to the ring to compete in the main event of Night 1 against Kevin Owens, and his impressive performance led to fans wanting to see more of him. Austin was not involved in last night's "Raw Is XXX" show, which saw legends such as Kurt Angle, Hulk Hogan, and The Undertaker appear.