Former AEW Personality Claims Cody Rhodes Played Politics And Sucked Up To Tony Khan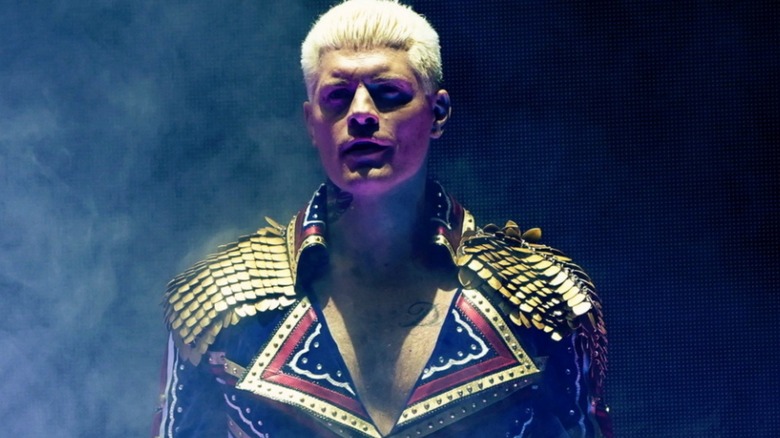 AEW
Saturday night marked the true crowning of Cody Rhodes as a major player in the WWE, as "The American Nightmare" punched his ticket to the main event of WrestleMania 39 by winning the men's Royal Rumble match. This follows Rhodes' return to WWE last year at WrestleMania 38, a move he said was motivated by an experience he had while in AEW with Dan Lambert of American Top Team. Lambert handed him the world title his father Dusty held in 1977, and that moment factored into his decision to leave AEW and head back to WWE after several years away.
Despite influencing Rhodes' jump from one company to another, Lambert wasn't so high on "The American Nightmare" during a recent interview with Sportskeeda's "WrestleBinge." Speaking to Bill Apter, Lambert revealed that he didn't like Rhodes and liked his wife Brandi "even less" while he was involved with AEW. "He played the politics game better than anybody in history and sucked up to Tony Khan-man and got his way all the time," Lambert said. "What the hell is a Chief Brand Officer? What does that even mean other than to feed your ego?"
However, amongst such harsh comments, Lambert did acknowledge his appreciation for Rhodes' dedication to learning, highlighting how he'd always see him watch "old-school wrestling taking notes" whenever he passed by his locker room. Lambert called Rhodes a "student of the game" and someone who took advantage of every opportunity he's gotten over his career while also regarding Rhodes as someone who has "forgotten more about professional wrestling" than he will ever know.