Maven Loved This WWE Star's Quick Royal Rumble Elimination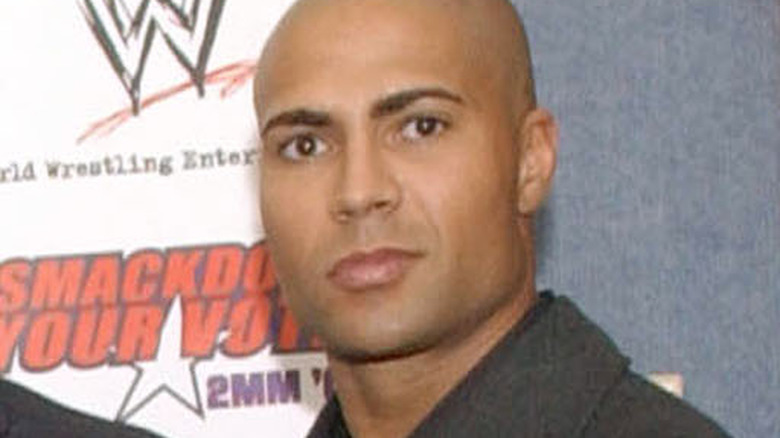 Stephen J. Boitano/Getty Images
Former WWE star Maven has been in and out of pro wrestling since becoming one of the winners of the original "Tough Enough" show in 2004. During his time in the business, he has cultivated relationships with people from all over the industry. For example, he has a known love-hate relationship with Matt Cardona and Chelsea Green. He even served as the officiant at the ceremony to renew the couple's wedding vows last year.
As the WWE Universe is well aware, Green made her return to the company at the 2023 Royal Rumble, but she was immediately eliminated upon entering the ring. Maven was amused by the quick exit and told "K&S Wrestlefest" that this was a moment in life where "God threw [him] a bone."
"This was the big [return]," Maven said. "'Hey, guess what, I'm back, ladies and gentlemen.' And, I mean, if you went to make a sandwich, if you went to use the bathroom, if you had to take the dog out, if you got a phone call — wrong number phone call, and you did any of [those actions], you missed her big [return] because as quickly as a fart in the wind, Chelsea came in the ring and Chelsea went out of the ring. And I could not have been more ecstatic at her debut back in the Rumble."
Maven made a huge impact during his WWE run as part of a Royal Rumble match. In the 2002 Royal Rumble, an unsuspecting Undertaker was taken off guard and eliminated by a dropkick to the back from Maven. Triple H would ultimately win the 30-man match that year, but the exchange between Undertaker and Maven is still acknowledged as one of the most shocking in Rumble history. As for Green, her complaining "Karen" character has been bossing people around backstage during weekly "Raw" episodes.
If you use any quotes from this article, please credit "K&S Wrestlefest" with a h/t to Wrestling Inc. for the transcription.