Rob Gronkowski Viral Video Led To Formation Of WWE Tag Team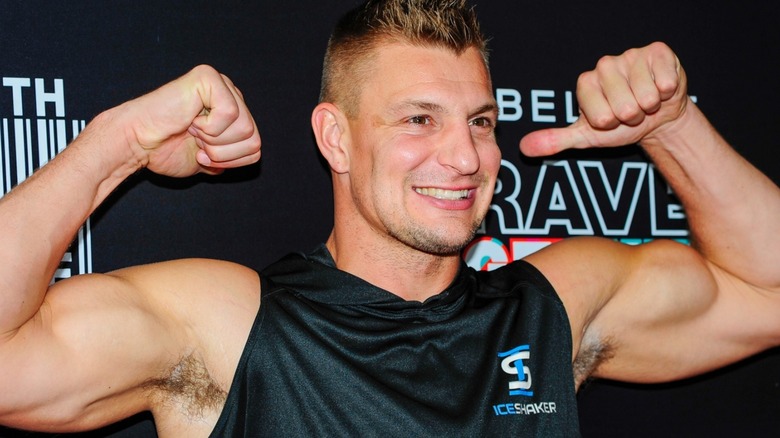 Debby Wong/Shutterstock
Rob Gronkowski's run in the wrestling business may have been short-lived, but the former NFL star had a bigger impact than a lot of people realize as he played a role in the creation of the Hype Bros. Mojo Rawley revealed on the "Oh You Didn't Know" podcast that the idea for the tag team came after Paul Levesque "saw a video that I did with Rob Gronkowski."
The two of them were goofing around cutting a promo where they teased the idea of them becoming a tag team, and that is something that ended up getting a lot of traction due to Gronkowski's star power. "It got picked up everywhere and that was the first time people were like, 'Oh, come to WWE,'" he said about Gronkowski. "I think what happened was Hunter saw that and was like 'This was well received; let's do something like that here.'"
Of course, bringing Gronkowski in as Rawley's tag team partner wasn't an option for WWE, and Levesque made the decision to pull in Zack Ryder as he needed someone to be a "ridiculously over-the-top character" alongside Rawley. While the team didn't end up having long-lasting success, they did have a run in "WWE NXT" and on the main roster.
Originally, a different name was planned though due to how Levesque pitched the idea to Rawley. "I remember when he told us about putting us together he was like, 'Yeah, you know you're the hype, he's the bro, I think this could go well together. We will call you the Hype Bros or something. Not that name, that name sucks. We will come up with something else.'" Something else was never come up with, and the Hype Bros stuck.
If you use any quotes from this article, please credit "Oh You Didn't Know" with a H/T to Wrestling Inc. for the transcription.