Michael Cole Is The Perfect WWE WrestleMania 39 Opponent For Bayley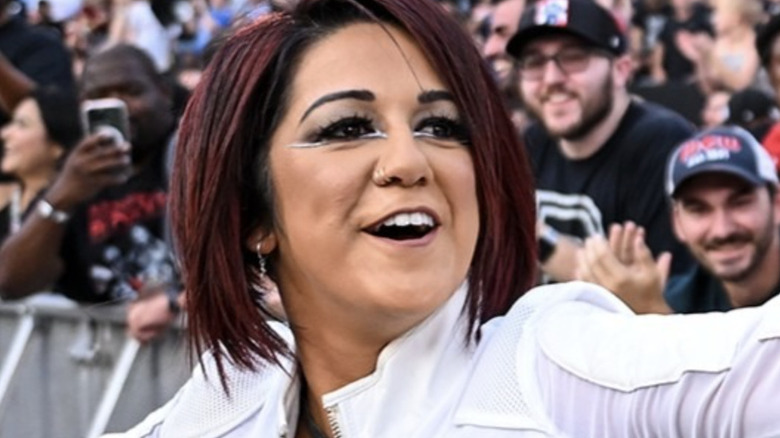 WWE
WWE star Bayley has had her fair share of long-running rivalries, from her on-again, off-again friendship with Sasha Banks, to chasing after gold held by Charlotte Flair or Becky Lynch. But while "The Role Model" is widely celebrated for battling her fellow "NXT" Horsewomen over the years, another of her longstanding enemies is less intuitive: WWE commentator Michael Cole. 
When WWE was without a live audience during the pandemic in 2020, Bayley began picking on Cole for things she would hear him say from the announce desk. The verbal jabs and trolling lasted for months inside WWE's Performance Center and eventually the ThunderDome arenas. Bayley even took it so far as to shave the word "Cole" into the back of her head going into the 2021 women's Royal Rumble match, and since her return at WWE SummerSlam 2022, her vendetta against Cole has continued — during a recent appearance on "The Bump," the multi-time women's champion even challenged WWE's lead announcer to a match at WrestleMania.
And you know what? After thinking about it, that sounds pretty good to us! Rivalries are meant to be settled in the ring, after all, and Cole is actually the perfect opponent for Bayley at WrestleMania 39.
Bayley Needs A Spot On The WrestleMania Card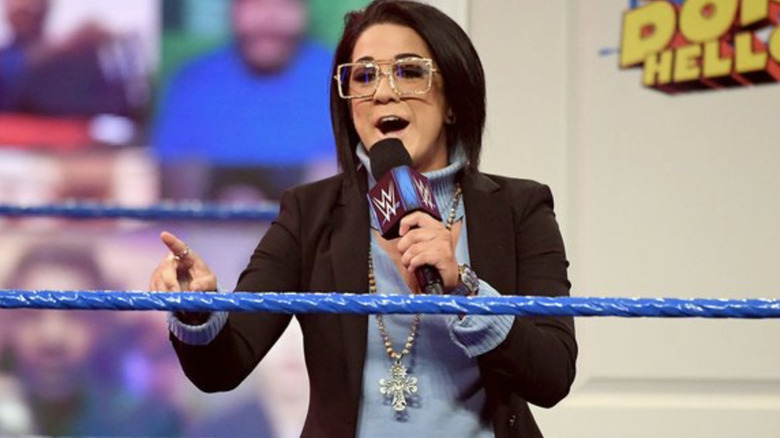 WWE
If there was ever a time for Bayley vs. Cole to go down inside the squared circle, it should happen at a major premium live event like the two-night WrestleMania, and at the moment, it doesn't seem like Bayley has plans those evenings. With WrestleMania 39's "SmackDown" Women's Championship match already set and having already been defeated in a recent feud with "Raw" Women's Champion Bianca Belair, Bayley likely won't be involved with those titles. And as the leader of Damage CTRL, the current holders of the WWE Women's Tag Team Championship, she likely won't be challenging for those, either. Bayley was left off WrestleMania in 2021 and missed the 2022 event due to injury, and unless WWE books a six-woman tag match, or a singles match involving a returning legend like Trish Stratus or Lita, Bayley might be looking at not having a spot on the WrestleMania card once again.
But you don't need a title match to make the show, and WrestleMania is a night of spectacle where taking part in a non-traditional bout can work wonders. Sami Zayn had a singles match against Johnny Knoxville last year and is now one of the most over stars in all of WWE. The fact of the matter is that there might not be an open dance card for Bayley in the women's division — but there might be if Cole steps back into the ring.
Normalizing Intergender Wrestling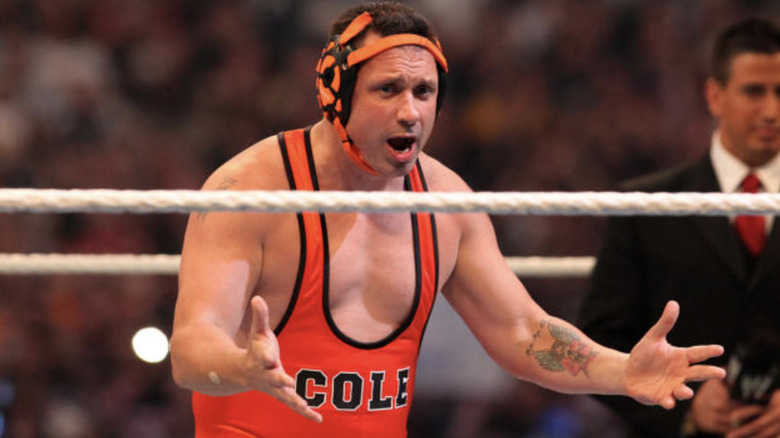 WWE
Cole is, technically, undefeated at the "Show of Shows" after beating Jerry "The King" Lawler by disqualification at WrestleMania 27 in 2011. He's no stranger to over-the-top gimmick, matches either, having taken part in both a strap match and a "Kiss My Foot" match that same year. Cole has stepped in the ring with John Cena and attempted to compete in a Royal Rumble match, but all as a heel; it's time for his babyface comeback, time for him to defend himself after years of harassment.
Cole stepping into the ring with Bayley would also be another step in helping WWE normalize intergender wrestling. We recently saw Rhea Ripley battle Akira Tozawa on "WWE Raw," which made it clear that there's no strict ban on men and women mixing it up between the ropes when the story calls for it (WWE booked Randy Orton vs. Alexa Bliss at Fastlane 2021, after all). And there's more than enough history between Bayley and Cole to make their WrestleMania encounter one that would captivate the attention of viewers around the world.
Adding Bayley vs. Cole to this year's WrestleMania would conclude a long-term storyline, give Bayley a spot on the card (and presumably a victory), and nudge professional wrestling ever-so-slightly forward in the realm of gender politics. Some might say they never want to see Cole in the ring again, but there's nothing we'd love more than to say "Ding dong, hello" to a Cole vs. Bayley WrestleMania match.