Bayley Challenges WWE Commentator To WrestleMania Match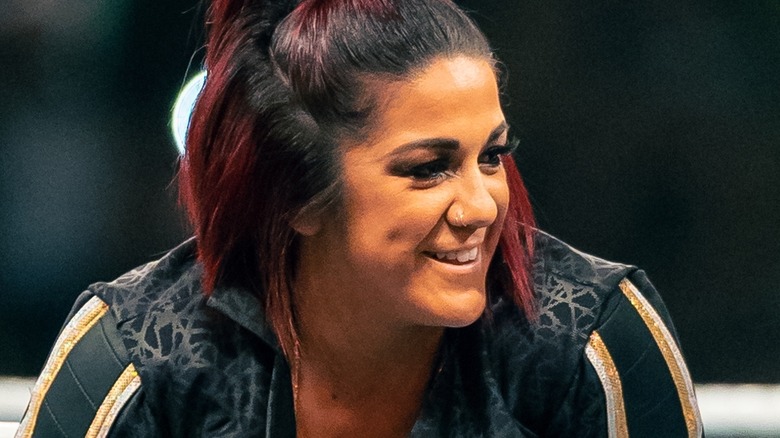 Arthur Cauty/Shutterstock
The rivalry between WWE star Bayley and announcer Michael Cole has been growing for years, with the former women's champion taking the "feud" to the next level as a guest on "The Bump." Bayley answered a fan's question about a potential match with her rival. She responded by saying she'd love a match with Cole, revealing what the WWE announcer has to say to her every time she sees him backstage.
"He comes up to me every single time I see him and says, 'When are we going to have our match ... I'm undefeated.' And I'm like dude, I have a lot to do but there will come a day where I can finally whoop him and maybe take his job," Bayley said. 
As for where the match would take place, Bayley joked that she wanted the match with Cole at next year's WrestleMania 40 in Philadelphia.
Bayley started the feud during WWE's pandemic era. She has taken several shots at Cole over the years, shaving the WWE announcer's name into the back of her head, asking Santa to give Cole a terrible Christmas, celebrating the departure of his "SmackDown" commentary partner Pat McAfee and agreeing with Vince McMahon's take on Cole being a "horrible human being."
Cole has stepped in the ring for ten televised matches, being involved in ones at several premium live events, including the 2012 Royal Rumble match and defeating Jerry Lawler via disqualification at WrestleMania XXVII. Currently, Bayley has her hands full with Becky Lynch, as the two wrestled this past Monday on "Raw" in a steel cage, which saw the return of WWE Hall of Famer Lita.