Seth Rollins Expands On Previous Comments About CM Punk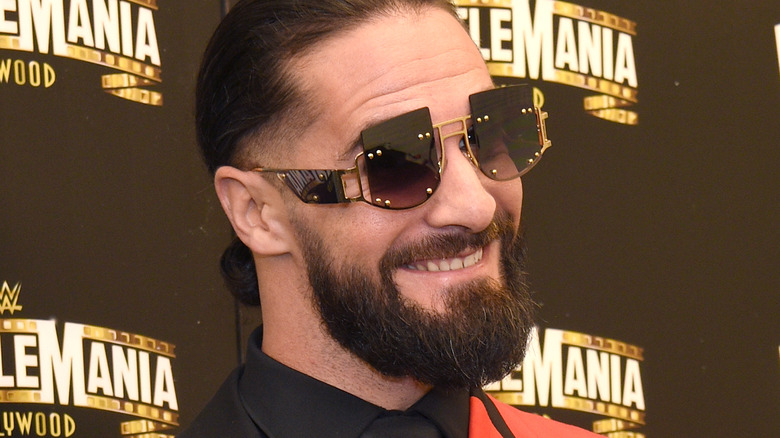 Gregg Deguire/Getty Images
Seth Rollins lashed out at CM Punk during a recent interview with Wrestling Inc., labeling Punk a "cancer" and pleading for him to stay away from the WWE and him "forever." Since that epic interview, WWE held the Royal Rumble, where Rollins would get eliminated from the men's match by surprise entrant Logan Paul. Although Paul and Punk now have separate reasons for disdain from Rollins, the former WWE Champion drew a comparison between them during an interview with Fox Sports Radio.
"Look the bottom line is it's the same thing as with Logan Paul, Punk and Logan Paul are two different personalities but they're both as selfish as it comes," Rollins said. "If you're not gonna help, then I don't want you to be a part of our industry. I don't want you to be a part of our company and that's all there is to that." Recent reports suggest WWE is considering Rollins vs. Paul for WrestleMania 39. Of course, Rollins' beef with Punk is seemingly in reference to what happened at AEW All Out, when Punk verbally destroyed several colleagues and got in an alleged fight backstage with "The Elite." Onscreen, Punk and Rollins haven't really worked together that extensively, outside of occasional encounters during Rollins' Shield days.
"I'll end it on a positive note with him, that guy has given my career so much that it pains me to have to say bad things about him because he helped me out, he really did," Rollins said. "He's been a good guy to me for a lot of my career but for whatever reason, the past maybe six or seven years, he's in a different headspace and we're not on the same page. To see what he's done and taken and taken and taken and it's always been about him? I'm just not a fan, I'm not a fan. There's a place for him man, he's got a lot to give I just wish his head was in the right spot." Many are unsure if Punk will ever return to professional wrestling, but he's still reportedly under contract to AEW.
If you use any of the quotes in this article, please credit "Fox Sports Radio" and provide a h/t to Wrestling Inc. for the transcription.