Booker T Comments On AEW Doing House Shows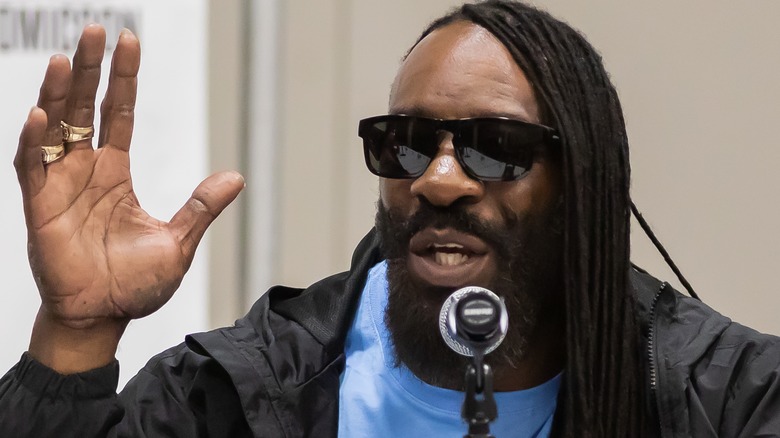 Brandon Nagy/Shutterstock
WWE Hall of Famer Booker T has weighed in on AEW's decision to start running house shows, explaining that he believes the non-televised events will help AEW wrestlers stay in ring shape and develop their craft.
Speaking on his podcast "Hall of Fame with Booker T Live," he said that the consistent schedule offered by house shows allows wrestlers to keep their bodies "tuned up" so that they're always ready to perform. Extended time off between matches can have an unintentionally detrimental effect by making a wrestler's eventual return to the ring more painful.
"For me, it was almost like having a wound with a scab on it all the time," he said. "You wanted it that way, because if it healed up totally, and then you hurt it again, it's going to hurt even more."
On top of that, house show wrestling is a distinct style compared to TV, pay-per-view, and even wrestling on overseas tours, Booker explained. So it could benefit AEW's younger wrestlers to learn and perfect those distinct styles.
"I'm sure they're not going to be as free to go out there and throw caution to the wind on those house shows knowing that their moneymaker is back on that television program," he added. "But staying warmed up, keeping your body ready to go out there and do this is very, very important."
Booker's perspective seems to be shared by many wrestlers in the AEW locker room, where the house show announcement was received positively. One unnamed talent told Fightful that they believed house show tours will help AEW's inexperienced talent grow and develop by having longer, more creative matches.