Jeff Jarrett Opens Up About AEW Running Live Events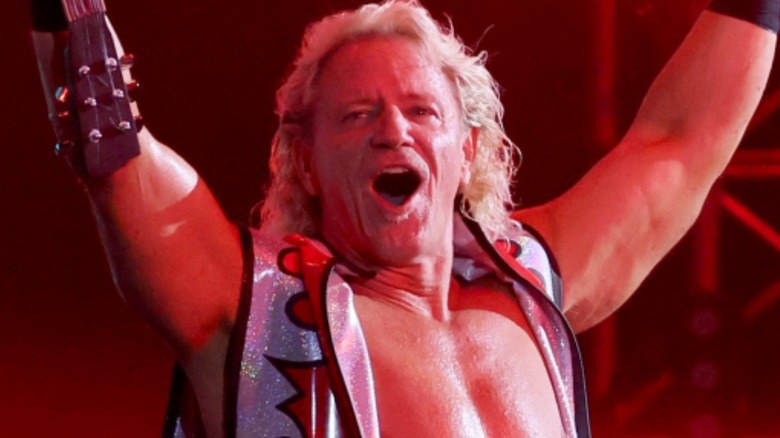 Jason Kempin/Getty Images
As AEW's Director of Business Development, Jeff Jarrett's focus has been on helping the young company expand its calendar of non-televised live events. In a new interview with the "Under the Ring" podcast, Jarrett touched on some of the strategies behind that initiative, which will kick off with a house show on March 18 in Troy, Ohio.
"It's going to be a crawl-walk-run process," said Jarrett. The company will "start slow" with touring, evaluate performance, then pick up the pace while trying to "eliminate the negative, accentuate the positive, and keep progressing." Jarrett called live event touring the "essence" of the wrestling business, comparing it to musicians who move to Nashville with the hopes of making it big so they can hit the road to play live music.
According to Jarrett, the timing is right for AEW to take advantage of a growth opportunity in non-televised touring, especially since WWE has scaled back its number of house shows in recent years. The fact that "AEW Dynamite" airs on Wednesday could also be an advantage, he said, because it could potentially dovetail into a weekend of house shows on Thursday through Sunday.
AEW has not announced any further house show dates beyond the March event, but recent reports suggest that many wrestlers on the roster are looking forward to the opportunity to wrestle longer matches away from the weekly television shows.
For his part, Jarrett said the opportunity to work on this initiative for AEW has been a "blessing." "At this stage of my career, when I look back on it, what an opportunity that's in front of all of us," he said. "The Khan family launched AEW up and running — wildly successful -– and here come the live events. Right up my alley."