Sami Zayn Brings Back Old Entrance Theme For Hometown Return On WWE SmackDown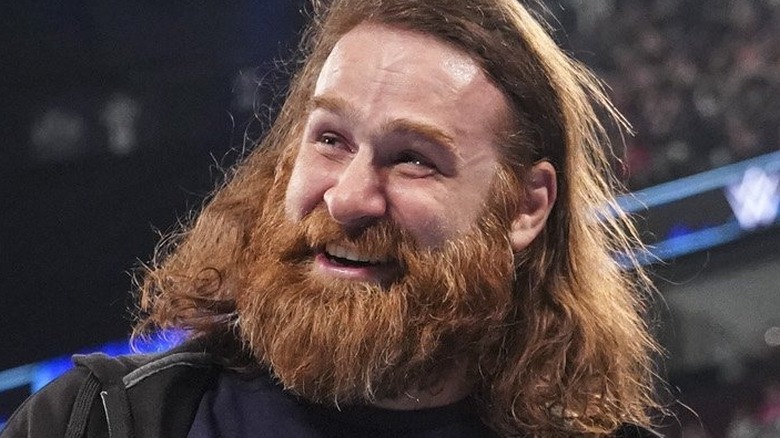 WWE
Sami Zayn is home and all of Montreal is behind him.
During Friday's go-home episode of "WWE SmackDown," and one night before he challenges Roman Reigns for the Undisputed WWE Universal Championship at the Elimination Chamber event, Zayn made his way to the ring while his old entrance theme, "Worlds Apart," blared behind him. In recent years, Zayn has tried to distance himself from the ska-inspired song that was synonymous with his time in "WWE NXT." But just last week, he admitted that "If it were gonna come back, I feel like that would be the time and place to do it."
Instead, WWE pulled that particular trigger one night earlier, and all that could be heard from the Bell Centre in Montreal, Quebec, Canada was raucous applause. In fact, the applause continued for over five minutes before Zayn, who appeared to be holding back tears during the ovation, even had a moment to speak. But when his hometown finally allowed him to, the former "NXT" Champion sent a very clear message to Reigns.
"This time of year, everybody points to one thing," Zayn said while looking up and pointing at the WrestleMania sign. "Year after year, we tell everybody that that is the most important show of the whole year, and it's true. But for me? For this city? Tomorrow night is once in a lifetime!"
Then after speaking a little French to Reigns and the capacity crowd, he loudly declared, "Tomorrow night is not just Roman Reigns versus Sami Zayn. Tomorrow night is Roman Reigns versus Sami Zayn and the entire city of Montreal. Roman, you are going down!"