Mercedes Mone Lists The STARDOM Wrestlers She Wants To Face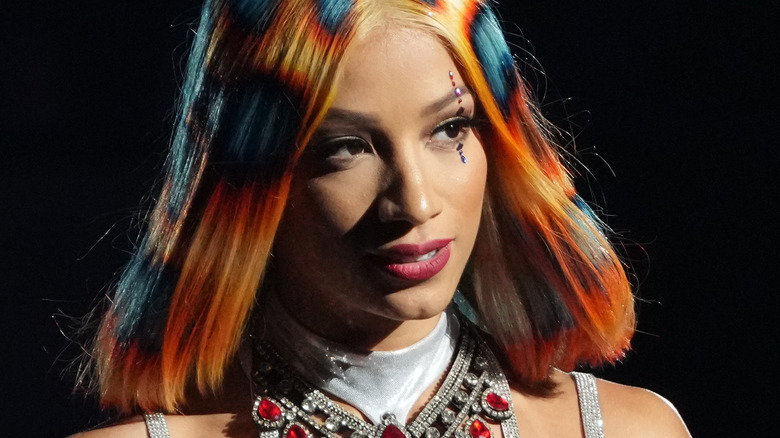 Etsuo Hara/Getty Images
Mercedes Mone's New Japan Pro-Wrestling debut at NJPW Battle in the Valley saw the former WWE star defeat KAIRI in the first of two main event matches to win the IWGP Women's Championship. While the new champion is slated to continue taking part in NJPW events moving forward, it seems very likely that she will also be making her debut for their sister company STARDOM in the future. If and when this happens, Mone already has a list of opponents in mind on the STARDOM roster.
In a recent interview with Under The Ring, ahead of her match on Saturday, Mercedes' named various STARDOM wrestlers that she wants to compete against during her time in the company. "Hopefully I say their names right so the internet doesn't get me," Mercedes joked, as she has become known to mess up names in her short time associated with STARDOM. "Julian [Giulia] is incredible... AMZ [AZM], I think she is so awesome, Starlight Kid is, oh my gosh, she's so crazy, Tam [Nakano] is amazing, there's just so many!" Mercedes said excitedly.
Of the names she listed, AZM and Starlight Kid are known for their fast-paced matches as members of the High-Speed Division, while Tam Nakano and the World of Stardom Champion Giulia are known for presenting a more hard-hitting style. "I'm in the company now, so I'm going to be doing all these matchups," Mone teased. "It's just [a matter] of when and who wants to face me next."
Mercedes confirmed earlier in the same interview that she will be returning to Japan in April, coinciding with reports that she will compete at STARDOM All-Star Grand Queendom at the end of that month. Her opponent for "the biggest STARDOM show in history" remains unknown at this time.