Booker T Thinks NJPW Should Send Mercedes Mone 'To The Moon'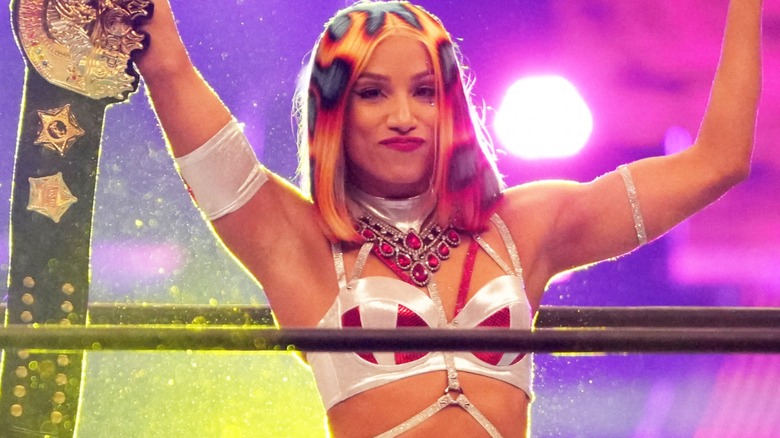 Etsuo Hara/Getty Images
Over the weekend, Mercedes Mone finally made her long-awaited return to the ring. After debuting for New Japan Pro-Wrestling with an appearance at Wrestle Kingdom 17, stepping into the ring at Battle In The Valley marked her first in-ring action since May 2022, which occurred in her previous life as Sasha Banks. She walked away as the new IWGP Women's Champion in the process.  
Mone's involvement with NJPW has been seen as a big deal, happening right alongside the creation of the IWGP Women's Championship. Mone's win made her just the second champion in the title's short history, and it's clear that she'll be a vocal point of NJPW having more women's wrestling on the promotion's cards. But if you asked two-time WWE Hall of Famer Booker T what he'd do with Mone in Japan, he'll share his strong feelings about how far he'd go with her — something he did on his podcast "The Hall of Fame."
"I'm not going to bring her to Japan and, you know, spend all this money and hype to not do anything with her," Booker T explained. "Put that title on her and you know, put her in that ship, that one-man ship and send her straight to the moon ... I think it's big for New Japan to, you know, have someone like Mercedes Mone over there doing it, you know — a woman of color as well. Somebody that's going to bring in a different feel to the show."
With NJPW also taking a different approach to wrestling than Mone's previous home in WWE — more matches than storyline angles — Booker T is curious to see if Mone is capable of making a difference for the company with the title and proverbial rocket ship strapped to her. "Let her run and let's see if we can get some numbers out of the thing. Let's see exactly if she's moving the needle."
If you use any of the quotes in this article, please credit "The Hall of Fame" with an h/t to Wrestling Inc. for the transcription.