Booker T On Khan/Helwani Spat: 'What The Hell Is Going On With Tony Khan?'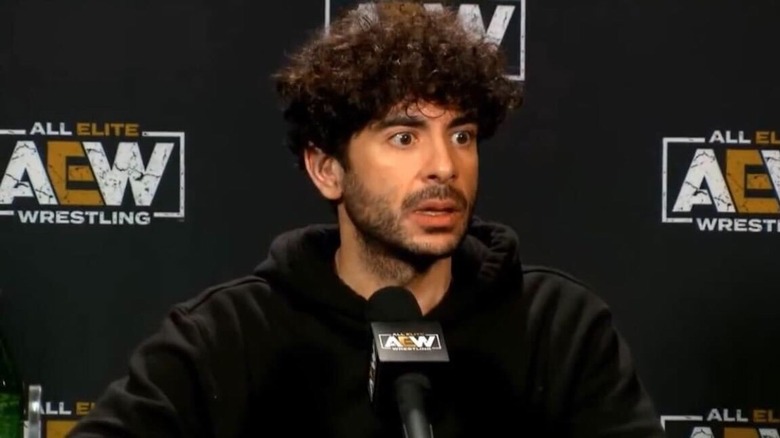 YouTube/AEW
Booker T is flabbergasted by this weekend's war of words between AEW owner Tony Khan and Ariel Helwani — who is "not a wrestling journalist." After Helwani popped up on WWE television to hype the Montreal setting of both "SmackDown" and Elimination Chamber, Khan disparaged him via Twitter, setting off a series of escalations to their beef that eventually managed to incorporate AEW commentator Tony Schiavone and WWE lead announcer Michael Cole.
On a new episode of "The Hall of Fame" podcast, Booker T questioned the mindset of the AEW boss to even engage in such petty matters, wondering "What the hell is going on with Tony Khan?" He later offered, "It seemed like some high school stuff, man. It did not seem like something that a boss would be thinking about as far as Ariel Helwani making an appearance on WWE TV."
The issues between Khan and Helwani seem to stem from a 2022 interview during which Khan was asked questions about CM Punk's AEW status following the All Out fracas; Khan declined to comment as has become customary. Helwani shared that he felt speaking to Khan was actually one of his most frustrating interviews because he believed the AEW owner didn't want to answer any questions.
Booker T said Khan's mistake was that he let everyone know that Helwani's WWE appearance bothered him. He feels it's not something you'd think would be on the mind of a boss. The former five-time WCW Champion went as far as to say Khan proved just how "amateurish" he is.
If you use any quotes from this article, please credit "The Hall of Fame" podcast with an H/T to Wrestling Inc. for the transcription.