Booker T Explains Why Sami Zayn Is Still A Star Following WWE Elimination Chamber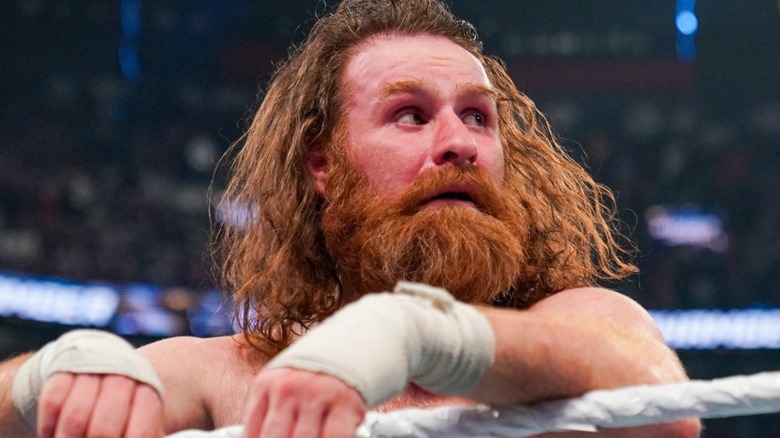 WWE
Throughout most of Sami Zayn's run in WWE, he's been positioned as a mid-card comedy act. However, since his association with The Bloodline last year, Zayn has rocketed to stardom. He has become one of the most popular acts in WWE in recent months, and his split with Roman Reigns at the Royal Rumble propelled him to the main event of Elimination Chamber last weekend, challenging for the Undisputed WWE Universal Championship. 
However, even with the disappointment of many fans who wanted to see Zayn crowned champion, two-time WWE Hall of Famer Booker T is finding the silver lining in these cloudy skies. On the latest episode of "The Hall of Fame" podcast, Booker T credited Zayn for getting fans to buy in and believe in his chances to dethrone Roman Reigns. But according to Booker, the timing just wasn't right. However, he shared that whenever WWE does decide to pull the trigger and put the title around Sami Zayn's waist, he'll "cash in and be a hell of a champion."
But he doesn't think Sami Zayn is somehow harmed or now cooled off as a result of the loss at Elimination Chamber. Drawing from his own experience, Booker T brought up his defeat at WrestleMania XIX at the hands of Triple H. He may not have been victorious on that particular day, but he relayed that he did still go on to become the World Heavyweight Champion eventually and a future WWE Hall of Famer twice. One loss didn't cool him off or stop anything from happening in his career from that point on, so he wondered why it'd be any different for Zayn. 
Having also dropped a match he thought he should have won, Booker T identified with Zayn's own disappointment in the final result. But, in the long run, he thinks it'll wind up paying off big time for the beloved underdog. "That's what people are going to be saying to Sami Zayn. 'Man, I really wish you would've won that match.' It's something that he's going to have to deal with for the rest of his career," Booker added, "but Sami Zayn became a star over these last few months. He's definitely put himself in a place to where he's a made man now, he really is. Sami Zayn is a made man; that dude is money anywhere in the world."