Mia Yim Calls 'Michin' Moniker A Challenge To Make Work But Better Than 'Reckoning'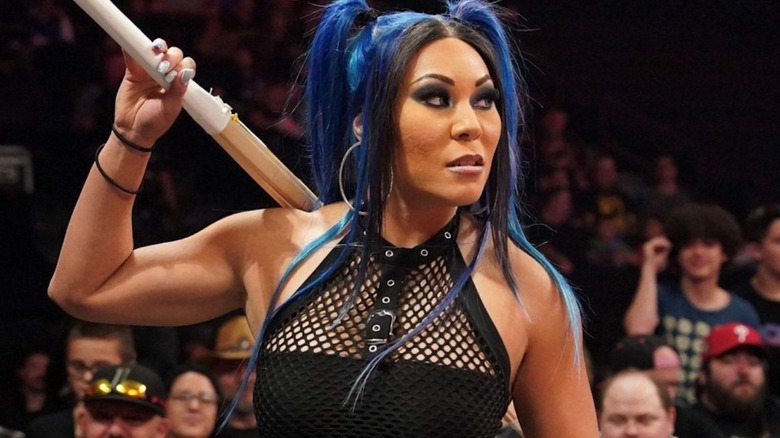 WWE
When Mia Yim was asked recently whether her WWE name is now "Michin" or if she's still going by Mia Yim, the veteran superstar sighed, laughed, and conceded: "I don't know."
"That's a great question because I don't know," Yim said on the "Out of Character" podcast.
Since returning to WWE last year, Yim's official ring name has been up in the air. Call sheets backstage have referred to her by both names. Commentators have fumbled in confusion over what to call her, and fans have been left scratching their heads as to which name we're all settling on.
"I think it was initially a nickname," she explained. "The whole time I was told it was a nickname, but the biggest thing I want everyone to know is I'm okay with this name. It's okay. Everything new — not everyone's going to like it, I get it. But it's better than 'Reckoning,' so I'm not going to complain about this name."
Yim was briefly known as "Reckoning" when she debuted on the main roster as part of the failed Retribution stable in 2020 but she ended up being released less than two months later. After spending some time on the indies re-establishing the Mia Yim name, she was brought back in November. It was then that her identity was thrown for another loop with the "Michin" moniker –- a nickname she previously explained on "WWE Raw" meant "crazy" in Korean.
"It's a nickname now and who knows? Maybe in the future, it could transition to being my name, which if it is, I'm okay with that, too," Yim stated. "I just want everyone to know, you don't have to set the building on fire. It's okay."
Yim added, "Maybe this is just a challenge. Let me get you to love Michin just as much as you love Mia Yim if that were the case."