Chris Jericho Details Backstage AEW Role Helping Talent With Interviews And Promos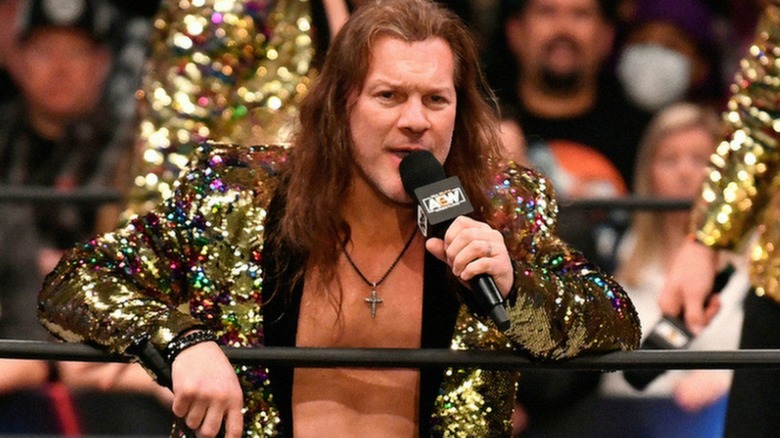 AEW
When Chris Jericho signed a contract extension with AEW last year, it came with an expansion of his behind-the-scenes role. In a new interview with the Daily Star, "Le Champion" revealed exactly what that entails, saying that "there's a lot of stuff I do backstage." 
According to Jericho, he does two to three pre-taped segments for AEW each night, revealing that it is "non-stop, all the time," as he arrives early in the afternoon and then sticks around in the arena until 11 or 12 at night to take care of his increased responsibilities. 
Even though the former AEW Champion continues to operate at a high level inside the squared circle, he does have his eyes on what he'll do once he decides to retire from in-ring action. "I don't really see myself as an agent," he explained. "I'm more of an in-front-of-the-camera kinda guy. So, we'll see. I don't know what the future of me and wrestling is. I could quit tomorrow, or I could quit in six years, I don't know."
In addition to wrestling, "The Ocho" has also been contributing to commentary for AEW, which capitalizes on the charisma he has traditionally brought to his overall persona and the promos that result As a result, being involved with those backstage pre-tapes allows him to share some of his wisdom in that area with others on the AEW roster who could benefit. "Right now, I do enjoy the backstage role of helping guys and girls out with their interviews and promos." 
All that aside, Jericho's focus shifts this weekend to Ricky Starks, who he'll face again at Revolution. This time, the entirety of the Jericho Appreciation Society is barred from ringside.