Jazz Wants To Be A Part Of WWE Hall Of Fame, Makes Pitch For Induction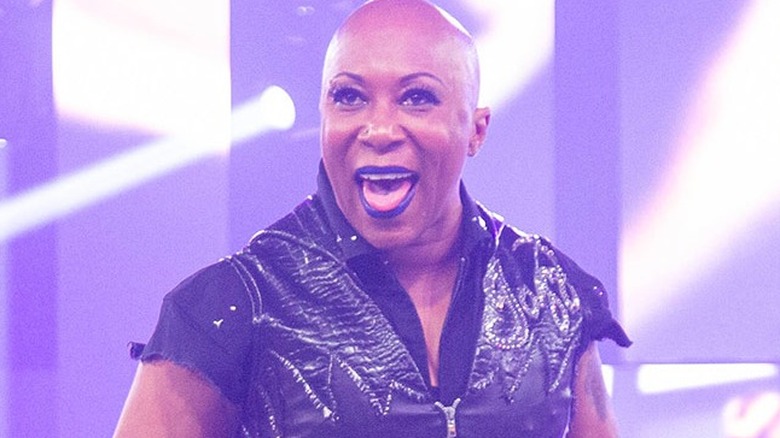 Impact Wrestling
Throughout Jazz's wrestling career spanning two decades, she was a trailblazer. You can count the two times she won the WWE Women's Championship among her accomplishments. However, it is her influence in showing that a Black woman with a much different style than everyone else can be successful in professional wrestling that stands the test of time, showing up today in others like Nyla Rose and Jade Cargill. With Hall of Fame announcements on tap for the weeks leading up to WrestleMania 39, Jazz's name has been circulating as a potential candidate for entry this year.
Appearing on "Busted Open Radio," Jazz revealed that she most certainly would be interested in being inducted into the WWE Hall of Fame if the offer came. "Of course," Jazz said. "That's everyone's dream, I would assume, you know? Yeah, I most definitely, I just — all I ask is, if I'm going to receive that honor, I would just like to receive it while I'm still alive. That's all I ask. Let me be able to walk up and accept that honor." 
As for her personal choice on where she'd like it to go down, she commented that "Louisiana would be great," adding, "I always said, if I ever get inducted, I would love for either [Tommy] Dreamer or Paul [Heyman] to induct me ... Philadelphia would be great. That was my debut in ECW." Louisiana, of course, would earmark her for a WrestleMania once again being held most likely in New Orleans. But Philadelphia is just a year away, with WrestleMania 40 already announced for the "City of Brotherly Love."
Names for this year's Hall of Fame class haven't begun trickling in just yet, although Dave Bautista's name keeps coming up in rumors. "The Animal" had previously been announced for inducting with the Class of 2020 before pulling out of the event and waiting to receive the honor at a later time. 
If you use any quotes from this article, please credit "Busted Open Radio" with a H/T to Wrestling Inc. for the transcription.