Logan Paul And Seth Rollins Agree To Match At WWE WrestleMania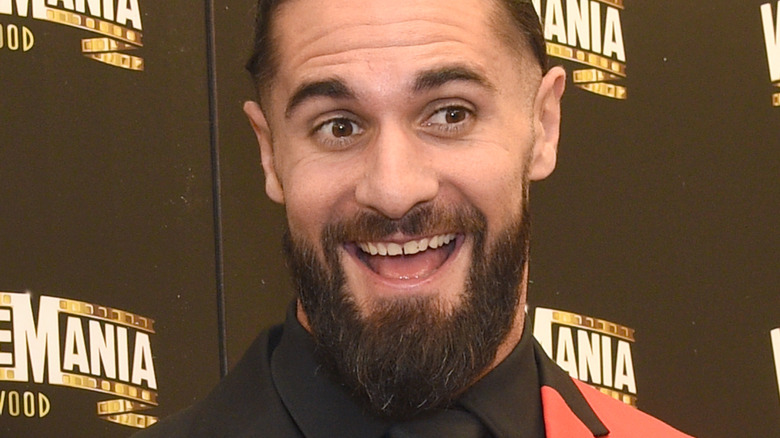 Gregg Deguire/Getty Images
Finally, after weeks of torment, Seth "Freakin'" Rollins came face-to-face with Logan Paul on "WWE Raw" in Boston, Massachusetts. And by the end of their get-together, we had ourselves a challenge for a match at WrestleMania.
The host of WrestleMania 39, The Miz, kicked off the segment by inviting both parties to the ring. Since the former United States Champion took the liberty of setting up their meeting using Miz's phone, he took the liberty of making himself the moderator. As they tend to do, things broke down. Between loud "F*** you, Logan" chants and verbal sparring back and forth, Miz declared that as host, he could get a match made for WrestleMania.
Rollins took him up on that, promptly tossing him over the top rope before turning his attention back to Paul. After backing him into a corner, Miz intervened again. Seth dispatched him once more, but when he turned around, a stiff right hand was waiting for him, one that caught him flush and sent him to the mat. From there, the message was clear.
"Wow! Hey buddy, when you wake up, let me know about WrestleMania," Paul quipped with a chuckle.
Later on "Raw," the match between Rollins and Paul was officially announced for WrestleMania. In recent weeks, L.P. has been a thorn in Rollins' side at every turn. During the men's Royal Rumble match in January, it was Logan who tossed the two-time WWE Universal Champion over the top rope. Then in February, at Elimination Chamber, the social media megastar cost Rollins his shot at getting the U.S. title back from Austin Theory.