Recent World Of Stardom Title Match Given A Non-Finish Due To Mutual Dislike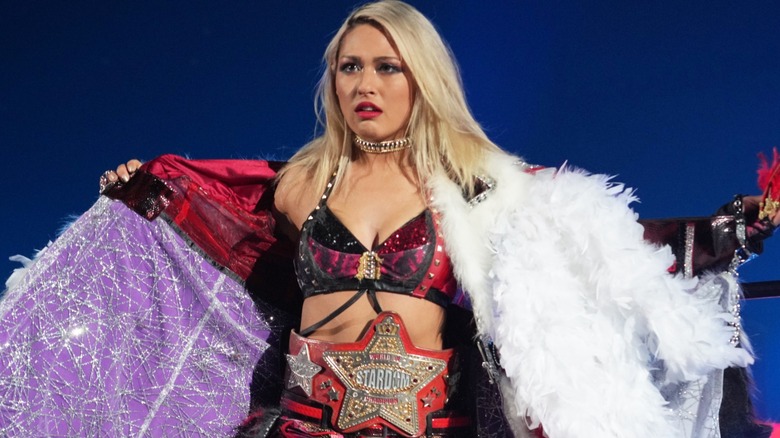 Etsuo Hara/Getty Images
While AEW Revolution attracted a ton of attention last weekend, it wasn't the only major show then that delivered. Out in Japan, STARDOM was also putting forth a strong effort with their Triangle Derby I Championship Battle. Among the top matches on the card were Saya Kamitani vs. Hazuki, AZM against Starlight Kid, and Giulia going one-on-one with Maya Yukihi.
It was the latter match though — for Giulia's World of Stardom Championship — that appears to have been the most difficult to put together. The match ended in a double count-out, and there may be a very good reason for that sort of non-finish. The latest Wrestling Observer Newsletter reports that legitimate hostility exists between Giulia and Yukihi. The heat between the two reportedly started when Giulia departed the Ice Ribbon promotion for STARDOM back in October 2019. At the time, Yukihi was the top star of Ice Ribbon, holding the ICE Cross Infinity Championship in her second reign.
To insider fans in Japan, the heat between Giulia and Yukihi is well known. STARDOM clearly booked the match between the two to feed off the shared animosity. Both Giulia and Yukihi were said to be professional during the match, despite its hard-hitting nature; no liberties were taken to settle their score with one another.
However, those hoping for a rematch may be left disappointed. While the idea of a rematch hasn't been dismissed, the bout's finish wasn't executed with one in mind. The conclusion was pieced together with politics playing a major factor. The match itself was only agreed to after the non-finish was put in place.