Dynamite Teases Clash Of Four Pillars For MJF's AEW Championship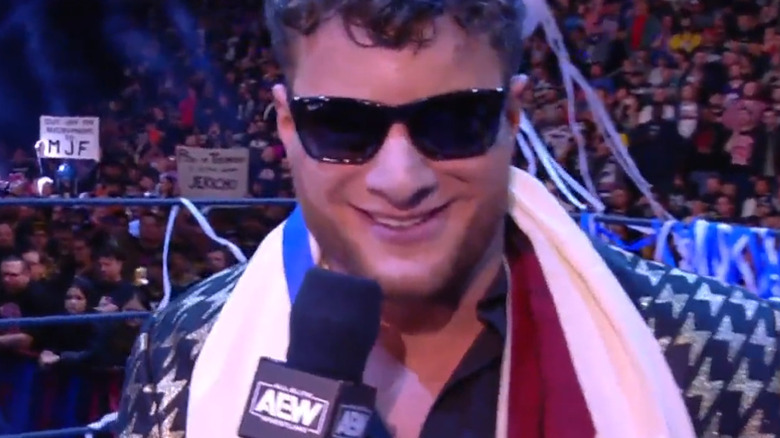 AEW/Twitter
MJF celebrated his Re-Bar Mitzvah on this week's "AEW Dynamite," but his celebrations were interrupted by three stars who demanded a shot at his title. 
"The Salt of the Earth" opened the show, where he mocked the Canadian audience, even going as far as to say that Shawn Michaels was better than Bret Hart, while he also took part in the traditional Jewish Hora dance. But the festivities were cut short as "Jungle Boy" Jack Perry, Sammy Guevara, and later Darby Allin made their way to the ring, took shots at MJF, and explained why they deserve a title opportunity. 
Jungle Boy reminded MJF that the last time the two faced, MJF cheated to win and that the champ doesn't work as hard as the rest of the locker room. Allin spoke passionately about how AEW has offered him something other promotions haven't, and that unlike MJF and other AEW stars, he doesn't complain on social media. Guevara, meanwhile, accused MJF of kissing ass to get to the top and that he didn't put the hard yards in the indies as he did. MJF was then pushed into his Bar Mitzvah cake, which made him quite angry. 
MJF had previously claimed on an episode of "Dynamite" in 2021 that he, "Jungle Boy" Jack Perry, Sammy Guevara, and Darby Allin are the "four pillars" of AEW, and gloated that he had beaten two of them when he was feuding with Allin.
MJF is the only star among the four to have won a world title in the company. Allin has had two chances to win the title, losing both times, against Jon Moxley and Chris Jericho, while Jungle Boy lost to Kenny Omega back in 2021. MJF has defended his title twice since winning it from Jon Moxley, defeating Ricky Starks on "Dynamite" and Bryan Danielson at Revolution earlier this month.