Jim Ross Comments On Possible Steve Austin Match At WWE WrestleMania 39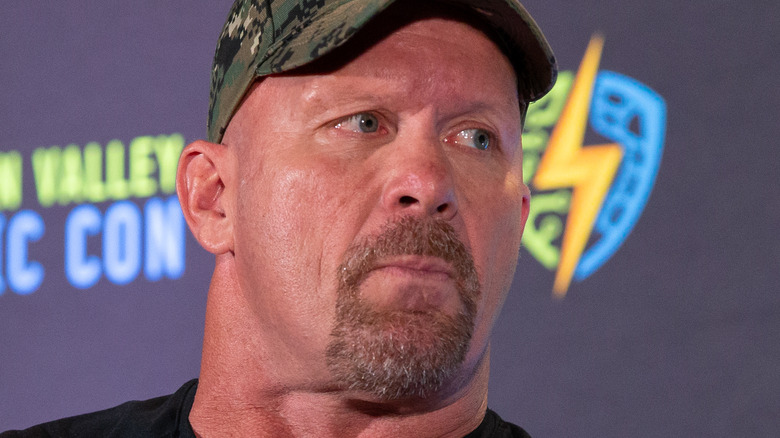 Bill Watters/Getty Images
"Stone Cold" Steve Austin returned to the ring for the first time in nearly two decades at WrestleMania 38, defeating Kevin Owens in an impromptu match in Austin's home state of Texas. According to Austin's longtime friend, WWE Hall of Famer Jim Ross, it will be Austin's last for a long time. The lack of plans for Austin this year suggests that no pitches have passed Austin's muster.
"It just tells me they haven't come up with the right idea that makes him happy," Ross said on a recent episode of "Grillin' JR."
According to the AEW commentator "if [Austin's] offered a spot on the card," then he would be there.
"If he's not booked, it's because WWE didn't come up with an idea that he was high enough on to take the plunge again."
Ross thinks Austin could still make an appearance at WrestleMania, maybe an interview, a stunner, or a cold refreshing Steveweiser, "but I can't see him having another match," praising Austin's match with Kevin Owens.
Various rumors have put Austin across the ring from Roman Reigns or Brock Lesnar at WrestleMania 39 but both men are now spoken for in the form of Cody Rhodes and Omos respectively. While Lesnar versus Omos is now official, the potential match with Austin reportedly bumped plans for Lashley facing Lesnar from the event on April 1 and 2. Austin is set to star in an upcoming reality series for A&E called "Stone Cold Takes On America," which will see the WWE Hall of Famer travel the country in an RV and accept challenges from fans nationwide.