Christopher Daniels On The AAA Lucha Libre World Cup, AEW And AAA Relations, Ring Of Honor, And More! - Exclusive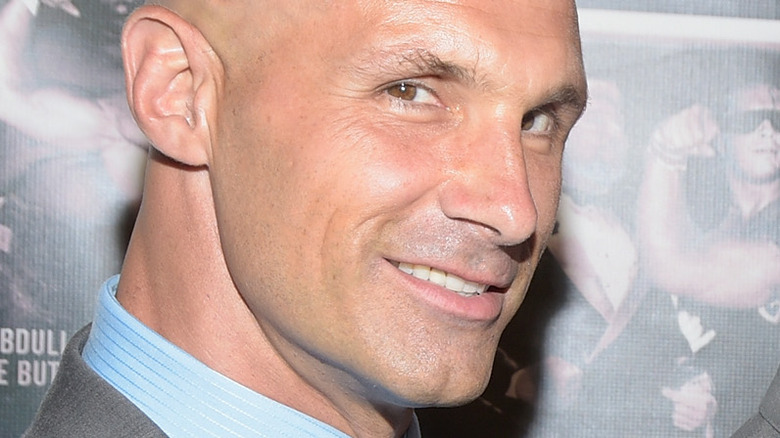 Michael Tullberg/Getty Images
The Fallen Angel. The King of the Indies. And, occasionally but not recently, Curry Man. Christopher Daniels has been everywhere and wrestled a truly dizzying number of opponents. He also has a prominent role in AEW, both in front of and behind the camera.
And now, for the first time since 2010, he'll be wrestling in AAA for the Lucha Libre World Cup this Sunday. He'll be representing Team United States alongside Johnny Caballero and Sam Adonis. It's a solid team with tons of tag team experience, but they face particularly difficult opponents in the first round: Team Japan, consisting of La Estrella, Takuma Nishikawa, and Kuukai.
Ahead of the Lucha Libre World Cup, Wrestling Inc. spoke with Christopher Daniels. He told us about the collective experience of Team United States, the state of the relationship between All Elite Wrestling and AAA, and the overlap between AEW and the revived Ring of Honor.
AAA, AEW, and El Hijo Del Vikingo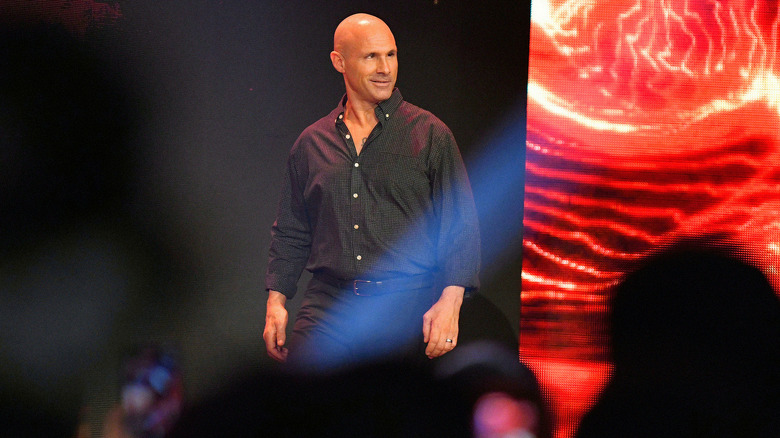 AEW
So let's start with the relationship between AAA and AEW because you're there as a representative of AEW in some capacity. There's been a lot of reports that things have been kind of strained between AEW and AAA lately over the Dragon Lee situation. What can you tell me about the situation of the relationship right now?
Actually, I feel like it's in a good position right now. Konnan and Tony Khan recently had a meeting and tried to suss all that out, and I feel like we're in a good position. We're in a good place right now, obviously, because I'm going to AAA to wrestle. So yeah, I feel like whatever miscommunications or misunderstandings, whatever that was, I feel like that's in the past and we're going to move forward and not dwell on that and try and be available. Each promotion is trying to be available for the other as its schedule permits.
Well, that is exciting to hear because today, as I'm sure we all know, that a certain Son of a Viking was just announced for an AEW match.
Yes. Well, Vikingo versus Kenny Omega. I just saw the news today on Twitter for the first time and I feel like that's a match the world has wanted to see for a long time and I'm glad we're able to present it on national television next Wednesday. I think that's going to be an amazing bout.
I've just recently met Vikingo for the very first time. I was on our show with him at Warrior Wrestling. He tore the house down. He's an amazing athlete. And Kenny Omega, one of the best in the world, one of the best to ever do it. So the table is set for a classic.
Yeah, sure. It seems like it came together very quickly.
Well, I feel like the desire to have Vikingo as part of our show has been in the works for a while. It's just been a matter of logistics. The demand for him is strong. We don't want to run him to death and schedule's finally permitted and here we are. So, I mean it's a great opportunity to expose Vikingo to a broader audience in the US. He's on fire right now across the independent scene. Everybody knows him from his stuff in Mexico and I think this is the first of what could be many opportunities for him in the United States.
The Fallen Angel in AAA, Circa 2010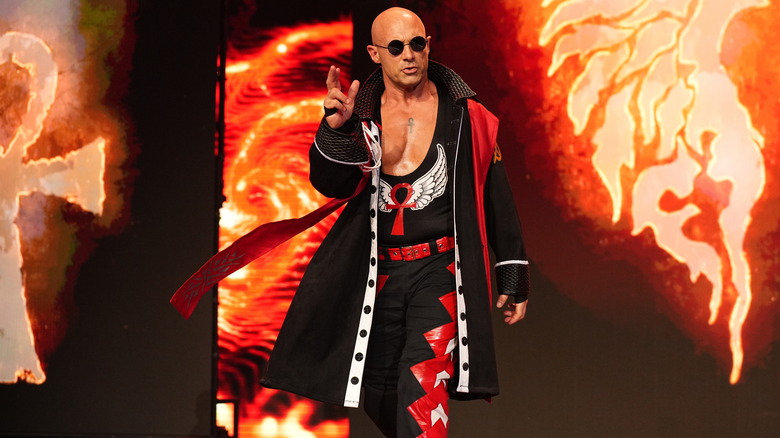 AEW
So let's talk AAA because that's why we're here.
Yep.
It's hard to keep track of how many matches you've had and how many places you've had matches, but wrestling-
It's easier to just say everywhere. It's easier to just say everywhere because I basically ... Everywhere that matters, I've been there.
Yeah! But our Lucha Libre expert at Wrestling Inc., Eric Mutter, has said you had some matches back in 2010 in AAA.
Correct.
Tell me about your memories of those matches.
Well, I did a television taping to lead up to a Triplemania. I believe I was in a tag match where Rocky Romero was one of my opponents. I don't a hundred percent remember the entire lineup. I think Joe Lider was one of the participants as well. But I remember it was a landing in Mexico City, a long drive to the building, wrestling, a long drive back. I got to share a dinner. La Parka bought me a dinner on the way back to the airport, which stands out in my mind. It was a great evening.
And then that Triplemania, I believe it was Extreme Tiger, Nosawa, myself and Jack Evans in a four-way. I'm almost positive that I ... I think I did a few things with Jack Evans in Ring of Honor, but that was probably the first time that we ended up doing a little one-on-one action. Jack pinned me for the Cruiserweight Championship. So I mean, Jack was great then, still great now, one of the best high-flyers to ever come out of AAA. And yeah, it was very cool to wrestle in a ... to be on Triplemania. It was an amazing experience.
Representing America at The Lucha Libre World Cup
How does what you went through then compare to what you're going through now with AAA?
Well, I think it's a little different in the sense that they've invited me to represent the United States on a very prestigious show. They've put me in the ring with two very talented gentlemen, Johnny Caballero and Sam Adonis. And I feel like with the various experiences between the three of us, I feel like we're one of the strongest teams out there. I mean, myself, tag team champion many times over. Johnny Caballero, tag team champion in the past. Sam Adonis, who's the majority of his career spent in Mexico has probably wrestled more six-man tag matches than any of us combined. So I feel like we've all got these strengths that put together make us very possibly dominant in this entire thing. So I feel very good about our chances.
You make a very compelling case, but I'm not going to underestimate your opponents. Team Japan looks really tough and really interesting.
Absolutely, absolutely. As someone who's wrestled in Japan very prominently, I never underestimate how tough any Japanese wrestler is. Just understanding what it takes to become a wrestler in Japan, what they have to go through in their dojos, I never underestimate a Japanese opponent.
So yeah, I'm not super familiar with a lot of these guys. I know La Estrella just because he's had some stuff over in the US. The other two gentlemen I'm not super familiar with. But if you go in there giving them as much respect as possible, you don't underestimate them. In any case, I might overestimate them because I know that if you're coming from Japan, you've got your working boots, I recognize you as a threat immediately.
I've seen La Estrella before. He is small, he's mighty.
A hundred percent, a hundred percent. La Estrella had a couple matches for AEW in the past and was very impressive. Yeah. So when I saw he was one of the guys, I knew I had my work cut out for me. So it's going to be hard, it's going to be difficult, but I believe in us, as you should.
I believe in you.
There you go.
Dividers between All Elite Wrestling and Ring of Honor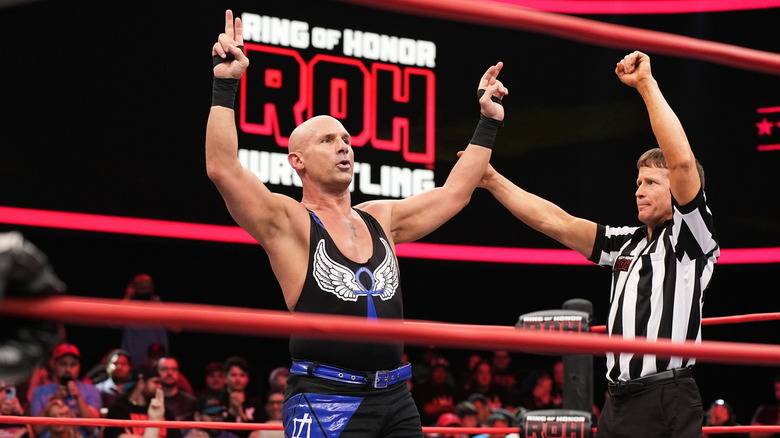 AEW
There's a lot more programming out in AEW land these days with Ring of Honor and everything. Are you going to be doing any scouting for any luchadors or luchadoras when you're out here?
Not specifically. Not specifically. I think the people that Tony is interested in are already sort of on the radar and Tony has his own ... Tony doesn't leave it to me to be like, "Hey, go find me the next this or that." Tony has an idea of what he likes and so it's never, "Go get me this," or, "Go find me somebody." He comes to me and he says, "I like this guy. Let's look at this guy." You know what I mean? So it's never like where I have to go hunting for buried treasure. Tony sees what he likes and communicates that to the rest of us and then that's how usually the process starts.
So Ring of Honor is now officially restarted and it seems like there is a mostly clear dividing line between the Ring of Honor locker room and the AEW locker room. Should we expect that separation to continue, or are we going to see more blurring, like with Blackpool Combat Club? Or is it going to be something in between?
Well, probably something in between. I don't feel like it benefits us to be restrictive in one way or another. You know what I mean? I think it's better if we leave it open and do what's best for the programming, do what's best for the product.
If Tony feels like having some AEW wrestlers compete in the Ring of Honor ring benefits the Ring of Honor, brings more eyes to Ring of Honor and the Honor Club, then great. If he feels like mixing a couple of Ring of Honor wrestlers into the AEW scene, like when Chris Jericho had the title and was defending against former ROH champions, that was a high point of that period of time I think.
It was.
So I mean, I feel like we're trying to stay flexible. We haven't put any set rules in motion and we're just going to play it by ear and see what the fans react to and build off that.
Scariest second round opponents and victory plans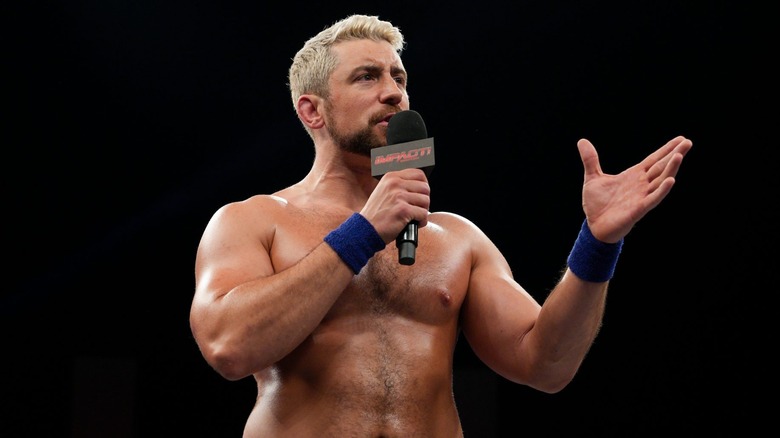 Impact Wrestling
So let's go back to AAA for a second because that is why we're here.
Yep.
Let's say you beat Team Japan. Are you more nervous about Team Canada or Team Europe?
I don't know, man. Team Europe is tough, man. Joe Hendry's on that one. Yeah?
Yeah.
So yeah, I know Joe's a very tough competitor. Yeah. So I'm not sure, man. I think both have their strong wrestling backgrounds. So I mean, it's a tossup, man. It's hard to say. They're all going to be tough competitors, or else they wouldn't be here at this particular event. There's no tomato cans in this lineup, man.
What are you going to do if you win the World Cup?
Drink champagne from it. Isn't that what you're supposed to do?
Yeah, I'd say so.
That's what I'm going to do. I mean, I've already got the bottle in my bag and everything.
Luchadors on AEW, friendship with Konnan, and final thoughts on strategy
So I mentioned earlier that you're not scouting for any luchadors, but given Vikingo and Komander ... are we going to be seeing an increase in luchador presence on AEW or ROH programming?
Certainly possible. Komander just came in and did that Face of the Revolution ladder match, impressed a lot of people. He was super impressive. Vikingo, goes without saying, we've been trying to have him as a part of our programming for a while now and we're very fortunate that the schedules opened up to allow this match coming up with him and Kenny.
So yeah, I feel like when opportunities arise, when schedules permit, I feel like you could see a Komander, you could see a Vikingo, you could see any of these guys, Bandido, returning, Rouge being featured. Any of those guys could be on Ring of Honor or AEW at any point.
So we talked a little bit about Konnan before. What can you tell me about your relationship with Konnan?
Konnan and I have been friends for a very long time, all the way back through TNA. He's a great guy. One of my greatest feuds was with myself and AJ Styles when he was the manager of LAX, Homicide and Hernandez. So we went through wars together and I respect him very much as a promoter, as a booker, as a gentleman. And I'm happy that he respects my work enough to ask me to be a part of AAA. And I think he's one of the best representatives of Mexican wrestling ever and I'm proud to be a friend of his.
So let's talk about your match. All goes well, what do you see your game plan specifically going into this match? You talk about how you all work. How do you see you all working together?
Well, I think it's just a matter of getting on the same page. We have to recognize who the weak link is in the team, isolate those guys. All three of us have extensive tag team backgrounds. Sam, through his work in Mexico. Johnny, with all the work that he did with his tag teams. I've been tag team champion many, many times. It's just a matter of get together, get a strategy, find the weak link and break it down. And I think that's an easy thing.
I don't think there's any egos on this team that are just going to try and overshadow the team goal. And I feel very confident that we can work together as a trio and go all the way to the finals and win the whole thing.
Catch the AAA Lucha Libre World Cup on Fite.tv on March 19th at 6pm ET.